The Adventure Racing World Series Returns to Brazil with the Malacara Race
March 10, 2022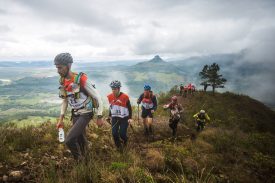 World Series Expedition Adventure Racing Returns to Brazil in 2023 at the 500km Malacara Race
/ENDURANCE SPORTSWIRE/ – Brazil has played a significant role in the Adventure Racing World Series. It is one of the few countries to host two World Championships (Pantanal in 2015 and Jericoacoara in 2008), and after a gap of a few years ARWS racing returned to the country last year with the Desafio Eco-Trail race, which was part of the ARWS South America Regional calendar.
Now Brazilian and international racers can look forward to racing in Brazil at an ARWS Expedition race once again!  The 500km Malacara Expedition Race will take place from March 4th– 11th 2023, starting from the city of Florianópolis, Santa Catarina. It will join the series as a Demonstration Race in its first year, after a first successful expedition length edition last year.
The news comes at a time when adventure racing in Brazil has a high profile. Team Brazil Multisport recently became the first ARWS South American champions and went on to win the first ARWS race of the year at the Panama AR, racing against the world #1 and #3 ranked teams. Within Brazil the CBCA (Brazilian Adventure Racing Federation) is going from strength to strength and has one of the biggest AR federation memberships and race calendars in the world.
Brazilian teams that want to step up to expedition racing can now plan ahead to next year's 'Magic Island' Malacara Race.  The destination will be an attractive one for international teams too, as the coastal city of Florianópolis is one of the top tourist destinations in the country. It's the state capital of Santa Catarina and is mostly made up of the 54km long Santa Catarina Island, known as 'Magic Island' and famous for its beaches.
The city is also a base for outdoor sports in the state, which has a huge variety of terrain such hiking and biking trails, many climbing areas, dirt roads, beaches, islands, dunes, lagoons and mangroves. March will be an ideal time to visit as it's the end of the vacation period, the weather will be hot, and the city less busy as the racers visit the historic city sights, beaches and lagoons.
The Race Directors are Benito Brocca and Léo Nardi, athletes who have more than 15 years of experience and who have organized 7 races since 2016, from 50 to 500 km long.  They are enthusiasts for the sport and Leo says, "Our motivation for each competition is to prepare a challenge in which we would like to participate!"
He added, "Attention to detail, passion for sport, responsibility and adventure, guide our actions in delivering a unique experience for each athlete.  Malacara Race, as a company, has gained experience as a professional Adventure Racing business in recent years, and also working hard to promote this sport that we love so much.
"In 2021, in addition to organizing a 500km race, we created the first packraft factory in Brazil. Today we have 50 boats available to be rented by any adventure race organizer and we offer boats at a very affordable price for athletes. There will be pack rafting in the race of course!
"Now, we are excited to join the Adventure Racing World Series, which has been our dream and something we have worked towards for many years now.  We are looking forward to welcoming visitors from around the world to The Magic Island."
Welcoming the race to the series ARWS CEO Heidi Muller said, "It's been a joy to work with Léo and Benito to help bring the Malacara Race into the ARWS. Their professionalism and enthusiasm shine through in everything they do, and it's wonderful to have Brazil back in the Adventure Racing World Series calendar!"
You can find out more about the race, contact the organisers and register at https://www.malacararace.com.br.  (There is a discounted, early-bird, entry available until July 31st. )
You can also follow the race on Facebook at https://www.facebook.com/malacararace/ and Instagram @malacararace
Images from the 2021 Malacara Race are available from; https://drive.google.com/drive/folders/1WiMGZor0QNOng_3V8PkVbYjv58YiA_MC?usp=sharing   These are free for use only with this release and must be credited Wladimir Togumi /Adventuremag.com.br
About The Adventure Racing World Series
The Adventure Racing World Series is an association of 50 races across 5 continents and 25 countries.  The series supports world-class, international, expedition races, which are the pinnacle of the world's toughest sport, and the development of professionally organised racing at a national level through the ARWS Regional series.
Each Regional Series has its own ranking and championship final, and the ranking points feed through into the global ARWS ranking.  The winners of the annual Regional Championship receive a paid-for place at the next Adventure Racing World Championships.
For more information on the Adventure Racing World Series see www.arworldseries.com