The AbbottWMM Wanda Age Group World Championships ready to race through London
September 30, 2021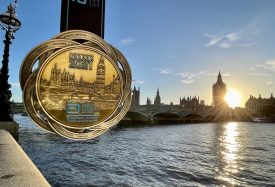 Inaugural event will feature 4,200 age group runners from 82 countries*
Athletes qualified from 150 races, across six continents between Sept. 2018 – Dec. 2020
The best of the best age group runners ready to race the streets of London
World Champion titles on offer for men and women across nine age categories
The inaugural AbbottWMM Wanda Age Group World Championships will take to the streets of London this Sunday, 3 October as part of the 2021 Virgin Money London Marathon.
It's been a long-time coming after the 2020 mass event on the streets of London had to be cancelled due to the COVID-19 pandemic. The event will combine qualifiers from editions one and two of the Age Group World Rankings, making for some highly competitive age categories as many of the world's best marathon runners aged 40 and above battle it out for World Champion status.
The AbbottWMM Wanda Age Group World Rankings were launched in 2018 and 150 qualifying races were part the first two editions, with the top athletes being invited to join take part in the inaugural Abbott World Marathon Majors Wanda Age Group World Championships at the Virgin Money London Marathon.
Competing runners will wear a special back bib which means they can be identified on course – and spot their competition – and all finishers will be rewarded for their efforts with a special world championship medal, in addition to the official Virgin Money London Marathon finisher medal. The top three in each age category (male and female) will also receive an award which will be presented at a function on Sunday evening.
"The standard of age group running globally will make for an extremely competitive race across all ages on Sunday, and we are looking forward to seeing who makes the podium. "
Hugh Brasher, Event Director of the Virgin Money London Marathon, said: "We are delighted to welcome the world's best age group runners to London. The inaugural AbbottWMM Wanda Age Group World Championships is another great addition to this year's event. I know the speed of these runners is going to truly show that age is no barrier and will be an inspiration to us all."
We will host a media session on Friday 1 October, 2.45pm (BST) to hear from Hugh Brasher, Event Director, Virgin Money London Marathon, and Tim Hadzima, Executive Director, Abbott World Marathon Majors, along with some notable age group runners who will share their stories, who are listed below.**
Yuko Gordon, JPN (F70-74)
Another 1984 Los Angeles Olympic marathoner. Yuko came 34th representing Hong Kong where she lived for many years. She won her age group in the 2018/2019 qualifying series with strong performances in Berlin and Stockholm. A Japanese native, she moved to the UK in 1998 and after a 15 year break, began Masters running in England and in no time at all got back to her competitive ways.
Jeannie Rice, USA (F70-74)
Jeannie qualified in the 2018/2019 qualifying series through top times at the Bank of America Chicago Marathon (3:27:50) and the TCS New York City Marathon (3:40:33).
Jeannie is from South Korea and came to the US back in 1968. She started running at the age of 35 for weight loss and got hooked. She only has Tokyo to run to complete her Six Star journey and runs an average 50-60 miles every week.
Eileen Noble, GBR (F85-89), GFA
Eileen hails from South East London and has run the Virgin Money London Marathon 19 times, including last year's virtual event. Her personal best was back in 1992 with a time of 4 hours 40 minutes.
She started running a mile a day when she was 53 and it grew from there.
She has been the oldest runner in the Virgin Money London Marathon for the last two years and will be the oldest female out on the course this year at the age of 86.
Eileen has five marathon age group awards (four from London and one from Lochaber). She is looking to add a world championship title to her accolades.
Jose Santiago, PRT (M50-54)
Jose is from Portugal and will be running his first Abbott World Marathon Major when he competes in London in the inaugural Age Group World Championships. He has run 23 marathons and is an active member of the AbbottWMM Global Run Club.
He came 12th in his age group category during the 2018/2019 qualifying series.
"For me it is a huge honor to compete and represent Portugal in the Championship and I am striving to be one of the best athletes in the world in my age group. I also want to complete the six major marathons and London will be the first on my journey.
Volker Rose, USA (M50-54)
Volker is a German-American qualifier, based in Illinois, who is competing in the 50-54 category and will also be added to the Six Star Finisher Hall of Fame when he crosses the finish line on Sunday.
He started his running career at the age of 45 and has since concluded 13 marathon races, with a personal best of 2:53:27 at the New York Marathon in 2019. Together with the Tokyo Marathon finished in the same year, Volker achieved enough points to qualify for the inaugural Age Group World Championships.
– END-
* numbers correct at time of release
** to join our virtual media session, please email pressconference21@londonmarathonevents.co.uk
-Ends-
 For media inquiries, please contact:
Lorna Campbell
Head of Communications, Abbott World Marathon Majors
ABOUT ABBOTT WORLD MARATHON MAJORS
The Abbott World Marathon Majors (AbbottWMM) is a series of six of the largest and most renowned marathons in the world – Tokyo Marathon, B.A.A. Boston Marathon, Virgin Money London Marathon, BMW BERLIN-MARATHON, Bank of America Chicago Marathon and TCS New York City Marathon.
Encompassing an annual series for elite runners and elite wheelchair athletes, AbbottWMM also applauds the achievements and passion of everyday champions from around the world. The AbbottWMM Six Star System is an online results hub that celebrates every runner who has completed from one to six of the races in the series and encourages them to 'Reach for the Stars'.
The AbbottWMM launched the AbbottWMM Wanda Age Group World Rankings in 2018 and the first AbbottWMM Wanda Age Group World Championship race will take place on 03 October, 2021 (postponed due to COVID-19) as part of the Virgin Money London Marathon.
The AbbottWMM Global Run Club launched in August 2020 and aims to bring together the global community of marathon runners on a virtual platform.
For more information, visit www.Abbottwmm.com
ABOUT ABBOTT
Abbott is a global healthcare leader that helps people live more fully at all stages of life. Our portfolio of life-changing technologies spans the spectrum of healthcare, with leading businesses and products in diagnostics, medical devices, nutritionals and branded generic medicines. Our 109,000 colleagues serve people in more than 160 countries.
Connect with us at www.abbott.com, on LinkedIn at www.linkedin.com/company/abbott-/, on Facebook at www.facebook.com/Abbott and on Twitter @AbbottNews.
ABOUT WANDA SPORTS GROUP
Wanda Sports Group is a leading global sports events, media and marketing platform with significant intellectual property rights, long-term relationships and broad execution capabilities through which to create value for stakeholders in all parts of the sports ecosystem, from rights owners, to brands and advertisers, and to fans and athletes. Wanda Sports Group owns, or otherwise have contractual rights to, an extensive portfolio of global, regional and national sports properties from which to generate revenue across the value chain, including events operation, media production and media distribution, sponsorship and marketing, digital solutions and ancillary services.
Wanda Sports Group has combined the strengths of Infront and Wanda Sports China businesses and formed a global sports event portfolio built principally around the strength of globally recognized brands and related intellectual property.
Connect with us at www.wandasports.com