The 2023 US Pro Cup Presented by Walmart Returns To Fayetteville, Ar. April 12th- 16th At Centennial Park
February 3, 2023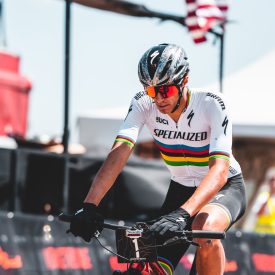 The trail to the 2024 Paris Olympics kicks off in Fayetteville.
/ENDURANCE SPORTSWIRE/ – The 2023 US Pro Cup, presented by Walmart, will elevate cross-country racing with major event status upgrades and added categories over the prior two events. As the only Hors Category XCO in North America, the UCI points offered will be some of the highest in North America, offering athletes and countries a valuable opportunity to  better their start position at prior to the world cup opener as well as collect points for the 2024 Paris games.
With the Olympics less than two years away, the competition for the 2024 Paris games begins to heat up in Fayetteville. Athletes from all over the world will be descending upon Fayetteville, Arkansas, to pick up valuable early-season UCI points as countries begin to position themselves to qualify up to a maximum of three men and three women for the 2024 Paris Olympics.
With three days of UCI racing, the US Pro Cup will be an Hors Category (HC) status on Saturday, making this the only UCI HC XCO race in North America. Friday's short track race will now be a UCI-inscripted XCC (short track) for elites. In addition, U23 men's
and women's categories have been added to Wednesday's C1 and Saturday's HC events, offering a rare and valuable points opportunity for these competitors.
"We are excited to be back in Fayetteville for our third year. The HC XCO status, UCI-inscripted short track, and U23 men's and women's categories this year will elevate the event for our organization, athletes, and partners. There is a massive opportunity for these athletes to pick up some big-time points and test their fitness just weeks ahead of the World Cup opener." –US Cup race director Ty Kady.
The US Pro Cup offers American athletes a chance to race on home soil, allowing more American riders to accumulate points towards an accumulative country goal.
"As a World Cup racer, it feels like the tide is always pulling you to racing in Europe, but HC events like the US Pro Cup presented by Walmart in Fayetteville is huge for the sport in the states. It goes a long way for Juniors with the talent and motivation to race World Cups, and equally as far for pros trying to make it to Paris for the Olympics in 2024." –Christopher Blevins-US Olympian and former short-track World champion. 
"With World Cups and Olympics right around the corner, the US Pro Cup presented by Walmart gives me a special opportunity to compete for major UCI points on home soil. With a course specifically designed for XCO, the Centennial Park venue is bringing US cross-country racing to the next level."-Savilia Blunk-2022 US women's elite cross-country national champion.
The US Pro Cup provides a unique opportunity for U23 athletes, with rarely offered U23 events in the US.
"The US Cup in Fayetteville has become one of my favorite races of the season. It's extraordinary for me to race in front of the Arkansas home crowd on a purpose-built XCO course. As a first year U23, adding a separate category on this points scale is enormous! Getting to race an HC and C1 before even heading to Europe is crucial to my preparation for the World Cups later in the season. –Cayden Parker, Bear Development-2022 US JR men cross-country and short track national champion
For more information on the US PRO CUP please visit https://uscupmtb.com
Contact Ty Kady at ty@uscupmtb.com