The 2023 GFNY Hall of Fame Inductees
May 19, 2023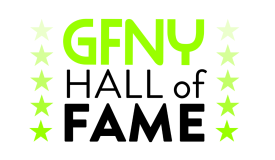 GFNY recognizes their contribution at the awards ceremony of the 11th GFNY World Championship NYC
New York City, May 19, 2023/ENDURANCE SPORTSWIRE/ – On May 21, 2023, GFNY is holding the 11th edition of the GFNY World Championship NYC. On this occasion, the GFNY Hall of Fame will honor five new inductees to recognize their contribution to GFNY. In alphabetical order:
Chris Geiser started at GFNY as an ambassador, group ride leader and world traveller to many GFNYs. But he soon became the professional voice of GFNY whether as the GFNY Conference host or in his articulate written contributions around GFNY and cycling.
Cedric Haas built GFNY in France to six races in three short years. His relentless work and passionate pursuit to excellence helped inspire and grow a GFNY France team that creates amazing experiences.
Chris Jensen's support of GFNY's emergency management operations in Rockland from the governmental agencies side is key for a smooth race.
Alex Ostroy's creative design work is legendary in cycling circles. He was instrumental in manifesting the brand through the GFNY jersey design that made tens of thousands of riders look great for already a decade.
Mark Sokolich, long standing Mayor of Fort Lee, has been welcoming the GFNY expo and finish festival in Fort Lee. It's the ideal home base of the race with its proximity to NYC yet local, welcoming feel.
GFNY is thanking these extraordinary people for all they have contributed to make GFNY what it is today. The celebration will take place on May 21 during the race awards ceremony at the finish of the 11th GFNY World Championship NYC.
About GFNY Global Endurance Sports Series
GFNY Global Endurance Sports Series is a sports event company with three decades of experience in racing, planning and organizing events. The global endurance sports brand hosts multiple events throughout the year around the world on five continents.
Working with partners around the world to deliver a first-class experience, GFNY Global Endurance Sports Series puts its athletes first.
Cycling
30-plus events held around the world. View the latest calendar here
Riders get to BE A PRO FOR A DAY ® by competing against others, themselves and the clock in a personal endurance challenge.
Top 10% (20% at regional championships) of finishers in each age group qualify for the Elite Qualifier Corral at every GFNY World event.
GFNY World Championship NYC
The 11th annual GFNY World Championship New York will be held on May 21, 2023. The race features the world's most international peloton with riders from over 90 countries. Athletes take on a challenging route to compete against each other, the clock and themselves in a personal endurance challenge.
The official GFNY website is: www.gfny.com.
Further Material for Media Use
GFNY Press Images: here
GFNY Results: here
GFNY World calendar graphic: here
Previous GFNY press releases: here
Media Contact
Gran Fondo New York Inc.
Uli Fluhme, uli@gfny.com
Caroline Lindsay, caroline@gfny.com