The 2022 DICK'S Sporting Goods Pittsburgh Marathon Was a "Zero Waste" Event, Diverting 92 Percent of the Event's Waste from the Landfill
June 16, 2022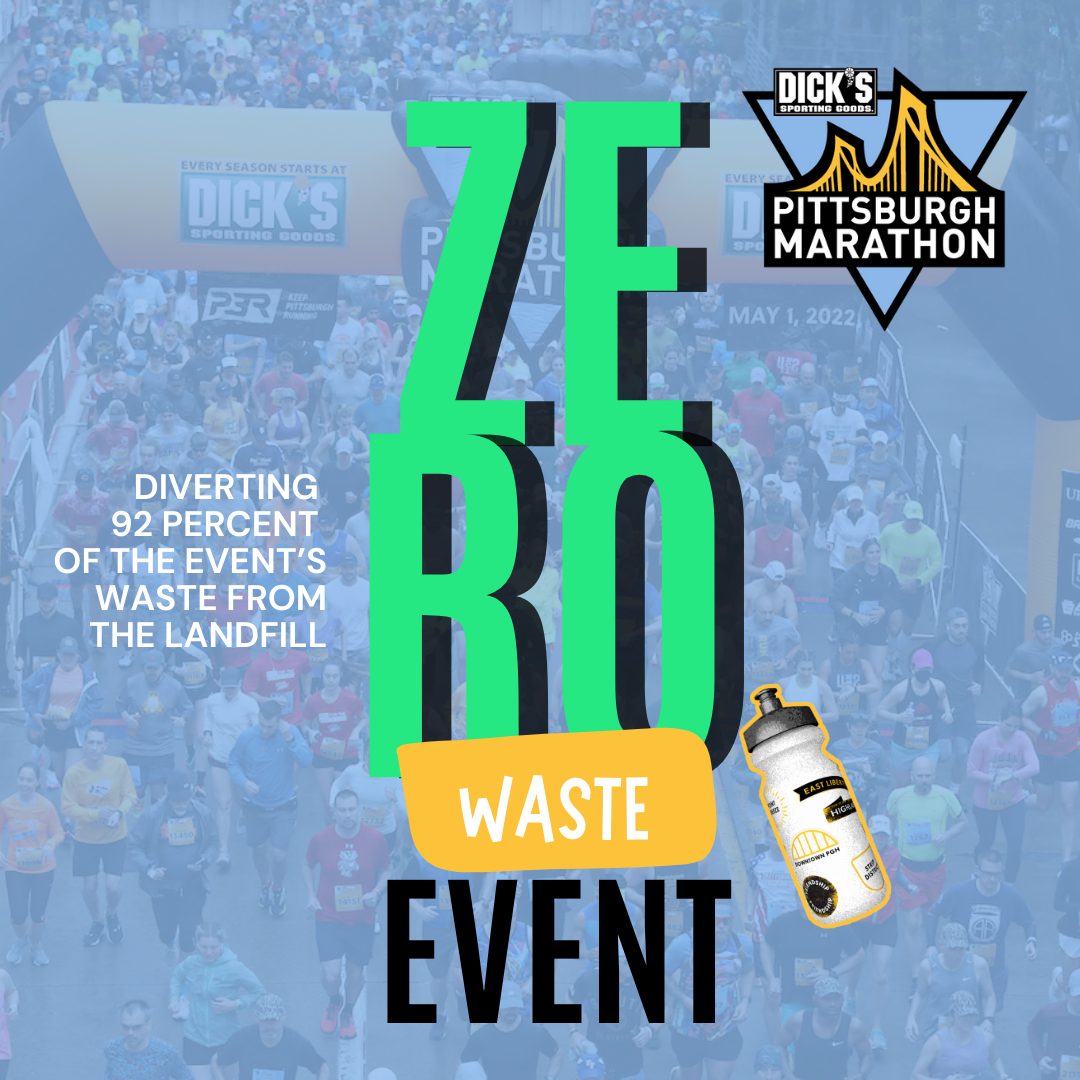 Working with Pennsylvania Resources Council, P3R successfully recycled, reused or composted approximately 26,500 pounds of waste that would have otherwise gone to the landfill
PITTSBURGH, PA (June 16, 2022)/ENDURANCE SPORTSWIRE/ – The 2022 DICK'S Sporting Goods Pittsburgh Weekend of Events once again was a "zero waste" event with 92% of the event's waste diverted from landfills. P3R, along with the help of community partners, successfully recycled, reused or composted approximately 26,500 pounds of waste generated by the event that would have otherwise gone to the landfill.
"It takes a village to produce the DICK'S Sporting Goods Pittsburgh Marathon Weekend of Events each year, and achieving our sustainability goals would not be possible without the support and dedication from our event staff, volunteers and community partners," said Troy Schooley, P3R CEO.
For more than a decade, P3R has partnered with the Pennsylvania Resource Council to create a comprehensive sustainability plan that runs from the start line through the finish line festival to collect and sort as much material as possible that is reusable, compostable or recyclable. Together their efforts have paid off, and since 2015, the Pittsburgh Marathon has been considered a "zero waste" event with 90 percent or more of waste diverted from the landfill.
"Having Pittsburgh's largest sporting event embrace the zero-waste approach speaks volumes about P3R's commitment to sustainability," said Emily Potoczny, ZeroWastePA program manager. "With PRC's assistance, the Pittsburgh Marathon Weekend of Events has the potential to be a national model on sustainable waste solutions."
This year Evoqua Water Technologies was the Official Sustainability Partner of the 2022 DICK'S Sporting Goods Pittsburgh Marathon and helped P3R achieve its sustainability initiatives for the event, which hosted more than 32,000 participants, 4,000 volunteers and 300,000 spectators.
"Evoqua Water Technologies was proud to partner with P3R and the 2022 Pittsburgh Marathon Weekend of Events," said Ron Keating, Evoqua's Chief Executive Officer. "We are energized by the success of this year's Zero Waste event and look forward to continuing to work together to advance sustainability in the Pittsburgh region."
Examples of the community effort that made this year's zero waste event happen include:
More than 10,228 pounds of items that were discarded at fluid stations and the finish line, including water bottles and mylar blankets, were picked up by volunteers and collected by the City of Pittsburgh Bureau of Environmental Services and recycled.
6,120 pounds of compostable material were collected during the weekend, including banana peels and cups, and were sorted and sent to a local farm for composting.
1,170 pounds of clothing items left behind by runners at the start line were collected by volunteers and donated to Goodwill.
6,904 pounds of leftover food was donated to the 412 Food Rescue, Jubilee Community Kitchen and the Greater Pittsburgh Food Bank.
Pennsylvania Resources Council staff monitored waste stations at the event to prevent contamination and helped educate event participants, volunteers, and spectators.
For more information, go to: www.thePittsburghMarathon.com
# # #
About P3R
P3R is the engine behind Pittsburgh's greatest races. We strive to inspire any and all to run with us. Best known for organizing the acclaimed annual DICK'S Sporting Goods Pittsburgh Marathon, P3R runs a variety of other high-quality races, events, and health and fitness programs throughout the Pittsburgh region. While many of our races attract some of the nation's highest-profile professional athletes, we offer activities for all ages and ability levels. Anyone and everyone is invited to #RUNwithP3R! Read more at: P3R.org
FACEBOOK: RUNwithP3R  INSTAGRAM: RUNwithP3R  TWITTER: @RUNwithP3R