The 2022 Bay Bridge Run is Set for November 13
March 31, 2022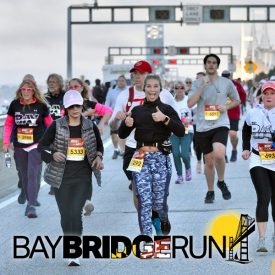 Registration Opens April 4 at 11am
/ENDURANCE SPORTSWIRE/ – After a successful return in 2021, Corrigan Sports Enterprises has announced that the Bay Bridge Run is scheduled once again for November 13, 2022.  Registration for the 2022 Bay Bridge Run will open for signups on Monday, April 4.
The Bay Bridge Run is one of the largest, most exciting mid-distance events anywhere.  4.35 miles of the 10k course takes place over water, on the Chesapeake Bay Bridge, near Annapolis, Maryland. Registrants will have chance to run or walk over the Chesapeake Bay.  Participants will experience water vistas dotted with sailboats and cargo ships from atop a major dual-span bridge that doesn't typically allow pedestrian traffic.  This event happens once a year and is the only way to cross this majestic span on foot.
Corrigan Sports, Maryland's premier race company, will once again manage event which is open to runners and walkers alike.   "We are excited to be able to continue the tradition again this year, "said Lee Corrigan, President of Corrigan Sports.  "This is such a unique event and involves a truly iconic Maryland landmark.  CSE along with the MDTA, Anne Arundel County and Queen Anne's County are honored to be able to bring it to fruition for all to experience and enjoy".
Finishers will earn one part of a 5-piece medal that feature items that one may see while crossing the bridge.  This year's version includes a steamed crab.  Future years will offer a sailboat, a seagull and a rockfish.
For more information and for registration, visit https://www.thebaybridgerun.com
About Corrigan Sports Enterprises
Corrigan Sports Enterprises has earned its national reputation by owning and operating some of the largest events in the endurance industry. Founded in 2001, CSE owns and/or operates marquee events such as the Baltimore Running Festival, Frederick Running Festival, Baltimore 10-Miler, Oakland Running Festival, The Bay Bridge Run and the Under Armour All-America Lacrosse Classic. For more information visit: www.corrigansports.com or call 410-605-9381.