The 11th Annual Northwestern Medicine Lake Bluff Criterium Returns to The Village on Saturday, July 29th
July 6, 2023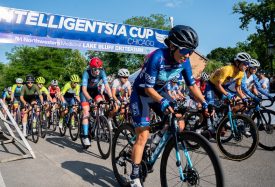 Series slated to bring international pro riders in largest criterium race in the U.S.
/ENDURANCRE SPORTSWIRE/ – Feel the need for speed? Be there to enjoy a day of fabulous racing, food, music, and more!  The 11th annual Northwestern Medicine Lake Bluff Criterium will take place in downtown Lake Bluff on Saturday, July 29th from 11 am until 8 pm, rain or shine. The Criterium will feature 9 pro and amateur men's and women's races with 600+ cyclists from more than 42 states and many foreign countries worldwide, competing for prizes totaling over $13,400. The fun-filled event, sponsored by Northwestern Medicine, is FREE and OPEN TO THE PUBLIC. "For 11 years, Northwestern Medicine Lake Forest Hospital has served as the proud sponsor of the Lake Bluff Criterium, supporting a world-class event in our community," said Marsha Oberrieder, President at Northwestern Medicine Lake Forest Hospital. "Our health system continues to believe in the importance of promoting local events that encourage active and healthy lifestyles." Serving as the official healthcare provider, Northwestern Medicine will have on-site healthcare professionals to care for racers and spectators who may need medical attention. A full first-aid station will be set up at the Lake Bluff Fire Station. Festivities begin when the first race is led off by the Criterium's official pace car, the 2023 Land Rover Defender 90, on loan from Knauz Automotive Group, Lake Bluff. For the enjoyment car enthusiasts, Knauz will also have the latest models of vehicles on display throughout the Village Green.
Families are encouraged to join the fun by participating in the Family Fun Ride, sponsored by Lake Forest Bank & Trust, Lake Bluff, taking place at 6:15 pm on the pro racecourse. There is no entry fee however each rider in the Family Fun Ride must be pre registered and wear a helmet. Parents can sign up their families from July 24th until noon on July 29th at the Lake Forest Bank & Trust, 4 E. Scranton, or on race day, at the Fire Station. Since everyone's a winner, kids will receive a $1 discount from Suzy's Swirl Frozen Yogurt Shop when they show their race number at checkout.
Lake Bluff is a wonderful venue for families to celebrate summer. New to the event this year is the Lake Bluff Crit Party, taking place on the Village Green from 4 until 8 p.m. Local Lake Bluff food vendors will include Donati's Pizza, Bangkok Tokyo Restaurant, Tacos El Norte, and, of course, Suzy's Swirl. Craft beer supplied by the Lake Bluff Brewing Company will be available at the Lake Bluff Community Church beer tent with net proceeds from sales going to a charity selected by the Church. The Nic Barnum Band, known for their high energy, soulful, and eclectic rock 'n roll, will perform a broad repertoire of music including favorites from Aretha Franklin, Phish, and the Rolling Stones, to name a few.
"This is the 11th season of the Northwestern Medicine Lake Bluff Criterium, and we are so grateful for the partnership and support we have received over the years from our title sponsor, Northwestern Medicine," stated Marco Colbert, Race Director. "We are also grateful for support from our other terrific sponsors, from the Village of Lake Bluff and from our loyal volunteers. As part of the Intelligentsia Cup series, the Lake Bluff Criterium attracts highly competitive bicycle racers from all over the nation and around the world. The Lake Bluff Crit is fast, entertaining, and family friendly, with great food and live music, too!"
This year's sponsors include Northwestern Medicine, title sponsor for 11th year; Knauz Automotive Group, pace car sponsor for 11th year; Lake Forest Bank & Trust Co., Family Fun Ride sponsor for 11th year; ULINE; Lake Forest Country Day School; Lindemann Chimney; DiVinci Painters; Pasquesi Home & Garden; EJ's Place Restaurant; and Janus Cycle Group.
The Northwestern Medicine Lake Bluff Criterium is part of the Intelligentsia Cup bicycle racing series, http://www.intelligentsiacup.com/ and is proud to once again host a stage of the American Criterium Cup series. For more information about the Northwestern Medicine Lake Bluff Criterium, please contact Race Director, Marco Colbert, marco@intelligentsiacup.com or visit https://intelligentsiacup.com/schedule/lake-bluff/ .
PLEASE NOTE: Volunteers are needed for the event. If you're not a race participant but want to be part of the action, visit https://www.signupgenius.com/go/9040B49A8A92EAB9-lake1 .
# # #
CONTACT: Jane Kaplan
847.433.8594
jane@jkaplancommunications.com