Texas Hell Week Joins RAAM Family Of Events
November 22, 2021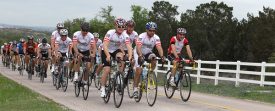 Texas Hell Week and the Texas RAAM Challenge have been combined to form a 10-day Spring Cycling Super-Event in Fredericksburg, Texas March 26 to April 4, 2022
/ENDURANCE SPORTSWIRE/ – Texas Hell Week has been an early season tradition since 1991. The Texas Hill Country offers the best Spring cycling in America. The Hill Country features 1,000 miles of paved roads with little or no traffic. From mid-March to mid-April the wild flowers are in bloom and the weather is perfect, making for an unforgettable cycling experience.
Texas Hell Week originated when Nick Gerlich, an avid cyclist, randonneur, ultra-racer and associate professor at West Texas A & M University, convinced a few friends from the Upper Midwest to meet in Texas for some early season warm weather riding. After a long winter they wanted to ride themselves into shape by logging as many miles as they could in a week. With tongue in cheek they dubbed the informal get together "Texas Hell Week." Thus, the tradition was born.
Over the next two decades, the event grew, attracting over 300 riders annually from across the USA. After 27 years Gerlich decided to move on. The last Texas Hell Week was in 2017. Those who participated over the years, including current RAAM management, were saddened by the loss of this popular early season event.  After a 2-year hiatus, followed by the coronavirus pandemic, RAAM management reached an agreement with Gerlich to bring Texas Hell Week back to life.
Texas Hell Week will feature 3 daily rides, ranging from 30 to 100 miles … 21 rides in all. This week of cycling is designed for cyclists of all abilities. You can ride any speed you like, alone or with friends. All rides are different … you will never have to ride the same route twice.
The Texas RAAM Challenge has been a Hill Country tradition since 2012. There are 2 races – the Stampede 200 and the Longhorn 500. The Longhorn 500 is a RAAM Qualifying race. The 500-mile race is open to both solo racers and relay teams.
RAAM will produce the 10-day event – March 26 to April 4, 2022 – comprised of Texas Hell Week followed by the Texas RAAM Challenge (Stampede 200 and Longhorn 500). This will mark the 28th Texas Hell Week and the 10th Texas RAAM Challenge. In addition to the 21 rides and 2 races, there will be evening instructional seminars, on coaching, nutrition and crewing.
Sign up for Texas Hell Week, sign up for the Texas RAAM Challenge, or sign up for both.  The seminars are free.
RAAM Executive Director, Rick Boethling, enthusiastically described the new event, "We are extremely pleased to have reached an agreement with Nick. Our goal has been to create an early season cycling super-event. We are proud to bring Texas Hell Week back … to insure the tradition continues."
Cycling in the Texas Hill Country is truly excellent. Spring is the best time of the year. There are a great many lodging choices in Fredericksburg and the surrounding area. Dining choices abound. This is an incredible opportunity to ride to fitness, learn about ultra-cycling and have fun. DO NOT MISS THIS EVENT!
Register now … https://www.raamchallenge.com/registration
About Fredericksburg
Fredericksburg and Gillespie County are the heart of the Hill Country. The city's German heritage is on display at the Pioneer Museum, which features settlers' homesteads and artifacts. In the town square, the Vereins Kirche is a replica of a 19th century German church that once stood in the city.
Fredericksburg is the epicenter of the burgeoning Texas Wine Country, home to over 100 wineries, vineyards and tasting rooms. Farm-to-table dining is the norm in Fredericksburg. The area has deep roots in agriculture and is home to some of the best farms, orchards and wineries around. There are over 100 restaurants. There are a dozen campgrounds and RV parks, 20 hotels/motels and nearly 1500 Bed & Breakfasts, vacation rentals and guest houses.
For More Information: https://www.visitfredericksburgtx.com/
Wikipedia: https://en.wikipedia.org/wiki/Fredericksburg,_Texas
About RAAM
RAAM is a world leader in the sport of ultra-bicycle racing.  The company is responsible for the Race Across America (RAAM), the world's premier ultra-cycling race, a 3,000-mile coast-to-coast race across the USA, as well as the Race Across the West (RAW), a 900-mile race across the Western US, the Texas RAAM Challenge, and the 6-12-24 Hour World Time Trial Championships.  In addition, they offer seminars on ultra-bicycle racing and manage the RAAM Qualifier System, 45 independently owned ultra-races in 15 countries.
For more information: visit the website: https://www.raamchallenge.com/registration
See also:  Facebook (https://www.facebook.com/RAAMraces), Instagram (@raceacrossamerica) and Twitter (@RAAMRaces).
###