Tech Maven Turned Marathoner: Carmichael Caldwell Partners with Supersapiens
September 7, 2023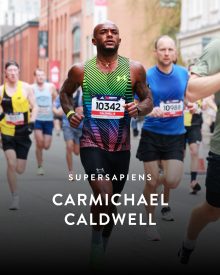 Caldwell embodies the ideal of the modern-day renaissance man, balancing the mind of an entrepreneur, the body of an athlete, and the passion of an artist
Atlanta – 07 September 2023 /ENDURANCE SPORTSWIRE/ – Supersapiens, the world's first glucose management system designed for athletes, is thrilled to unveil its newest ambassador, the ever-evolving Carmichael Caldwell. Teaming up with Supersapiens, powered by Abbott's Libre Sense Glucose Sport Biosensor, Caldwell embodies the ideal of the modern-day renaissance man, balancing the mind of an entrepreneur, the body of an athlete, and the passion of an artist.
"When seeking an ambassador who truly embodies the desire to be the best version of themselves in both performance and personal growth, Carmichael was a natural choice," declared Phil Southerland, Supersapiens CEO and Founder. "His journey from tech enthusiast to devoted marathoner reflects our commitment to pushing boundaries and embracing innovation."
Caldwell's journey is nothing short of inspiring. Leaving behind the constraints of corporate America, he embarked on a global odyssey, facing the challenges of being overweight and the drive to run just one mile without pausing. This goal transformed into a passion that saw him shed over 50 pounds and kindled a flame to run marathons. His ultimate aspirations? A sub 2:20 marathon and expansion into the world of triathlons with an ultimate goal of earning a spot to the IRONMAN World Championships.
"I was introduced to Supersapiens while searching for nutrition-focused, data-driven solutions for my marathon training. The partnership with Supersapiens feels like stepping into the future. Hailing from Silicon Valley, I've always been drawn to cutting-edge technologies. Supersapiens is not just an advanced tool; I envision it becoming the gold standard for dietary management, not just for elite athletes, but for everyone. Their commitment to research and science-first excellence resonates deeply with my belief that this is the trajectory for the future of endurance sports."
With Supersapiens' insights and analytics, Caldwell has shifted from a generalized nutrition approach to a more individualized, data-driven methodology, enabling real-time adjustments. This newfound perspective is gearing him up for the Chicago Marathon, where he's targeting a 2:40 finish.
Beyond his athletic ambitions, Caldwell's philosophy is a relentless pursuit of incremental improvement, aiming to become 2% better every single day. He champions the belief that life's potential is boundless, mirroring the characteristics of a "Modern Day Renaissance Man." This unique blend of entrepreneur, athlete, and artist is beautifully encapsulated in his three-legged stool metaphor where each component reinforces the others in a balanced, synergistic relationship.
Near-term, Caldwell is running the Boston and Berlin marathons with an eye on tackling all six Abbott World Marathon Majors and the 5 SuperHalfs. Never willing to settle, he would like to start notching top 50 places as he progresses through his running career.
The Supersapiens system, backed by Abbott's Libre Sense, is a pioneering solution designed to help athletes better understand the intricate relationship between glucose levels and energy. Supersapiens remains at the forefront of merging science with sport, continuously propelling athletes to their peak potential. Supersapiens ecosystem provides personalized insights for meaningful behavior adjustments that improve health and performance. The ecosystem consists of the Supersapiens app, Supersapiens Energy Band, and Supersapiens Data Dashboard. Supersapiens integrates with select Wahoo and Garmin devices, TrainingPeaks, Nolio app, Apple Health, and more.
The Supersapiens system powered by Abbott's Libre Sense Glucose Sport Biosensor is now available in Austria, France, Germany, Ireland, Italy, Luxembourg, Switzerland, and the United Kingdom. Learn more about the full line of Supersapiens products and purchase Abbott's Libre Sense biosensor at www.supersapiens.com.
About Supersapiens
Supersapiens is aiming to be the most influential sports brand of the decade. They develop innovative insights around glucose that aim to unlock better performance and recovery by driving positive behavior changes.
Abbott's Libre Sense Glucose Sport Biosensor is intended for athletes to measure their glucose levels. When used with a compatible product, the biosensor allows athletes to correlate their glucose levels and their athletic performance.
The Supersapiens system including Abbott's Libre Sense Glucose Sport Biosensor is not intended for medical use and is not intended for use in screening, diagnosis, treatment, cure, mitigation, prevention, or monitoring of diseases, including diabetes.
The Supersapiens system including Abbott's Libre Sense Glucose Sport Biosensor is not for sale in the U.S and is only available in select countries. For a full list of references and FAQs, please visit our Education Hub and Knowledge Base.