Team USA Rides to Bronze in the Relay at Mountain Bike World Championships
August 24, 2022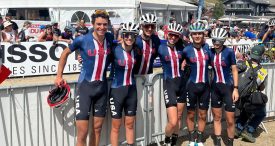 Blevins, Parker, Munro, Cioppa, Batten, and Amos land back on the podium after finishing second in 2021.
LES GETS, France /ENDURANCE SPORTSWIRE/ – Team USA kicked off the first day of racing at the 2022 UCI Mountain Bike World Championships in Les Gets, France. The Team Relay is always one of the most exciting events at the World Championships bringing the nation together across all age categories. Federations chose their top male and female riders in the Junior, U23, and Elite categories. Each team was made up of six riders who would do one lap each of the XCO World Championships course.
Short Track Word Champion Christopher Blevins (Durango, Colo.; Specialized Factory Racing) started out for Team USA holding the lead for the first half lap. Italy managed to pull ahead, but Blevins still kept him in sight. Junior National Champion Cayden Parker (Hot Springs, Ark.; Bear National Team) went all in. With other teams sending out many of their elite riders, most of the teams were back together by the second lap. France created a significant gap on the front with the chase group consisting of the USA, New Zealand, Italy and Denmark. Madigan Munro (Boulder, Colo.; Trek Factory Racing) started her lap in fourth with 15-seconds to third. The race was on for the final podium spot. France had a mechanical on lap five dropping back to seventh. That would put Bailey Cioppa (Durango, Colo.; Bear National Team) in third as she tapped in Haley Batten (Park City, Utah; Specialized Factory Racing). Batten is no stranger to the Team Relay racing in her third one of her career and charged to tighten up the gap to second. It was all up to Riley Amos (Durango, Colo.; Trek Factory Racing) to keep the team on the podium and he did just that. With one of the fastest laps of the day, Amos finished just 14-seconds back from race winner, Switzerland, and only 8-seconds back from Italy in second place.
The relay is a great opportunity for riders to take the course at speed. Batten said, "It's good to be back in Les Gets. There are two pretty major climbs when you're trying to go all out for a lap and its actually quite hard. You think you can just go from the gun start to finish, but there are long climbs and you have to pace yourself pretty well. Then at the top, it's pretty technical as well. It's a really great race track. It has everything for a mountain bike athlete. You have to be a talented climber as well as a technical rider. I think going into Sunday, the relay is a great opportunity to test it at speed and with other riders. I think it will be a great race."
The riders' favorite part of the relay is the team aspect, which they do not get much of in a sport like mountain biking. Batten said, "The Team Relay is one of my favorite events – the atmosphere, the energy, being a part of a team environment. We aren't often with USA Cycling at most of the World Cups and its only just the World Championships and the Olympics where you get to be a part of that team environment and energy."
Blevins has also been a part of many renditions of the Team Relay throughout the years. He commented, "This is my eighth Team Relay which is kind of crazy. I feel kind of old now. It's always been my favorite event of the season. I think consistency and minimizing mistakes is the ball game here, so I think we had a pretty smooth race. Another medal we are happy with for sure."
Team USA returned to the podium after a silver medal last year. Since the start of the event in 1999, this marked their fourth podium appearance (2007, 2019, 2021).
Results:
Switzerland 1:17:14
Italy +0:06
Unites States of America +0:14
Tomorrow the Junior Men and Women will race for their World Titles along with Downhill Qualifications for all riders. Watch live here.
Visit USACycling.org for more information about athletes, events, and membership programs. Follow @USACycling across all channels for the latest on Team USA.
For more information, please contact Angelina Palermo at apalermo@usacycling.org.
ABOUT USA CYCLING
USA Cycling is the national governing body for the sport of cycling and oversees the disciplines of road, track, mountain bike, cyclocross, and BMX. USA Cycling's mission is to champion accessibility, participation, and excellence in the sport of cycling to make more Americans healthier, happier, and better on two wheels while achieving sustained international racing success. USA Cycling supports cyclists at all levels, from those just beginning in the sport and participating in fun rides to international caliber racers. The organization identifies, develops, and selects cyclists to represent the United States in international competition through the support of kids' and interscholastic programs, amateur bike racing and grassroots development programs, and the provision of critical infrastructure to run organized racing. USA Cycling has a membership of 100,000, annually sanctions over 2,500 events, and is a proud member of the Union Cycliste Internationale (UCI) and United States Olympic & Paralympic Committee (USOPC).