Team USA Announced for NACAC Mountain and Trail Running Championships
August 3, 2023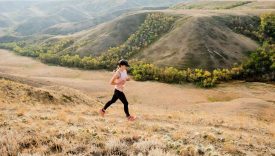 Eleven athletes and one staff member will represent Team USA at the competition
/ENDURANCE SPORTSWIRE/ – The NACAC Mountain and Trail Running Championships will take place on Saturday, September 16, 2023, in Saskatchewan, Canada. This will be the 18th edition of the Mountain event and the first time for a Trail event.
The championships will be held in conjunction with the Beaver Flat 50 at Saskatchewan Landing Provincial Park. The 10k Trail Blitz, with 1350 feet of ascent and descent, will serve as the Classic Up and Down Championship Mountain Race. The Beaver Flat 50k, serving as the Trail Championship Race, features 7400 feet of elevation change. For 2023, the events are organized under the auspices of Athletics Canada.
Team USA Mountain women
Courtney Barnes, 28, Santa Barbara, CA – Barnes is a former All-American/School record holder for University of Kansas. In addition, she placed 8th at the USA Championships in the steeple and represented the USA internationally in Belarus. Off the track, Barnes claimed the female champion title for the half-marathon at the 2021 Spartan US Trail Champs.
"I am stoked to represent the US on the trails for the first time! The last few years of racing for me have been about gaining experience in all different styles of racing, from flat roads to short uphill races all the way to the 100k distance. Because of this, I haven't raced the typical trail circuits for making national teams. I am excited to narrow my focus on the shorter distances for the next few years and this is a great way to embark on that journey!"
Megan Lacy, 29, Boise, ID – Lacy returns to represent the USA after being a member of the 2021 USA World Mountain Team that competed at the Xterra Trail World Champs, placing 4th. She was the runner-up at the 2022 USATF Trail Half-Marathon Championships and 5th at the 2023 USATF Mountain Championship.
"I am so excited to represent the US internationally for the first time! This is my second time representing the US as I was a member of the 2021 World Championship Team where we competed in Hawaii at the Xterra World Championship. I narrowly missed the 2023 World Championship team this year, placing 5th at the US Mountain Running National Championship, so I am extra excited to be a part of this team!  It is always an honor to represent the United States and I cannot wait for the race!"
Gabrielle Orie, 24, Buffalo, NY – Gabrielle recently completed her NCAA eligibility at Univ. of Colorado Boulder (M.S. degree in Integrative Physiology) after graduating from Cornell (B.S. in Nutritional Sciences).  She placed 4th at the Pac-12 Championships in the steeple and 15th at the NCAA West Region.
Gabrielle commented on being relatively a 'newbie' to the trails/mountains, but dedicated to the MUT experience with her coach Andy Wacker.
Team USA Mountain men
Eric Hamel, 26, Flagstaff, AZ – Hamel is a recent graduate from Penn State and Western Washington University bringing personal bests of 14:11 in the 5k and 30:09 in the 10k to the trails. After finishing up collegiate running in 2022, Hamel has been training in Flagstaff with Mike Smith. This past fall he followed Max King under the previous course record at the Bend Bigfoot 10k for a second place finish.
"I am beyond grateful for this opportunity to represent my country and continue to build connections with other incredible trail runners from different backgrounds. Running for a team will always have a special place in my heart as you know your teammates are also pouring it all out on the cross country course or trails." 
Liam Meirow, 27, Frisco, CO – Meirow returns to Team USA after his strong showing at the World Trail and Mountain Running Championships in June in Austria.  Meirow led the way for Team USA in Austria placing 13th at Worlds.  Over the last year, he has competed in a variety of races – from running 3:41 for 1500m to competing in his first 50k two weeks ago at the Wy'East Trailfest.
"Pumped to represent Team USA again and give another go on what looks to be a wicked-fast course.  I simply didn't think another opportunity would come so soon! I'm looking forward to exploring Saskatchewan as well!"
Jeffrey Stern, 36, Mill Valley, CA – Stern has been a regular on the trail scene for several years.  This past fall, he claimed runner-up finishes at the Quad Dipsea and Mt. Tam Hill Climb.  Stern took 3rd at the Quebec Mega 25K this summer.
"I'm honored and thrilled to be selected to represent my country for the first time in my life at the NACAC Championships in Saskatchewan this September — it's a dream come true!"
Team USA Trail women
Sarah Biehl, 29, Boulder, CO – Biehl has been building a resume of trail ultras over the last few years.  Her statement race came last fall at the JFK 50 Miler, not only claiming the win, but also setting a new course record.
"I'm excited for the opportunity to represent team usa, race against tough competitors, and travel to a new area!" 
Kristina Randrup, 24, Seattle, WA – Randrup's list of trail races is extensive.  Most notable are 3 wins at the Skyline 50k, a win at the American River 50 Mile and a runner-up at Lake Sonoma 50 Mile.
"I am extremely grateful to have the opportunity to be a part of Team USA in September. Representing my home country on a big stage has been a goal since I ran my first ultra in 2017. I can't wait to take this step."
Team USA Trail men
Dan Button, 37, Eagle, ID – Button appreciates his role as a leader of the Boise Billies team, working to create opportunities for his local running community to improve themselves, chase goals and have fun sharing & stewarding the outdoors.  In 2021, he ran 3:03:57 for a trail 50k at Wieser River.
"I believe that running can be an incredible unifier of people and races like this are an excellent chance to put that into practice. From a 3:52 downhill mile to a 3:03 trail 50k I love trying to find answers to those questions about what I can accomplish."
Aubrey Myjer, 28, Santa Monica, CA – Myjer transitioned to trail running after a notable collegiate career at Columbia University and NC State University. He set, and still holds, the course record at Black Canyon 60k. Myjer has various FKTs, Joshua Tree Traverse (CA), Mt. Baldy (CA), and Mt. Wilson (CA)
"It's a pleasure to represent the USA at this year's NACAC trail race."
Adam Sjolund, 22, Bonney Lake, WA – Sjolund recently graduated from Nevada and is now a grad student at NAU. He left Nevada with personal bests of 14:11 for 5k and 28:59 for XC 10k. In addition, Sjolund qualified for the Olympic Marathon Trials at CIM this December with 2:16:59 as the youngest qualifier at 21. His brief time on the trail has yielded victories in 3 of 4 races.
"Really looking forward to the opportunity to race and be part of the team."
Team staff
Jason Bryant, Elkin, NC
"I still enjoy getting lost in the mountains, and…I've always found the way back thus far. Representing the USA in competition was special for me, and I now feel blessed to be involved in others' experiences. I'm excited to support our USA athletes' pursuit of running goals, plus exploration of mountain and trail. Furthermore, I appreciate the opportunity to encourage those just beginning their journey into the mountains and trails."
Follow Team USA @usmtrunningteam