Team Novo Nordisk and Novo Nordisk confirm three-year renewal of historic partnership
August 21, 2023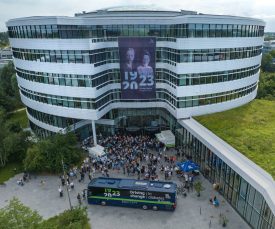 Atlanta, GA/August 21, 2023/ENDURANCE SPORTSWIRE/ – The world's only all-diabetes professional cycling team is excited to confirm the extension of their successful partnership with principal sponsor Novo Nordisk for another three years carrying Team Novo Nordisk into 2026.
In 2021, Novo Nordisk & Team Novo Nordisk celebrated the discovery of insulin. This year, they celebrate their 10-year partnership anniversary as well as the 100th year anniversary of Novo Nordisk. The discovery of insulin and 100 years of innovation within diabetes management means that people living with diabetes now have the possibility to live out their dreams.
The extension of this partnership will allow Team Novo Nordisk to continue the important mission to inspire, educate and empower everyone affected by diabetes and show the world that diabetes doesn't have to hold you back.
"It's already been a decade of success and life changing moments for us working together with an amazing partner like Novo Nordisk," began CEO & Co-Founder Phil Southerland. "To be able to being a positive inspiration for people with diabetes for another three years is fantastic and it's going to be spectacular.
"Our mission to inspire, educate and empower everyone around the world affected by diabetes is a mission that's never ending and with our athletes racing all over the world from China and Japan, across Europe to the USA and Canada this year, we know our message is being spread and the impact the team has on every diabetes community in each country is a small step taken in the continuing journey to try and affect positive change for the near 500 million people living with diabetes around the world."  
Since the last partnership extension in 2020 the team has gone from strength to strength. Celebrating the 100th anniversary of the discovery of insulin in 2021 with the landmark documentary Ride for your L1fe and team captain Andrea Peron's first career victory in 2022 at GP Kranj in Slovenia. 2023 has marked the successful emergence of generational talents Matyas Kopecky and Filippo Ridolfo in the pro team alongside a growing ambassador program.
"Our project continues to grow," continued Southerland. "In 2024 we will have 20 senior pro riders, 12 development riders and an ever-expanding ambassador team of athletes from around the world competing in many different sports: from the track and field with 3 x time Chilean national 100m sprint champion Maria Ignacia Montt…to the ocean and multiple world paddle board champion Fiona Wylde all the way to the velodrome and the legendary US multi discipline national champ Mandy Marquardt."
The next three years will see Team Novo Nordisk' mission expanding once more to reach not only people affected with diabetes but with other serious chronic conditions around the world.
"When diagnosed with a chronic condition many people think it means they won't be able to live life the way they had hoped," said Southerland. "With Novo Nordisk, we are ready to take on the challenge to prove that it might be possible to live the life of your dreams."
"I really want to take a moment, and give a sincere thanks to the leadership, and all the employees of Novo Nordisk," concluded Southerland. "So often in their 100-year history as a company, they have invented a new reality for people with diabetes. And with this extension, Novo Nordisk clearly shows its desire to put patients at the center of everything they do."
"This is more than a traditional sponsorship. Team Novo Nordisk is a testament to all the employees of Novo Nordisk that live and breathe the ethos of doing what is best for people living with diabetes or with another chronic condition. I am both grateful for the opportunity and honored that our heroes have the chance to fly the Novo Nordisk flag, as we continue driving all around the world."