Team Evergreen Donates $500,000 in 2021
October 25, 2021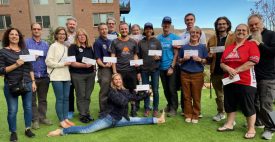 Cycling Organization Awards $500,000 to Colorado Nonprofits in 2021
EVERGREEN, CO /ENDURANCE SPORTSWIRE/ – Team Evergreen Cycling, Colorado's largest cycling club, is thrilled to announce a $500,000 donation for 2021 through the proceeds of the Triple Bypass, Mt. Evans Hill Climb, Co2uT, Session Series, the Hundo, and Beti Bike Bash. This record-breaking Team Evergreen donation will be divided into two sections. The first $165,000 has been allocated to nonprofit organizations that support Team Evergreen's events throughout the year. The remaining $335,000 will be distributed as grants. Grant applications are now open.
The mission of Team Evergreen (TE) is to build ​the cycling community by expanding rider experiences, hosting compelling events, and channeling thoughtful philanthropic impact. They have invested in their local communities and the state of Colorado since their beginning, in 1988. As TE has grown, their ability to positively impact the community has continued to expand rapidly. A full list of the 30 nonprofit beneficiaries from this year's Triple Bypass giving can be found here.
Cheryl Burnside, Volunteer Lead for PEO Chapter ES shares, "It is a privilege to turn a few cranks in the well-oiled machine that is the Triple Bypass and to support the athletes during this event, which for many reasons is the most respected cycling event in Colorado. We are also honored to benefit from Team Evergreen's commitment to giving back via its distribution of the ride profits to nonprofit organizations from throughout the state. As a direct result of the 20 years, we have been fortunate to be involved, we have been able to play a small part in changing women's lives: through 88 scholarship gifts to Colorado women and to Colorado community colleges, as well as through contributions of over $50,000 to the loan, grant and scholarship programs of PEO International. Our heartfelt gratitude goes to Team Evergreen for all that they do."
To round off the initial giving of $165,000 to Triple Bypass Volunteers and the beneficiaries of the Session Series, Bailey Hundo and Beti Bike Bash, the remaining $335,000 is to be distributed as grants. Applications for grants are available to any Colorado 501c3 (or governmental) nonprofit organization. Special consideration will be given to applicants meeting one or more of the following criteria: Community Engagement, Bicycle Advocacy and Education, and Trail Building and Maintenance.
"We are grateful for every rider, member and volunteer that supported our events this year.  Through their participation and dedication, we are able to distribute the largest donation in our history. We have turned a corner at Team Evergreen, and I am honored to be part of an organization that makes a difference to dozens of nonprofits in Colorado," states Jennifer Barbour, Executive Director at Team Evergreen.
Applications for grants, open now, will close on Friday, November 5th. With continued success, Team Evergreen plans to continue the grant process in 2022. Learn more about Team Evergreen, their mission, events, and community rides at www.teamevergreen.org.
-###-
Media contact: Amanda Knutson / Thorpe Marketing – amanda@thorpemarketing.com
About Team Evergreen: The oldest and largest cycling club in Colorado, Team Evergreen produces the Triple Bypass, the Mount Evans Hill Climb, Session Series, the Hundo, Beti Bike Bash and hosts numerous rides and events throughout the year. Their mission is to build the cycling community by expanding rider experiences, hosting compelling events, and channeling thoughtful philanthropic impact. As a nonprofit, they've donated nearly $3M to local charitable and cycling advocacy organizations. www.teamevergreen.org.