TCS London Marathon to host the 2022 AbbottWMM Wanda Age Group World Championships
October 14, 2021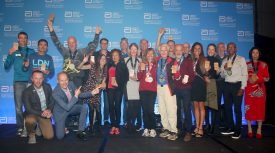 Race returns to London for the second edition
Following the successful inaugural AbbottWMM Wanda Age Group World Championships in London earlier this month, organizers announced today that the 2022 edition will return to the British capital as part of the TCS London Marathon on October 2, 2022.
Qualifying for the 2022 World Championships began on January 1, 2021 and runs until December 31, 2021. There are three pathways for runners to earn their place in London next year:
1. In-person events
The global growth of the series continues with more than 160 races remaining in this qualifying series, covering 80 countries and spanning six continents. Runners can earn ranking points on a maximum of two qualifying events.
Search the full list of qualifying events HERE.
2. Virtual qualifying events
Some marathons that are part of the third edition of the qualifying series have had to pivot to a virtual event for 2021. Races that provide Abbott World Marathon Majors with full results will give their top age group performers the chance to earn world ranking points in a newly created virtual rankings platform that sit alongside the other avenues to the World Championships. A proportion of the Championship places will be allocated to this pathway to entry. More details on this will be made available in due course.
3. The AbbottWMM Global Marathon
The Abbott World Marathon Majors Global Marathon on May 1 and 2, 2021 offered 100 places for the 2022 World Championships. The second Global Marathon on November 13 and 14, 2021 will also offer 100 places for the 2022 World Championships. Sign up now.
Hugh Brasher, Event Director of the TCS London Marathon, said: "This year's London Marathon was a truly special day and it was wonderful to welcome age group runners from all over the world to London. We are delighted to be hosting the Abbott World Marathon Majors Wanda Age Group World Championships again next October and celebrating the achievements of these inspiring runners."
Runners who qualify for a 2022 AbbottWMM Wanda Age Group World Championship place will be notified early 2022 once the Age Group World Rankings have closed and results have been verified.
– END- 
For media inquiries, please contact:
Lorna Campbell
Head of Communications, Abbott World Marathon Majors
Lorna.Campbell@wmmajors.com
ABOUT ABBOTT WORLD MARATHON MAJORS
The Abbott World Marathon Majors (AbbottWMM) is a series of six of the largest and most renowned marathons in the world – Tokyo Marathon, B.A.A. Boston Marathon, Virgin Money London Marathon, BMW BERLIN-MARATHON, Bank of America Chicago Marathon and TCS New York City Marathon.
Encompassing an annual series for elite runners and elite wheelchair athletes, AbbottWMM also applauds the achievements and passion of everyday champions from around the world. The AbbottWMM Six Star System is an online results hub that celebrates every runner who has completed from one to six of the races in the series and encourages them to 'Reach for the Stars'.
The AbbottWMM launched the AbbottWMM Wanda Age Group World Rankings in 2018 and the first AbbottWMM Wanda Age Group World Championship race will take place on 03 October, 2021 (postponed due to COVID-19) as part of the Virgin Money London Marathon.
The AbbottWMM Global Run Club launched in August 2020 and aims to bring together the global community of marathon runners on a virtual platform.
For more information, visit www.Abbottwmm.com
ABOUT ABBOTT
Abbott is a global healthcare leader that helps people live more fully at all stages of life. Our portfolio of life-changing technologies spans the spectrum of healthcare, with leading businesses and products in diagnostics, medical devices, nutritionals and branded generic medicines. Our 109,000 colleagues serve people in more than 160 countries.
Connect with us at www.abbott.com, on LinkedIn at www.linkedin.com/company/abbott-/, on Facebook at www.facebook.com/Abbott and on Twitter @AbbottNews.
ABOUT WANDA SPORTS GROUP
Wanda Sports Group is a leading global sports events, media and marketing platform with significant intellectual property rights, long-term relationships and broad execution capabilities through which to create value for stakeholders in all parts of the sports ecosystem, from rights owners, to brands and advertisers, and to fans and athletes. Wanda Sports Group owns, or otherwise have contractual rights to, an extensive portfolio of global, regional and national sports properties from which to generate revenue across the value chain, including events operation, media production and media distribution, sponsorship and marketing, digital solutions and ancillary services.
Wanda Sports Group has combined the strengths of Infront and Wanda Sports China businesses and formed a global sports event portfolio built principally around the strength of globally recognized brands and related intellectual property.
Connect with us at www.wandasports.com