Tasmania's Dragon Trail Delivers World Class Riding and a Carnival Atmosphere
March 23, 2022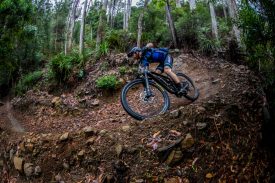 The 3 day Dragon Trail Mountain Bike Stage Race challenged and delighted over 200 riders
/ENDURANCE SPORTSWIRE/ – The Dragon Trail MTB Stage Race returned to the trails, hills and forests of North-East Tasmania for a second edition last week, and delivered its unique mix of world class flow trails, X-country adventure riding, challenge and community.
Over two hundred riders, from all over Australia, gathered at Branxholm for an event which offered something for everyone, and much more than the riders expected.
From being picked up by the airport transfers on arrival, the riders were given a 5-star service and, if they wanted, could leave it to the race to set up camp for them each night, and just enjoy the local gourmet food, the speakers, entertainment and the camaraderie each night.  Each day they rode a different course, experiencing wild Tasmania over 3 days of exceptional riding.
"The trails we use are so amazing, we just want to share them with everyone," said Race Organiser Louise Foulkes of Geocentric Outdoors, "and the camping experience is just as essential to Dragon Trail. With all the tents, services, catering and baggage moving on each day, it's like a travelling carnival which we set up each night to celebrate another day of superb riding."
This year's ride had some wetter conditions than last year, after rain on arrival day, which made the first day in particular a muddy and slippy 52km ride on the Derby Trails.  Rough weather was forecast for the second day, which took riders 58km up and over Blue Tier and onto the Bay of Fires Trail.
Luckily, it wasn't as bad as forecast and the final 7km descent put a smile on everyone's face.  Finishing at Swimcart Beach, the toughest day was behind them and, after another night swapping trail stories in camp, the final ride was a 42km circuit of the St. Helen's Flagstaff trails, taking in the Dreaming Pools Wilderness Trail.
At the front of the field there were some super-fast times from the elite riders.  Karen Hill returned to defend her title in the women's race and said, "This year I wasn't in the same form as last year and had no expectations other than to ride and have fun. I came back to race on awesome trails."  She must have been inspired to be back, because she won each day to retain her title in a time of 9.00.55.
The men's winner was Jon Odams (Giant / Shimano Australia) in 07.05.42, and he too won each day.  He was third last year, and put the event into an international perspective saying,
"I feel like it was the closest experience that I've had in Australia to the BC Bike Race, because it incorporates technical trails that aren't you're super smooth cross country style race track.
"I think it's a great event for the general rider who just wants to ride singletrack, more so than your traditional big stage race. You can just ride the courses and have amazing fun, and it wouldn't just be a physical challenge like some of the other big stage races are."
There were some exceptional performances in all the categories, notably the U23M, which was won by 16 year old Tasmanian rider Thomas Clayton, taking 8th overall, ahead of Melbourne's Toby Bridger, who is just 14.
A rider with a bit more experience was the only 70+ competitor, Tony Zerbst, who was an impressive 59th overall.  He had planned to race with his son Joe, in the 'Oldies and Offsprings' category, after being 'talked into it', but then Joe contracted Covid and Tony rode on his own!  They plan to come back together next year.
Bridger and Zerbst jointly won the 'kudos award' in camp on day 2, and on day one it was a family affair with Kudos given to 3 generations of the Northeast family, who were racing in two different pairs.  Family racing is encouraged at the Dragon Trail!
The final day Kudos award went to the rider who stayed out enjoying the trails for the longest, Cangie Wu.  She found the first day hard and wasn't going to continue, but was encouraged to go on.  The last day she definitely didn't have it in her legs to complete the final stage … but was talked into going to the trailhead, then into trying the first climb … and she finished the course.  The support which riders are given is at the heart of Dragon Trail.
Another rider who inspired many and who met more challenges than anyone else, was paralympian Michael Milton, who had his left leg amputated as a child.  He's won 6 skiing Olympic gold medals, set a world record for the marathon on crutches and raced national track cycling events, and this year he completed the Dragon Trail.
His time was 19.39.27 and after finishing he said, "Today was tough from the start and I had to use what little reserve I had to finish. Never had a better ride than that final rolling descent to the finish line.
I DID IT!  What a race!  If you MTB you HAVE to do the Dragon Trail because it is stunning, varied, challenging, fun and amazingly beautiful … basically all the adjectives!"
One local rider who knew the trails well, was Luke Webster who finished 6th, and he emphasised how varied the Dragon Trail is. "There is lots of superb single track, but there are old school trails and fire roads too, and the surfaces changed each day.  We were crossing deep creeks, riding slippy descents, loose shaley rocks and then grippy granite.  Its early days for the event, but it's an absolutely world class destination for riders.  The race is different each day and has a relaxed and fun atmosphere and a community feel.  It caters for everyone, from the super fast to the social/adventure rider."
The race is already planning for next year and Foulkes said, "We'll be announcing dates soon and next year we are looking forward to welcoming international riders.  For the first race we originally had 20% international entries, and we expect more than that for 2023.  We've had two years perfecting and refining and we know this is a world class event, so next year we are looking forward to welcoming riders from all over the world to Tasmania, and to the Dragon Trail.  Come and join us."
————————-
For further press information contact; Louise Foulkes 0419 427 243
Please credit photos to Murilo Mayos & Margarete Oti /Dragon Trail MTB.
Photos for use with this press release only (credit compulsory) are available from: https://drive.google.com/drive/folders/1nK8cbK9VRvMzFad_t0mpa52s2iOEUeR6?usp=sharing
You can see the results of the Dragon Trail MTB at https://my.raceresult.com/193717/results and all the race photos and video are on Facebook at https://www.facebook.com/geocentricoutdoors.
For more about the Dragon Trail MTB visit; https://dragontrail.com.au
Dragon Trail MTB is organised by Geocentric Outdoor and is sponsored by Events Tasmania and Break O'Day Council.  The race received grant funding from the Australian Government under The Recovery for Regional Tourism Program, an initiative of the $1 billion COVID-19 Relief and Recovery Fund.