T-10 Days to XTERRA Worlds in Trentino, Italy
September 21, 2022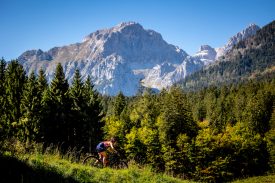 It's the first time since XTERRA's inception in 1996 that off-road triathlon's greatest day will take place outside the Hawaiian Island of Maui, and a capacity field featuring more than 750 of the world's best amateur and professional XTERRA athletes representing 40 countries are headed to Trentino to take part in its European premiere. Click More to read Elite Preview and download Press Guide.
September 21, 2022 /ENDURANCE SPORTSWIRE/ – Following an action-packed racing season that traveled around the world to qualifying events in 22 countries, XTERRA will host its 26th annual XTERRA World Championship off-road triathlon at the base of the breathtaking Brenta Dolomites in Trentino, Italy on October 1, 2022.
It's the first time since XTERRA's inception in 1996 that off-road triathlon's greatest day will take place outside the Hawaiian Island of Maui, and a capacity field featuring more than 750 of the world's best amateur and professional XTERRA athletes representing 40 countries are headed to Trentino to take part in its European premiere.
"Our territory has been confirmed to be one of the best locations for large sports events and this is proven yet again by the XTERRA World Championship," said Roberto Failoni, Councillor for Crafts, Trade, Promotion, Sport and Tourism of the Autonomous Province of Trentino. "Molveno Lake and its mountain range will be the extraordinary backdrop to a truly breathtaking and challenging competition. Like on other occasions, we aim at top quality in the accommodation and catering offered to athletes, teams and spectators, with the commitment Trentino is famous for and that, we are certain, will make this event unforgettable."
The challenge athletes face combines a 1.5-kilometer (1-mile) swim in Lake Molveno with a two-lap 32-kilometer (20-miles) mountain bike that climbs high into the Dolomites, followed by a flowy 10-kilometer (6.2-miles) trail run that twists through forest trails and the lake shore.
Elite athletes' race for a share of €100.000 in prize money, while all competitors chase the sports' ultimate, and most coveted title of XTERRA World Champion.
MEN'S ELITE RACE PREVIEW
If World Championships were won on paper or by popular opinion, the title would already belong to Arthur Serrieres – and for good reason.
He's the reigning and two-time World Triathlon Cross Champion, the reigning and three-time XTERRA European Champion, he won the Europe Triathlon Cross Championship on this course in Trentino last year, and was runner-up at XTERRA Worlds the last two times to a pair of gentlemen – Hayden Wilde & Bradley Weiss – who won't be on the start line.
Serrieres is the fastest runner in the sport, he arranged his entire year and two grueling altitude training camps for this one day, and is as fiercely competitive as they come. But, he still has to earn it in real life, where anything can happen, against a stacked field of 60 elite men representing 20 countries.
Consider this, Serrieres won 15-of-16 regular season races over the last two years, his only "loss" was a third-place finish at XTERRA France in July behind the Forissier brothers – Felix and Arthur. He had a mechanical issue on the bike that day … and in this sport, on this course, where athletes will hurl themselves with reckless abandon down the unrelenting rocky mountain terrain in the Dolomites at top speed … things happen.
In July of 2019, Arthur Forissier looked poised to take over the sport. He had won the ITU Cross Tri World title in April, then three straight XTERRA majors including the big one in France. Serrieres got hot at the end of the summer, won the Euro Champs in Czech and Germany and has been on a fire ever since – but make no mistake – the "other" Arthur is still a threat. And now, his 24-year-old brother Felix is flirting with greatness of his own. He was second to Serrieres in Trentino a year ago, and second to Serrieres at Cross Tri Worlds in Romania and the XTERRA European Champs this year – and mechanical issue or not – he beat Serrieres in France.
And if those three Frenchman aren't intimidating enough – add one more – Maxim Chane. He's just 26-years-old, but he's been in the game for a long time, and won the 15-19 division XTERRA World Championship in 2014 before going pro. He's really good on really hard courses with a lot of climbing, like XTERRA Italy – Lake Garda which he's won the last two years, and will be in his element in Trentino.
The last and only Frenchmen to win an XTERRA World Championship was Nico Lebrun in 2005 – and now he's running the show as the sports technical director. The race may be in Italy, but to win it, you'll have to go through France.
Of course, there are mountains in America too, and two of the best climbers in the world live and train in Eagle-Vail, Colorado – home to the highest elevation XTERRA on earth. The XTERRA USA Championship race starts at 7,400-feet elevation then climbs 3,000-feet into the thin air of the Rockies, topping out at 9,400 feet.
Josiah Middaugh is a 20-year veteran and the 2015 XTERRA World Champion. He's been in the top 10 at Worlds for 10 straight years. To say he'll feel right at home at altitude, climbing up a rocky path in the Dolomites – no matter what the weather conditions are – would be an understatement.
His son, Sullivan, who turned 18-years-old in March, literally grew up with XTERRA and has grown into a world-class athlete. He just graduated from Battle Mountain High School where he set the school record in the 5K (15:30) and is headed to Arizona State University as part of the USA Triathlon Project Podium squad which is designed to develop athletes into Olympic medalists.
"Looking forward to a mountain course for worlds," said Josiah Middaugh. "I am most excited to share this experience with my son Sullivan as we bookend the elite start list as the youngest and oldest in the pro field. Seeing his recent enthusiasm for triathlon has re-energized my training in hopes that I can keep up!"
The one constant at XTERRA Worlds over the last eight years, and perhaps the most remarkable stat in all of off-road triathlon, is Ruben Ruzafa's eight-race streak with the fastest bike split. Since 2013, Ruzafa has been first off the bike at Worlds. He won two of those races (2013-2014) and finished on the podium at five of the other six, so the question isn't "is he going to be in the mix" … it's "can he hold on."
Ruzafa – the three-time XTERRA World Champion and four-time World Triathlon Cross Champion, is one of the true all-time greats and is as classy off the trail as he is on it. It'll be a wonderful treat for Europeans, and his family, to watch him perform in person on the world's biggest stage close to home this year instead of on the most remote island on earth.
There are three other elite men who need to be mentioned among the title contenders – Jens Emil Sloth Nielsen, Lukas Kocar, and Sebastien Carabin. They're all great mountain bikers and tough competitors who have shown that on any given day are capable of taking the top spot.
As for surprises, there's always someone who rises to the occasion. Could it be one of the fast Italians – Franco Pesavento or Federico Spinazze or Riccardo Ridolfi – energized by the home crowd? Perhaps Paco Serrano, the former Olympian and 2017 ITU Cross Tri World Champ from Mexico, has one more trick up his sleeve? Or could it be Francois Vie, another young gun with big dreams, who makes the scene?
Fun Fact: Every World Triathlon Cross Championship men's elite winner since ITU first hosted its own world championship in 2011 will be in Trentino. Conrad "the Caveman" Stoltz, pictured above, who won four XTERRA World Championships and the first three ITU World titles (2011-13), is racing in the made-for-fun organizers challenge. He'll host XTERRA South Africa this January. Ruzafa won ITU Worlds four times (2014, 15, 16, 18), Serrano in 2017, Forissier in 2019 & Serrieres in 2021-22.
XTERRA World Ranking/Bib# – Name, NAT
2/1 – Arthur Serrieres, FRA
3/2 – Ruben Ruzafa, ESP
5/12 – Felix Forissier, FRA
6/3 – Sebastien Carabin, BEL
7/4 – Josiah Middaugh, USA
8/14 – Arthur Forissier, FRA
9/15 – Lukas Kočař, CZE
10/6 – Jens Emil Sloth Nielsen, DEN
11/5 – Maxim Chane, FRA
14/16 – François Vie, POR
16/17 – Franco Pesavento, ITA
18/18 – Sullivan Middaugh, USA
19/19 – Petr Soukup, CZE
20/8 – Xavier Dafflon, SUI
23/20 – Jens Roth, GER
24/21 – Federico Spinazzè, ITA
26/7 – Francisco Serrano, MEX
27/22 – Scott Anderson, GER
29/23 – Guillaume Meunier, FRA
30/24 – Sebastian Neef, GER
32/25 – Francois Carloni, FRA
33/26 – Maxime Gourmaud, FRA
34/27 – Kieran McPherson, NZL
35/28 – Riccardo Ridolfi, ITA
36/29 – Michele Bonacina, ITA
38/30 – Colin Szuch, USA
41/31 – Lucas Van Deynze, BEL
43/32 – Rui Dolores, POR
46/33 – Andrea Zanenga, ITA
47/34 – Veit Hönle, GER
48/35 – Peter Lehmann, GER
57/36 – Dominik Wychera, AUT
61/37 – Arthur De Jaegher, BEL
62/38 – Jan Šneberger, CZE
66/9 – Samuel Jud, SUI
75/39 – Julien Buffe, FRA
85/40 – Jules Dumas, FRA
90/41 – Andres Carnevali del Castillo, ESP
98/42 – Gaëtan Vivien, FRA
102/43 – Tiago Maia, POR
103/11 – Branden Rakita, USA
108/44 – Michal Francke, CZE
110/45 – Benny Smith, USA
115/46 – Edmond Roy, CAN
116/47 – Sam Teller, USA
121/48 – Quirijn Waaijenberg, NED
140/49 – Billy Allen, USA
153/50 – Pâris Fellmann, LUX
157/51 – Keller Norland, USA
174/52 – Thomas Sauser, SUI
177/53 – Hugo Amaral Barbosa, BRA
207/54 – John Wiygul, USA
219/55 – Herbert Peters, GER
238/56 – Alex Rhodes, GBR
254/57 – Humberto Rivera, USA
326/58 – Tom Eickelberg, USA
396/61 – Octavio Vicente, POR
472/11 – Brian Summers, USA
729/59 – Barret Fishner, USA
NR/60 – Adriaan Albert Myburgh, RSA
WOMEN'S ELITE RACE PREVIEW
For the first-time in the history of XTERRA Worlds, home field advantage is a factor, and it belongs to Sandra Mairhofer (not that she needs it!).
Mairhofer lives in South Tyrol, about 2.5 hours away from Trentino in northern Italy, where there is an abundance of mountain trails available for off-road training. She rides an RDR Ares, a light full suspension mountain bike handmade in Italy especially built for climbing these mountains. And she won the European Triathlon Cross Championship on this same course just one year ago when it doubled as XTERRA Trentino.
"This race for me is special because it is a home race," she said. "I love the place and I love the course! There are steep uphills and fun downhills, and the running is stunning with technical sections and flat fast sections. I am feeling healthy and ready for Worlds, the preparation is going well, and I am looking forward to the race!"
The reigning World Cross Triathlon Champion has had a phenomenal year, winning the XTERRA European Championship and XTERRA Germany, the Italian Cross Tri National Championship, and the Italian Winter Triathlon National title for the fifth straight year.
In polling done amongst her fellow elites, she is the favorite to win it.
"I will give my best in Molveno to be in the front of the race and fight for the title, but whatever comes it will be a beautiful race to end my best season," she exclaimed. "For me, I think Alizee (Paties) will be one of the favorites in this game! She is a really good biker, which can be helpful on this kind of course."
Paties is indeed strong, and was second to Mairhofer at the last two big races in the Czech Republic and Germany, but there are a LOT of strong women in the field who know how to break the tape.
Paties won XTERRA Greece and XTERRA Italy-Lake Scanno this year. Marta Menditto won big at XTERRA France and Belgium. Loanne Duvoisin won the World Cross Triathlon Championship and was runner-up to only Flora Duffy at XTERRA Worlds last year. Solenne Billouin won XTERRA Portugal, Jindriska Zemanova won XTERRA Italy-Lake Garda, Katie Button won the Canadian majors at XTERRA Victoria and Whistler, Lesley Paterson won the XTERRA USA Championship race, and Suzie Snyder won in the Dominican Republic.
Helena Erbenova-Karasova and Carina Wasle have the experience and grit to push the younger elites to their limits, and when it comes to Worlds – nobody has a resume like Paterson. In her last 10 XTERRA World Championship races she's won it three times and finished second five times.
This year, she'll be rolling in from Zurich fresh off the European premiere of "All Quiet on the Western Front" – a movie she wrote and produced.
"Was training for this one in Hollywood, baby," she exclaimed. "I'm a little overwhelmed and tired with all that's going on but excited at the same time."
The top 15 elite men and women finishers at the XTERRA World Championship on Saturday are guaranteed a spot in the Short Track showdown on Sunday, and the fight for that right will be tight.
In addition to all the women listed above, expect Segolene Leberon, Charlotte Delaele, Amanda Felder – who has been perhaps the best swimmer in Europe this season – and upstart Amanda Presgraves to be in the mix.
The chase is on, October 1, at 9am.
XTERRA World Ranking/Bib# – Name, NAT
2/74 – Sandra Mairhofer, ITA
3/66 – Loanne Duvoisin, SUI
4/75 – Marta Menditto, ITA
5/68 – Alizée Paties, FRA
9/76 – Solenne Billouin, FRA
10/77 – Lesley Paterson, GBR
11/78 – Jindřiška Zemanová, CZE
15/79 – Helena Karásková, CZE
16/69 – Carina Wasle, AUT
18/67 – Suzie Snyder, USA
20/81 – Ségolène Léberon, FRA
21/70 – Amanda Felder, USA
22/82 – Daisy Davies, GBR
23/83 – Maeve Kennedy, AUS
27/84 – Lizzie Orchard, NZL
33/85 – Kateřina Ježková, CZE
38/98 – Charlotte Deldaele, BEL
39/87 – Evelyne Trepte, SUI
41/96 – Amanda Presgraves, USA
43/88 – Camille Jobard, FRA
44/71 – Katie Button, CAN
46/89 – Beatriz Ferreira, POR
48/90 – Maria Calleja, ESP
50/91 – Stepanka Bisova, CZE
64/73 – Irena Ossola, USA
77/97 – Nicole Valentine, USA
81/92 – Lara Buttigieg, MLT
185/72 – Chelsea Raymond, CAN
230/93 – Jenny Fletcher, CAN
283/94 – Alessandra Dias Mendes, BRA
NR/95 – Kate Bramley, AUS
The fastest elite finishers on Saturday will have a chance to showcase their skills the following day in the invite-only, made-for-TV, XTERRA Short Track Series Finale..
Those not lucky enough to be in Italy for the full or short track races can follow both races by following the appropriate links online at www.xterraplanet.com.
Download: 2022 XTERRA World Championship Press Guide (PDF)
The XTERRA World Championship is presented by Trentino Marketing and Dolomiti Paganella. Partners include Molveno Holiday, Andalo Vacanze, Zoggs, Vittoria, Elleerre, Pissei, Namedsport, Kolektor, One Zipper, and Paller.
About XTERRA
XTERRA is a global lifestyle brand that champions the outdoor endurance enthusiast in their pursuit of relentless adventure. With over 25 years of rich, off-road history, XTERRA has cultivated a passionate community of like-minded individuals who strive to be the best version of themselves in all aspects of life. XTERRA offers partners a globally diverse community of loyal consumers who connect through sharing experiences; victories, struggles, personal stories, adventures and much more. www.xterraplanet.com.