SwimCare.be collaborates with MySwimEdge
April 27, 2023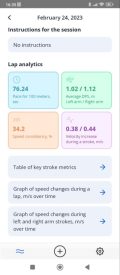 Participants in the SwimDay event can test their freestyle swimming technique using MySwimEdge, a portable digital velocity meter.
Brugge, Belgium, April 27th, 2023 /ENDURANCE SPORTSWIRE/ – SwimCare an organizer of the one-day swimming camp and competition SwimDay swimday.swimcare.be will offer MySwimEdge tests among several swimming gadgets that will be on exhibition during the event. The event takes place on April 30th, in Brugge, Belgium.
"When I talked to the founders of MySwimEdge, I knew that this is something innovative and interesting," says Kristof Ryheul, the organizer of SwimDay. "We do like to invite technology providers to SwimCare events, and we are happy that they are interested as well."
"We are excited to participate in SwimDay," said Igor Shlyonsky, CEO of MySwimEdge. "It is great that they have a wide range of options for the swimmers. As a new technology on the market, we are thrilled to showcase how innovative and useful MySwimEdge is and to hear the feedback of the customers."
About SwimCare
SwimCare organizes the SwimDay event for a wide swimming community. In addition to the swimming lessons and distance swims, the participants have an opportunity to test and to look at several swimming gadgets. Participation is free with advanced registration. In addition, the participants can choose from a variety of training sessions and try out the presented equipment.
About MySwimEdge
MySwimEdge has developed the first portable digital velocity meter that automatically measures the efficiency of freestyle swimming technique. MySwimEdge measures the efficiency of every stroke and helps improve swimming technique based on the unique data and graphs. The data like timing of every stroke, distance per stroke, patterns of speed change during each stroke, and others allow athletes and coaches to introduce focused and measurable technique changes.
Contacts: Kristof Ryheul, Swimcoach SwimCare Email: kristof@swimcare.be +32479242586 https://swimday.swimcare.be/
Igor Shlyonsky, CEO of MySwimEdge Email: igor@myswimedge.com +13122398735