Swim For Alligator Lighthouse Named One of the Extreme Swimming Challenges Around the World by Swimming World Magazine
December 27, 2021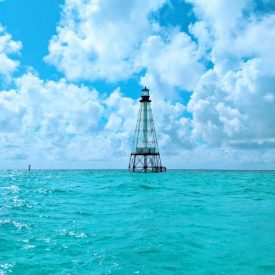 The Swim For Alligator Lighthouse 8-mile race in Islamorada, FL receives another accolade.
Saint Augustine Beach, Florida /ENDURANCE SPORTSWIRE/ – Swimming World Magazine included the Swim For Alligator Lighthouse 8-mile race in Islamorada, FL on its list of Extreme Swimming Challenges. The event is the fourth stop on the Speedo SALT Series. Only one of four races to be mentioned, the race continues to gain popularity as a "bucket list" race for all, international open water swimmers.
When World Renowned Artist, Lighthouse Larry decided to swim, in his native town of Islamorada, to Alligator Lighthouse and back, alone, and self-supported, his friends thought he was crazy. When he then said out loud "every open water swimmer should experience this," Larry became the anchor to the Swim for Alligator Lighthouse.
The Fighting Manatee Swim Club, the master's swim club of Islamorada, accepted the challenge to present a world class open water swim event in the Florida Keys. The Fighting Manatees presented the Inaugural Swim for Alligator Lighthouse in 2013 and it is here to stay.
Proceeds from the swim benefit the Friends of the Pool in Islamorada, providing scholarships for high school students. They also support investments towards the preservation of Alligator Lighthouse. The Swim brings awareness to treasured Historic Lighthouses on Florida's Coastal Waterways. Friends of the Pool is an all-volunteer 501c3 organization.
The Alligator Reef Lighthouse is located 4 nautical miles (7.4 km; 4.6 mi) east of Indian Key, near the Matecumbe Keys of Florida in the United States, north of Alligator Reef itself. The station was established in 1873.
The Lighthouse's name honors the U.S. Navy schooner Alligator, part of the U. S. Navy Anti-Piracy Squadron that had recently been established in Key West, which went aground at this location in 1822. The Alligator schooner was blown up after removing as much as possible from it to prevent it from being used by pirates. Countless vessels have also sunk here on the reef's jagged coral. This lighthouse cost $185,000 to build at that time.
U.S. Secretary of the Interior Deb Haaland has approved a recommendation from the National Park Service that Islamorada-based Friends of the Pool Inc. be granted ownership of Alligator Reef Lighthouse under the National Historic Lighthouse Preservation Act. To make a tax-deductible contribution to help restore this treasure follow the link:
https://www.savealligatorlighthouse.org
2022 Speedo SALT Series Dates
AMI Hogfish Swim, Anna Maria Island, FL, January 30, 2022
DeLuna's Swim, Pensacola Beach, FL, April 23, 2022
Training Camp Weekend, Englewood Beach, FL, June TBD, 2022
Swim for Alligator Lighthouse, Islamorada, FL, September 10, 2022
Amelia Island OW Challenge, Amelia Island, FL, October TBD, 2022
Southern Cross, Fort Myers Beach, FL, December 3, 2022
For further information, please contact Matt Dunn at matt@saltysportssociety.com, log onto www.saltysportssociety.com or on social media at @saltysportssociety.