Swim For Alligator Lighthouse General Registration is Now Open
December 31, 2021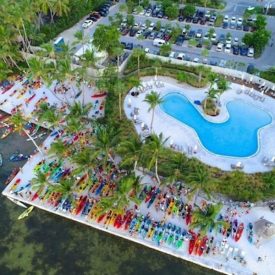 The Swim For Alligator Lighthouse priority registration time period has concluded, and general registration is now open for solo, 2-person, 3-person, and 4-person relay entries.
Saint Augustine Beach, Florida /ENDURANCE SPORTSWIRE/ – The Swim For Alligator Lighthouse, located on Islamorada, FL, is the fourth stop on the Speedo SALT Series. The 8-mile swim is a challenge unlike any other and is not for the faint of heart. During this bucket list, tropical open water swim, you will encounter stunningly beautiful marine life as you race four miles out to the lighthouse, and four miles back.
Year after year, swimmers return to conquer the Swim For Alligator Lighthouse. Race in the Solo category, or join a 2-person, 3-person, or 4-person relay team. Swimmers are encouraged to read and review all the rules before registering for this event. Power boats are not allowed on any portion of the swim course on race day. Only event support craft allowed.
"Each year we look forward to bringing together the open water swimming community for several days of camaraderie, competition, and an exciting charitable cause," said Fred Rzymek, Swim For Alligator Lighthouse race director.
The race will start and finish from Islamorada's ever-impressive Amara Cay Resort, located at Mile Marker 80. The Amara Cay Resort is anchored in the laid-back style and carefree atmosphere that makes Islamorada the Sport Fishing Capital of the World. Reflecting the easy tranquility of the Upper Keys, Amara Cay Resort seamlessly blends recreation with relaxation. Hammocks dot the sandy shoreline, palm trees sway in the breeze and a shimmering oceanfront pool beckons early risers.
Swimmers wishing to participate in the race should register online at: https://www.swimalligatorlight.com/
Proceeds from the swim benefit the Friends of the Pool, an all-volunteer 501c3 organization in Islamorada, providing scholarships for high school students.
Earlier in 2021, the Secretary of the Interior notified the Friends of the Pool Board of Directors that their application for ownership of the Alligator Reef Lighthouse was accepted. Their efforts continue to bring awareness to treasured Historic Lighthouses on Florida's Coastal Waterways.
To preserve, educate, and illuminate the Alligator Lighthouse, the Friends of the Pool are committed to raising $5,000,000 by 2026. To make a generous gift offline, please contact Captain Rob Dixon at info@savealligatorlighthouse.org.
2022 Speedo SALT Series Dates
AMI Hogfish Swim, Anna Maria Island, FL, January 30, 2022
DeLuna's Swim, Pensacola Beach, FL, April 23, 2022
Training Camp Weekend, Englewood Beach, FL, June TBD, 2022
Swim for Alligator Lighthouse, Islamorada, FL, September 10, 2022
Amelia Island OW Challenge, Amelia Island, FL, October TBD, 2022
Southern Cross, Fort Myers Beach, FL, December 3, 2022
For further information, please contact Matt Dunn at matt@saltysportssociety.com, log onto www.saltysportssociety.com or on social media at @saltysportssociety.