Suunto Offers Improved Pricing On Elite Watch Models
July 11, 2023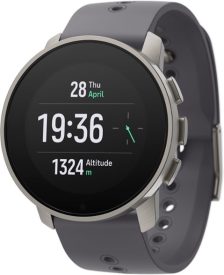 Award-Winning Company Makes Acclaimed Products More Affordable For All Adventurers
HELSINKI (July 11, 2023 ) /ENDURANCE SPORTSWIRE/ – Suunto, a leader in design and innovation for sports watches, dive computers, compasses and digital services used by adventurers all over the globe, announced today that it has dropped prices on a variety of its celebrated watch models, making the company's brand of elite products more affordable than ever to all adventurers and athletes on the trail.
The new prices take effect July 10th and give customers the opportunity to save up to 33 percent on the Suunto 9 Peak Pro and the Suunto 9 Peak Pro Titanium (right), which was recently named the watch with the Best GPS Mapping by Outside. The Suunto 9 Peak Pro Titanium is an ultra thin, powerful GPS multisport watch with astounding battery life and military-level durability, and now costs just $469USD / $599.99CAD. The Suunto 9 Peak Pro is now available for just $409USD / $509.99CAD, also a 33 percent discount from its MSRP.
"With outdoor summer activities in full swing we are excited to be able to offer loyal Suunto customers a chance to upgrade or recommend to friends our range of adventure sports GPS watches at an improved price," says Craig Lees, Brand Manager at Suunto.
Customers can also save more than 25 percent on both the Suunto 9 Peak Titanium (now $359USD / $499.99CAD) as well as the Suunto 9 Peak ($289USD / $399.99CAD), two watches known for their top durability and powerful processor, and which serve as reliable companions on every adventure.
Other watches on sale include the Suunto 9 Baro Titanium (now $289USD / $399.99CAD), the Suunto 9 Baro ($239USD / $319.99CAD) and the Suunto 5 Peak ($169USD / $229.99CAD). Suunto's entire line of watches connect with the SuuntoPlus sport apps to help athletes and adventurers track and optimize their activities.
To learn more about Suunto's line of products, log onto www.suunto.com
About Suunto: We stand for adventure. Pioneering exploration has been in our DNA since 1936, when Finnish orienteer Tuomas Vohlonen set out to create a more accurate compass, and subsequently invented a new method for manufacturing liquid‐filled compasses. Today Suunto is at the forefront of design and innovation for sports watches, dive computers, compasses and digital services used by adventurers all over the globe. We are proud that Suunto products can take a beating but are also designed with an everyday aesthetic that reflects our Nordic identity. Suunto's headquarters and factory are still in Finland. www.suunto.com
Media Contact
Meteorite PR | Eric Henderson | ehenderson@MeteoritePR.com | 307.690.2984