Super Sunday: two GFNY races on same day
July 6, 2023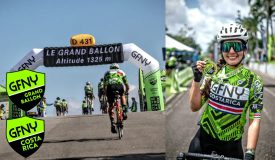 The 2nd edition of GFNY Grand Ballon and 4th edition of GFNY Costa Rica will take place on Sunday, July 9
/ENDURANCE SPORTSWIRE/ – With the ever growing GFNY calendar now consisting of over 30 races, having two races on the same day is becoming more common. In 2023, there will be three Sundays where this happens.
"Obviously we're trying to avoid date collisions on the GFNY calendar where possible, in particular for races in the same region," says GFNY CEO Uli Fluhme. "But when finding a suitable date, our internal preferences often take a backseat to local and national considerations. Either way, when we're talking about one race being in France and one in Costa Rica like this weekend, having them on the same day is not an issue for us."
GFNY Grand Ballon
The 2nd edition of GFNY Grand Ballon starts from the historic town center of Thann and offers racers a 147.3 km long course with 4060m of climbing. The Vosges mountains are a staple at the Tour. Host town Thann is one of the most beautiful destinations in France and is the beginning of the Alsace Wine Route.
Website: grandballon.gfny.com
GFNY Costa Rica
The course of the 4th GFNY Costa Rica is 145.5km long with an elevation gain of 2868m. It is a relentlessly undulating course which goes through the jungle around El Arenal Volcano. La Fortuna is the gateway to Arenal Volcano National Park, comprising two volcanoes. The active volcano "Arenal" is still laced with lava flows. The hot springs in the area are a favorite among the racers and families for post race recovery.
Website: costarica.gfny.com
About GFNY Global Endurance Sports Series
GFNY Global Endurance Sports Series is a sports event company with three decades of experience in racing, planning and organizing events. The global endurance sports brand hosts multiple events throughout the year around the world on five continents.
Working with partners around the world to deliver a first-class experience, GFNY Global Endurance Sports Series puts its athletes first.
Cycling
30-plus events held around the world. View the latest calendar here
Riders get to BE A PRO FOR A DAY ® by competing against others, themselves and the clock in a personal endurance challenge.
Top 10% (20% at regional championships) of finishers in each age group qualify for the Elite Qualifier Corral at every GFNY World event.
GFNY World Championship NYC
The 12th annual GFNY World Championship New York will be held on May 19, 2024. The race features the world's most international peloton with riders from over 90 countries. Athletes take on a challenging route to compete against each other, the clock and themselves in a personal endurance challenge.
The official GFNY website is: www.gfny.com.
Further Material for Media Use
Official GFNY Grand Ballon video: here
Official GFNY Costa Rica video: here
GFNY Press Images: here
GFNY Results: here
GFNY World calendar graphic: here
Previous GFNY press releases: here
Media Contact
Gran Fondo New York Inc.
Uli Fluhme, uli@gfny.com
Caroline Lindsay, caroline@gfny.com