Super Sunday: GFNY closes 2022 with three races on same day
November 10, 2022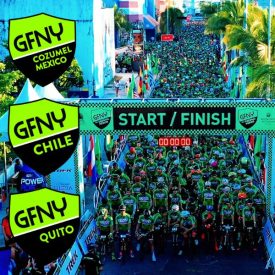 The 9th edition of GFNY Cozumel, 4th edition of GFNY Chile and inaugural GFNY Quito take place on Sunday, November 13
/ENDURANCE SPORTSWIRE/
GFNY Cozumel
The 9th GFNY Cozumel is the largest bike race in the Americas south of NYC. The long course offers riders a flat and furiously fast 157km around the tropical paradise island of Cozumel. Like no other, the race combines panoramic views of the beautiful turquoise ocean and white sandy beaches with challenging winds. Top podium spots are contented as ferocious as the after party is wild.
Website: cozumel.gfny.com
GFNY Chile
The course of the 4th GFNY Chile is known for including the infamous Muro de Tunquen, a 27% steep wall leading away from the wild Pacific Ocean. Start and finish of the 128km race with 1832m of climbing is the winery Viña Veramonte, just outside the capital city of Santiago de Chile.
Website: chile.gfny.com
GFNY Quito
The inaugural GFNY Quito is a 114km feast with start and finish in the heart of Ecuador's high altitude capital, set at nearly 3000m above sea level. The course offers breathtaking views of the Andean mountains with its snow covered volcano peaks. World premier: it's the first race to tackle the cobble stoned and steep climb through the Guapulo neighborhood which dates back to the 17th century.
Website: quito.gfny.com
About GFNY Global Endurance Sports Series
GFNY Global Endurance Sports Series is a sports event company with three decades of experience in racing, planning and organising events. The global endurance sports brand hosts multiple events throughout the year around the world on five continents.
Working with partners around the world to deliver a first-class experience, GFNY Global Endurance Sports Series puts their athletes first.
Cycling
30 plus events around the world. View the latest calendar here
Riders get to BE A PRO FOR A DAY ® by competing against others, themselves and the clock in a personal endurance challenge.
Top 10% (20% at regional championships) of finishers in each age group qualify for the Racer Corral at every GFNY World event.
GFNY World Championship NYC
The 11th annual GFNY World Championship New York will be held on May 21, 2023. The race features the world's most international peloton with riders from over 90 countries. Athletes take on a challenging 100-mile route from NYC to Bear Mountain to Fort Lee to compete against each other, the clock and themselves in a personal endurance challenge.
The official GFNY website is: www.gfny.com.
Further Material for Media Use
Official GFNY Cozumel video: here
Official GFNY Chile video: here
Official GFNY Quito video: here
GFNY Press Images: here
GFNY Results: here
GFNY World calendar graphic: here
Previous GFNY press releases: here
Media Contact
Gran Fondo New York Inc.
Uli Fluhme, uli@gfny.com
Caroline Lindsay, caroline@gfny.com