Super League Triathlon, Olympic and World Champions ready to spice up Championship Series second round in Toulouse
September 3, 2023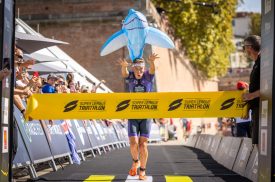 /ENDURANCE SPORTSWIRE/ – Defending champion Hayden Wilde, Olympic gold medallist Kristian Blummenfelt and World Champion Léo Bergere are among the athletes starting their Super League Triathlon 2023 Championship Series campaigns in Toulouse on Sunday.
After an enthralling first event of the Series in London which saw victories for Alex Yee – whose all-British RTP Sharks took a commanding lead in the Teams Leaderboard – and Jeanne Lehair, Super League is back for a second edition in France with a host of new superstar athletes entering the fray.
With the Individual Leaderboard decided by an athlete's two best results from the first three events, plus their score from the Grand Final in NEOM, it is a crucial race for those either just starting their campaign or looking to rebound from a below par performance in London.
Wilde was ruled out of London through injury after crashing his bike on the way to the start line of the Paris Olympic Test event, but is fit to go in France. Last year's runner-up, Matt Hauser, is also making a delayed entrance to the Series after being struck down with COVID.
Blummenfelt, the Olympic gold medallist and former Ironman and Ironman 70.3 World Champion, is back for his part-owned Santara Tech Eagles franchise and will be teamed with Bergere, who will get huge support in front of the vociferous French crowd.
Another French athlete lining up for the first time in the Series is Leonie Periault who along with Wilde boosts the Bahrain Victorious Scorpions, while Lehair, the shock winner in London, is a Toulouse local and another Eagle.
All points from Individual Leaderboards count for the Teams Leaderboard, along with the discipline points awarded to the fastest swimmers, bikers and runners at each event. The Teams Leaderboard boasts a prize pot of $300,000, which helps to ensure the development of young athletes who are in the earlier stages of their careers and not yet earning significant prize money through individual racing. Athletes will again have the opportunity to earn Short Chutes – a shortcut on the course – for their Teams.
The Super League Triathlon 2023 Championship Series is:
August 27: London, UK
September 3: Toulouse, France
September 30: Malibu, USA
October 21: NEOM, Saudi Arabia
For further details please visit Super League Triathlon's website.
Click here to see where to watch the event in your region and sign up for a free ticket to spectate the event.