Super League Triathlon Announces 2022 Championship Series Expansion and Groundbreaking Fan Team Concept
May 31, 2022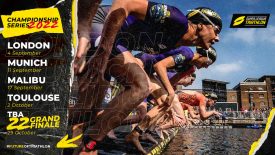 SLT to visit London, Munich, Malibu and Toulouse with a Grand Finale to be announced as fans get the chance to own a Team of star athletes
/ENDURANCE SPORTSWIRE/ – Super League Triathlon (SLT) will visit even more major global destinations for the fourth season of its Championship Series and give fans a unique opportunity to own a stake in one of its race teams as it develops the sport's first professional league.
SLT is the world's premiere swim-bike-run series, pitching the best athletes in the world against each other over fast, short and exciting race formats. The expanded 2022 Championship Series will take place in September and October and will see a first visit to France as well as a dramatic Grand Finale to be revealed soon.
The Team concept will develop further this year after a successful debut in 2021. A true professional league will be part of the offering as SLT launches team franchises. One of these will be owned by fans, who will be given the opportunity to make major decisions which will have a significant impact on the racing.
In a unique move, fans who sign up to become team owners will help decide which athletes get drafted into the team, giving the chance to play fantasy triathlon in real life and have a huge impact on who wins the 2022 Championship Series. They will also get to input on a range of other team issues from kit design through to major tactical decisions.
Super League Triathlon's 2022 Championship Series is:
September 4: London, UK
September 11: Munich, Germany
September 17: Malibu, USA
October 2: Toulouse, France
October 29: Grand Finale TBA
Super League Triathlon CEO and Co-Founder, Michael D'hulst, said: "Super League Triathlon is going into its fourth season and continues to expand as we will now head to more exciting destinations with events in all the major triathlon markets as part of our commitment to drive innovation, develop a true spectator sport and create even greater value for our athletes.
"We will also take the next step on the journey of our Teams concept to create the first official Professional League for triathlon and to develop team franchises. As part of this we will again be pushing the boundaries in sport by allowing fans to own one of the franchises. This will offer an incredible proposition as triathlon fans get the chance to be involved in decision making that really makes a difference. To have the chance to help draft the team is a truly unique opportunity."
Georgia Taylor-Brown and Alex Yee won the Championship Series in 2021 and there will be another stellar athlete line-up for 2022 which will be announced soon.
For more information and to sign up to be part of the fan team please visit: https://fans.superleaguetriathlon.com/
Further information on Super League Triathlon and the 2022 Championship Series can be found on the Super League Triathlon website.