Super League Triathlon Announce FORM As Official Swim Goggles Partner
September 2, 2022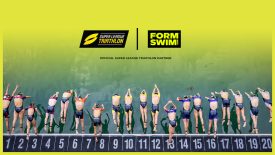 /ENDURANCE SPORTSWIRE/ – Super League Triathlon is the world's premiere swim-bike-run Series, with its biggest ever Championship Series, featuring short, sharp, and exciting racing formats starring the best athletes in the world, kicking-off in London on Sunday, September 4.
FORM is the tech-enabled swim platform with a simple mission: to break down the barriers between what swimming is and what it could be. FORM's in-goggle technology allows swimmers to see their improvements as they swim, with real-time metrics and workout instructions.
FORM will be the Official Swim Goggles Partner of the Championship Series, and will also present the Swim Leaderboard Award, which recognises the fastest swimmers in each race and hands a $15,000 cash bonus to the winner. FORM will also become an Official Partner of the 2022 2XU Malibu Triathlon.
Michael D'hulst, Super League Triathlon CEO and Co-Founder, said: "Super League Triathlon and FORM are both innovators in their field and are helping to deliver greater performances and athletic excellence through their work. It is exciting to be working with such a forward-thinking partner, especially as we prepare for our biggest ever global Championship Series, which will set a new bar for triathlon."
Dan Eisenhardt, Founder and CEO of FORM: "Super League Triathlon is the most exciting brand in triathlon. And just like the SLT race series, FORM is advancing the sport of swimming with our groundbreaking technology. Together, we can reimagine what underwater performance and swimming experiences should be."
Super League Triathlon's Championship Series is:
Sunday, September 4: London, UK
Sunday, September 11: Munich, Germany
Saturday, September 17: Malibu, USA
Sunday, October 2: Toulouse, France
Saturday, October 29: NEOM, Saudi Arabia