Sunday Afternoons Welcomes Ultrarunner Dean Karnazes as Brand Ambassador
October 17, 2022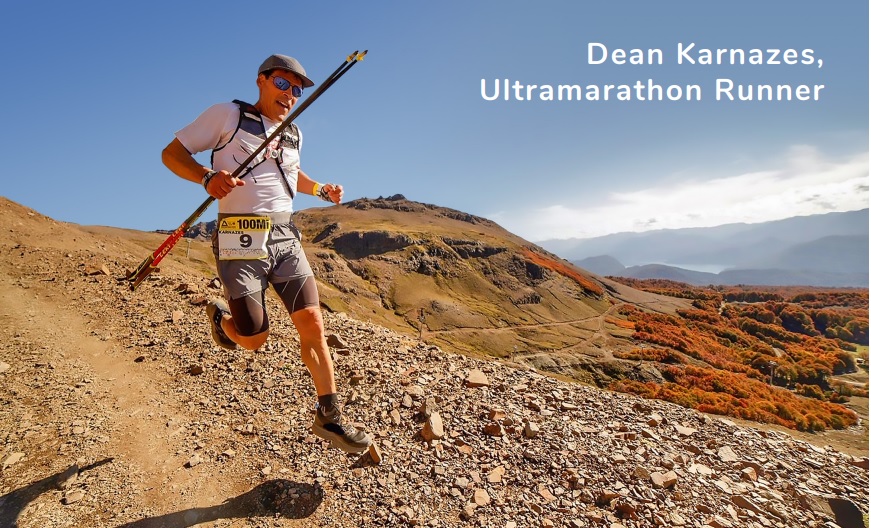 Together with its run-centric VaporLite™ and Meridian Collections, the partnership demonstrates Sunday Afternoons' growing commitment to the run channel
Ashland, Ore. (October 17, 2022) /ENDURANCE SPORTSWIRE/ Sunday Afternoons is pleased to announce a new partnership with ultramarathoner and endurance athlete Dean Karnazes. With decades of experience as a professional runner and longtime fan of the Sunday Afternoons brand, Karnazes will support the technical headwear company at The Running Event in Austin this November— which will also be Sunday Afternoons' first time attending the show as an exhibitor.
Named by TIME magazine as one of the "100 Most Influential People in the World," Karnazes' accomplishments include running 50 marathons, in all 50 U.S. states, in 50 consecutive days; running across Death Valley in the middle of summer; and running a marathon to the South Pole. He has also found success as a competitive racer, winning the Badwater Ultramarathon, aka "the World's Toughest Footrace," and the 4 Deserts Challenge, racing in the hottest, driest, windiest and coldest places on earth.
"We are thrilled to welcome Dean to the Sunday Afternoons family," said Sarah Sameh, CEO of Sunday Afternoons. "As an ultramarathoner who pushes the boundaries of what's possible in the most inclement conditions, we know he'll put our running headwear to the test. Equally important, our shared values around a love and appreciation of the outdoors, protecting wild places, and supporting community really make Dean a natural fit for our brand."
"The gear that I choose to wear is often a matter of survival. When I am running for hours in 110-degree heat, I need a hat with exceptional coverage, protection from the sun and heat, and innovative fabrics and technology that wick and cool. Sunday Afternoons new VaporLite™ Collection provides UPF 50+ sun protection, the highest rating achievable," said Karnazes. "They have been a leader in technical headwear for three decades, and their lightweight, breathable VaporLite Collection takes running hats to the next level. I'm very proud to work with this family-owned brand and spread the word about Sunday Afternoons in the running community."
With its roots in technical, sun protective hiking headwear, Sunday Afternoons launch into specialty run and new partnership with Karnazes is a natural evolution. This spring, the company launched a new running-specific line, the VaporLite Collection. The brand's lightest technical running hats yet, VaporLite styles provide featherweight sun protection. They're made with responsibly sourced bluesign® material and have a UPF 50+ rating for peak-summer sun, plus feature a packable, crushable design. Products in the collection include the VaporLite Stride Cap, the VaporLite Rush Visor and the VaporLite Tempo Bucket.
Additionally, new for Fall 2022, Sunday Afternoons' Meridian Collection features four baselayer styles that offer a layer of insulated comfort for a wide range of temperatures for running, as well as technical features to keep runners warm, dry and comfortable. The collection includes the Meridian Thermal Visorband, the Meridian Thermal Earband, the Meridian Thermal Cap, and the Meridian Thermal Beanie. From Sunday Afternoons' patented Sunglass Lock™ technology to reflective details, and hidden ponytail openings, this collection has all the essentials runners need for insulated protection during cold-weather.
A New York Times bestselling author, Karnazes will be signing copies of his newest book, "A Runner's High," at the Sunday Afternoons booth #1924 at The Running Event, November 30, 2022, in Austin, Texas.
About Sunday Afternoons
A global leader in technical hats that offer superior protection from the elements, Sunday Afternoons has been redefining what headwear can do for 30 years. Oregon based and family owned, the company offers a year-round collection specializing in UPF 50+ sun protection, patented performance technologies, innovative features, classic styling, and lightweight materials. Founded in 1992, Sunday Afternoons first launched with the Original Adventure Blanket™, followed by the Original Adventure Hat™—initially created from blanket remnants—which today remains one of the most popular styles in the Sunday Afternoons collection. With a global presence in 65 countries, the company is rooted in its love of the outdoors and strives to promote and support natural spaces, wild places, and endeavors that celebrate being outside. In 2022, Sunday Afternoons achieved Climate Neutral Certification by offsetting its entire 2021 greenhouse gas emissions and implementing reduction strategies for future emissions, with a goal of reducing its entire carbon footprint by 30% by 2030. For more information, visit www.sundayafternoons.com