Striking Gold in Utah: Blummenfelt (NOR) and Ryf (CHE) Crowned World Champions at The 2021 Intermountain Healthcare IRONMAN World Championship Presented By Utah Sports Commission In St. George, Utah
May 7, 2022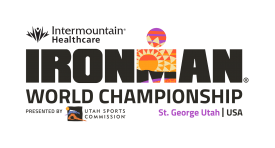 - Olympic Gold Medalist Kristian Blummenfelt (NOR) adds first IRONMAN World Championship title to resume as Daniela Ryf (CHE) proves once again she is one of the best female athletes in the world earning her fifth IRONMAN World Championship title - Lionel Sanders (CAN) chases down Braden Currie (NZL) on the final stretch to earn second-place finish; Currie earns first IRONMAN World Championship podium finish - Kat Matthews (GBR) claims second place in her first IRONMAN World Championship appearance; Defending Champion Anne Haug (DEU) takes third-place finish in strong women's field
ST. GEORGE, Utah (May 7, 2022) /ENDURANCE SPORTSWIRE/ – Following a two-year hiatus, the IRONMAN World Championship returned with the 2021 Intermountain Healthcare IRONMAN® World Championship presented by Utah Sports Commission. The 2021 edition of the event took place in St. George, Utah becoming the first location to host the event outside of Hawai`i since its origins in 1978. The Land of Endurance lived up to its billing with Kristian Blummenfelt (NOR) and Daniela Ryf (CHE) being crowned as World Champions after what many are calling the toughest course they have ever raced. The race was featured live on IRONMAN Now channels and Peacock, NBCUniversal's streaming service. The full broadcast of today's race can be viewed on Facebook Watch via the IRONMAN Now channel here.
More than 2,800 athletes started the days race including the impressive professional field. The 2021 Intermountain Healthcare IRONMAN World Championship presented by Utah Sports Commission kicked off with a 2.4-mile (3.86km) ROKA Swim Course, taking place in Sand Hollow Reservoir. Followed by a challenging 112-mile (180.2km) FulGaz Bike Course that led athletes through stunning desert landscapes with 7,374 feet (2,248 meters) of elevation gain and an unforgettable climb through the Snow Canyon State Park at the 100-mile mark. The 26.2-mile (42.2km) HOKA Run Course will led athletes on two loops through St. George with 1,413 ft (431m) of climbing before culminating in an unforgettable finish line experience in the heart of downtown St. George.
Blummenfelt earns coveted title
In the men's race, Sam Laidlow (FRA) led the pro men out of chilly Sand Hollow Reservoir waters (64 degrees Fahrenheit) in 47:29 with Daniel Baekkegard (DEN) on his heels. The Kiwi pair Kyle Smith and Braden Currie were next with Florian Angert (FRA) in fifth. Olympic gold medalist Kristian Blummenfelt fell a surprising two minutes back on the swim.
Onto the 112-mile bike course through the hilly territory of Southwestern Utah, a lead pack established itself early on with Laidlow (who trains with three-time IRONMAN World Champion Jan Frodeno) Smith, Bakkegaard, Angert, and Currie. Five minutes back of the lead group, Cameron Wurf led a chase pack that saw Canadian Lionel Sanders move up through the field as well as Blummenfelt with the three coming into the second transition 4:30 behind the leaders.
On a picture-perfect day featuring warm, dry conditions, typical of the desert and a wind factor that never made a significant impact on the pro performances, Smith, Currie, and Angert were out onto the run course in the top three. Currie took the lead at 4 miles, as Blummenfelt, one of the day's biggest movers on the run, continued to move through the field behind him. The Olympic gold medalist, who started the run with over a four minute deficit, started to make a dent in the leaders around the seven-mile mark. By the halfway point of the marathon, Blummenfelt had moved into second, entering a battle with Currie. At 19 miles, the Norwegian took the lead and never looked back claiming his first IRONMAN World Championship to add to his Olympic Gold Medal.
It was a breakthrough performance for Christchurch-born Currie, 2021 IRONMAN New Zealand champion, who tried to hold onto second but was passed by Sanders in the last few hundred meters. While some predicted that Sanders, who thrives on these types of battles, wouldn't have enough run real estate to pass Currie but he proved the pundits wrong and surged into second within view of the finish line.
Blummenfelt won the race handily with his 7:49:16 finish, joining the rare collection of athletes who have earned both an Olympic Gold Medal in triathlon and an IRONMAN World Championship win. For the young Norwegian it's of its an incredible feat for only his second ever full-distance IRONMAN race.
"That was a tough day—it was a brutal course. Luckily, I was able to jump on the Wurf train on the bike. On the run, I maybe started out faster than I should have. It was a relief to see that I was making up time over the second half." Blummenfelt swam 49:40, biked 4:18:42, and ran 2:38:01.
Sanders reveled in his second silver medal performance after also finishing second in Hawai`i back in 2017. "That was an amazing battle. It's something I'll never forget," he said at the finish line. "I didn't take anything for granted—this race my only goal was to execute my absolute best performance in the swim, the bike, and the run."
Currie, a seasoned racer and past top-10 IRONMAN World Championship finisher reflected on the race at the finish line: "We had a fantastic group on the bike, it was so honest, consistent, and settled. I'm well-cooked, but stoked." When all was said and done, the top five male finishers all clocked under 8 hours despite the difficult course.
Top five professional men's results:
| | | | | | |
| --- | --- | --- | --- | --- | --- |
| PLACE | ATHLETE | SWIM | BIKE | RUN | FINISH |
| 1 | Kristian Blummenfelt (NOR) | 49:40 | 04:18:42 | 02:38:01 | 07:49:16 |
| 2 | Lionel Sanders (CAN) | 52:07 | 04:16:13 | 02:42:25 | 07:54:03 |
| 3 | Braden Currie (NZL) | 47:37 | 04:16:31 | 02:47:11 | 07:54:19 |
| 4 | Chris Leiferman (USA) | 52:02 | 04:18:34 | 02:44:25 | 07:57:51 |
| 5 | Florian Angert (DEU) | 47:40 | 04:16:14 | 02:52:43 | 07:59:35 |
Ryf returns to glory
In the women's race, American Haley Chura was first out of the water with over two minutes on the rest of the field. Fenella Langridge (GBR) and Lisa Norden (SWE) were next in line, with Daniela Ryf (CHE) leading a chase group four minutes back containing Skye Moench (USA), Jocelyn McCauley (USA), and Anne Haug (DEU).
Norden took over the lead early on the bike, with Ryf, Kat Matthews (GBR), and Moench also asserting themselves. By the 40-mile point, Ryf had confidently taken the lead, passing Norden and eventually Matthews. The Swiss athlete and Matthews would go on to lead the rest of the bike together as the rest of the field fell scattered behind them.
By the halfway point of the bike, the four-time IRONMAN World Champion made a characteristically bold move, pushing to the front and continuing to make up time at the front—to the tune of seven minutes ahead of her next-closest chaser, Matthews, and 15 minutes on super-runner and reigning IRONMAN World Champion, Haug.
Over the 26.2-mile hilly marathon, Ryf continued to run away from the rest of the field to the tune of "comeback race" and "the return of the Angry Bird" from commentators and fans. She crossed the finish line in 8:34:69 (including a sub three-hour marathon) with a display of joy and passion uncharacteristic of the levelheaded athlete. Ryf flashed the number five to signify her five IRONMAN World Championship victories, putting her in the esteemed company of only Paula Newby-Fraser and Natascha Badmann.
"Two and a half years' wait and I'm so happy," Ryf reflected at the finish line. "To come to this finish, with this crowd, after a really hard last few months I'm just so stoked to bring it together today. I had fun today, and that's really important."
Matthews, who won two IRONMAN races last year but is a newcomer to this championship event, hung on for second with an 8:43:49 finish time. Though she was unable to challenge Ryf's dominance, the 31-year-old put in a few strong surges and fought hard to hold onto her position.
"I cannot understand how my brain and body were able to push like that," she said at the finish line. "My first world champs to come second to Daniela Ryf? I'm happy. Honestly, I think I paced it perfectly."
Haug gave it all she had and rounded out the podium in third on the heels of consistent performances across all three disciplines and her crowning glory: a race-best run of 2:56:00.
Top five professional women's results:
| | | | | | |
| --- | --- | --- | --- | --- | --- |
| PLACE | ATHLETE | SWIM | BIKE | RUN | FINISH |
| 1 | Daniela Ryf (CHE) | 54:42 | 4:37:46 | 2:59:36 | 08:34:59 |
| 2 | Kat Matthews (GBR) | 54:48 | 4:44:40 | 3:00:57 | 08:43:49 |
| 3 | Anne Haug (DEU) | 54:47 | 4:52:53 | 2:56:00 | 08:47:03 |
| 4 | Skye Moench (USA) | 54:44 | 4:53:13 | 3:04:21 | 08:55:21 |
| 5 | Ruth Astle (GBR) | 59:23 | 4:50:45 | 3:06:35 | 09:00:09 |
News and Notes from the Day
Kristian Blummenfelt (NOR) became the first man to win a World Championship title in his IRONMAN World Championship debut since Belgian Luc Van Lierde in 1996. He is joined elite company becoming only the second triathlete to ever win both an IRONMAN World Championship and Olympic Gold Medal, joining Jan Frodeno (DEU)
Blummenfelt's victory breaks a streak of six years in which a German athlete won the men's World Championship (2014 – Sebastian Kienle; 2015 Jan Frodeno; 2016 Jan Frodeno; 2017 Patrick Lange; 2018 Patrick Lange; 2019 Jan Frodeno)
Daniela Ryf (CHE) fifth IRONMAN World Championship title moves her into third place on the women's career victories list, trailing 'Queen of Kona' Paula Newby-Fraser (eight) and fellow Swiss Natascha Badmann (six).
Despite defeating Kat Matthews by 8:50, the margin of victory amazing was Ryf's smallest of her five IRONMAN World Championship victories. Ryf's wins and margins of victory are 13:03 in 2015; 23:44 in 2016; 8:51 in 2017; 10:16 in 2018; and 8:50 in 2021
Known as the Irish IRONMAN Voice, Joanne Murphy became the first female to race announce the IRONMAN World Championship
Braden Currie (NZL) raced his heart out to finish third at the Intermountain Healthcare IRONMAN World Championship presented by Utah Sports Commission in St. George, USA, the first time a Kiwi has claimed a podium finish since Cameron Brown achieved the feat back in 2005.
Lauren Parker (AUS) became the third female in the handcycle division to finish the IRONMAN World Championship. Previous finishers included Minda Dentler (2013) and Liz McTernan (2018). Lauren's finish time of 14:00:47 created a new world best time at the IRONMAN World Championship in the female handcycle division.
Ruth Astle (GBR) raced into a fifth-place finish in her first professional appearance at the IRONMAN World Championship; In the last IRONMAN World Championship race in 2019, Astle won her F30-34 Age Group Division.
Mohammad Shamsuzzaman Arafat is the first Bangladeshi to finish an IRONMAN World Championship. He finished with a time of 11:32:10.
Over 2,800 starters for the 2021 edition of the IRONMAN World Championship, is the most in IRONMAN World Championship history.
The 2021 Intermountain Healthcare IRONMAN World Championship saw athletes from over 80 countries, regions and territories compete in this world-renowned event, ranging in age from 18 to 79.
After the first IRONMAN World Championship in over two years and the first ever outside of the state of Utah, the 2022 edition of the IRONMAN World Championship includes another first as the event returns to Kona, Hawai`i for the first two-day race in the events history on October 6 and 8, 2022.
More professional race details will be available at LINK. Full results for the 2021 Intermountain Healthcare IRONMAN World Championship presented by Utah Sports Commission can be found at www.ironman.com/im-world-championship-2021-results.
For additional event information, please visit www.ironman.com/im-world-championship-2021. Media inquiries may be directed to press@ironman.com.
###
About Intermountain Healthcare
Located in Utah, Idaho, and Nevada, Intermountain Healthcare is a nonprofit system of 25 hospitals, 225 clinics, the Intermountain Medical Group with some 2,700 employed physicians and advanced care practitioners, a health plans division called SelectHealth, Homecare, and other health services. Helping people live the healthiest lives possible, Intermountain is committed to improving community health and is widely recognized as a leader in transforming healthcare by using evidence-based best practices to consistently deliver high-quality outcomes and sustainable costs.
About Utah Sports Commission
The Utah Sports Commission was created to be a catalyst for Utah in its Olympic legacy efforts and to help enhance Utah's economy, image, and quality of life through the attraction, promotion, and development of national and international sports. Since the 2002 Olympics and Paralympics, the Utah Sports Commission has attracted nearly 900 major events to the state. The Sports Commission works closely with communities, sports entities, and organizations to provide event services ranging from the bid process, on-site logistics, volunteer coordination, sponsorships and promotional opportunities, and other related services. It is a not-for-profit 501(c)3 business league and Utah Sports Commission Foundation, a not-for-profit 501c3 charitable organization, is governed by an all-volunteer Board of Trustees consisting of statewide sports, business, community, and government leaders. For more information, visit www.utahsportscommission.com and follow us on Twitter, Instagram and Facebook.
About the IRONMAN World Championship
Since its inception in 1978 on the Island of O`ahu, the IRONMAN World Championship has etched its name in history through stellar performances, inspirational participants and emotional memories. In 1981, the race moved from the tranquil shores of Waikīkī to the barren lava fields of Kona on the Island of Hawai`i where it continues to take place to this day. The race now sees over 2,500 athletes embark on a 140.6-mile journey that presents the ultimate test of body, mind, and spirit to earn the title of IRONMAN World Champion. The most iconic one-day sporting event in the world is the culmination of 40 global IRONMAN events with over 94,000 athletes around the world striving for one of the coveted qualifying slots. The 2021 edition of the event will take place in St. George, Utah in May 2022, becoming the first location to host the event outside of Hawai`i since its origins in 1978. After a two-year hiatus from Kona due to COVID, the race will return to Kona and take place as a two-day event in October for the 2022 edition of the World Championship. For more information, visit www.ironman.com/im-world-championship.
About The IRONMAN Group
The IRONMAN Group operates a global portfolio of events that includes the IRONMAN® Triathlon Series, the IRONMAN® 70.3® Triathlon Series, the IRONMAN® Virtual Racing™ (VR™) Series, 5150™ Triathlon Series, the Rock 'n' Roll® Running Series, the Rock 'n' Roll Virtual Running™ Series, IRONKIDS®, World Triathlon Championship Series, premier running events including the Standard Chartered Singapore Marathon™ and The Sun-Herald City2Surf®, UTMB® World Series events including Tarawera Ultra and Ultra-Trail Australia™, Epic Series™ mountain bike races including the Absa Cape Epic®, road cycling events including Haute Route®, and other multisport races. The IRONMAN Group is the largest operator of mass participation sports in the world and provides more than a million participants annually the benefits of endurance sports through the company's vast offerings. Since the inception of the iconic IRONMAN® brand and its first event in 1978, athletes have proven that ANYTHING IS POSSIBLE® by crossing finish lines around the world. Beginning as a single race, The IRONMAN Group has grown to become a global sensation with hundreds of events across 55+ countries. The IRONMAN Group is owned by Advance, a private, family-owned business. For more information, visit www.ironman.com/about-ironman-group.
About Advance 
Advance is a private, family-held business that owns and invests in companies across media, entertainment, technology, communications, education and other promising growth sectors. Our mission is to build the value of our companies over the long-term by fostering growth and innovation. Advance's portfolio includes Condé Nast, Advance Local, Stage Entertainment, The IRONMAN Group, American City Business Journals, Leaders Group, Turnitin, 1010data and Pop. Together these operating companies employ more than 17,000 people in 29 countries. Advance is also among the largest shareholders in Charter Communications, Discovery and Reddit. For more information visit www.advance.com.