Stoked Oats sponsors 75-year old endurance runner Gene Dykes for the world famous 100-Mile Western States Endurance Run this June
April 25, 2023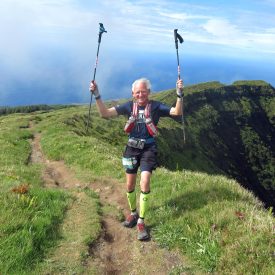 Calgary, Alberta, April 25, 2023  /ENDURANCE SPORTSWIRE/ – Stoked Oats (SO) is back for the second year as the Official Breakfast Sponsor of Western States. This year the race will take place on June 24-25, 2023, in Auburn, CA. Gene Dykes, a record setting 75-year old ultra runner from Philadelphia, PA will hit the trail this year for the brand in an effort to become the oldest finisher in Western States 49-year history.
Stoked Oats is proud to be supporting Gene on his road to Western States. To support Gene as he prepares for the iconic race, the brand kicked off the 'Breakfast with Gene' series on Instagram and YouTube, where SO founder and former host of the adventure sports television show Boundless, Simon Donato, chats with Gene and discusses training and racing. The series features guests such as WSER race director, Craig Thornley, WSER female record holder, Ellie Greenwood, and long-time Stoked Oats ambassador and 3-time WSER racer, Michael Wardian.
"We are thrilled to be supporting Gene on his journey to WSER. Running 100 miles is a tall order for professional runners, let alone someone in their 70s. What Gene is trying to accomplish is truly remarkable and we're looking forward to supporting him every record-setting step of the way," said Simon.
Stoked Oats will serve its superfood oatmeal and granola both pre- and post-race, as well as provide on-course support to their sponsored runner during the event.
"We are incredibly excited about our ongoing partnership with Stoked Oats, whose sustainable mission to provide our world with community-sourced nutrition is in complete alignment with the community-based values of our run," says WSER Board President, Diana Fitzpatrick. "This partnership has led to a very fortunate development this year, as we welcome one of the world's finest and more versatile runners in Gene Dykes to this year's Western States Endurance Run. We thank Stoked Oats for making it possible for this 75-year-old, record-setting runner, to be a part of our run."
For more information about Stoked Oats, visit www.stokedoats.com. For media related inquiries, please contact Jenna McManus, jenna@stokedoats.com
About Stoked Oats: Stoked Oats was founded in 2011 by two ultramarathoners looking for a healthier breakfast option that would keep them fueled for all life's adventures. Stoked Oats provides nutrient dense, high protein, and low sugar oat-based superfoods. The oats used are preservative-free, pesticide-free, organic and non-GMO, and are also grown sustainably with rain water as a part of the Grain From Rain™ commitment. Stoked Oats offers oatmeal, oatmeal blends, and granola. Stoked Oats is available for purchase through Stokedoats.com, Amazon, retailers across Canada and select retailers in the US.
About WSER: Western States, first run in 1974, is the world's oldest 100-mile trail race and one of the most prestigious. Each June, 369 runners from across the US and around the world embark from the start line in Olympic Valley, California, to tackle a challenging course to the coveted finish line at Placer High School in Auburn, California.
About Gene Dykes: As the self-proclaimed 'ultra geezer', Gene Dykes started competing in races when he was in his 60s and has since broken multiple records for his age group. His fastest marathon time was 2:54:23 when he was 70 years old. Gene has run 157 marathons and ultra marathons since 2006. Gene has been married for 41 years and has two daughters, one of whom will be pacing Gene during WSER, and two grandchildren.​
###