Stoked Oats athlete Gene Dykes an inspiration for all at the 50th running of the Western States Endurance Run
June 30, 2023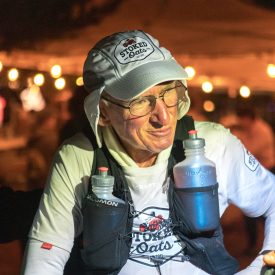 Auburn, CA, June 30, 2023 /ENDURANCE SPORTSWIRE/ – Stoked Oats (SO) athlete and septuagenarian Gene Dykes, inspired all in attendance at the 2023 Western States event, proving that it's never too late to find passion in running. Although Gene did not finish the race and complete the goal of becoming the oldest finisher in race history at 75, he did make it 71 miles before missing an aid-station cut-off by a mere three minutes, at 02:43 AM on Sunday morning.
Gene was a local celebrity during race weekend, receiving the loudest cheer from runners and patrons alike during the pre-race briefing, and again as he reached the famous Foresthill aid-station on course. Other runners continuously talked about how inspired they are by Gene and all that he has accomplished.
"Gene was a class act on and off the race course and as his pacer for 15 miles through the night, I witnessed first-hand the physical ability and tenacity that has made him the legend he is" said Simon Donato, founder of Stoked Oats.
When asked about the race, Gene told us "it's never fun to come up short on goals, but the overall experience of Western States was not to be missed. Stoked Oats was a marvelous sponsor, helping me get prepared for the race, and then crewing me with such competence and enthusiasm, that I was able to successfully fight off cutoffs long after I would have come up short on my own".
The WSER team was incredibly supportive of Gene, with race director Craig Thornley saying, "this is what Gene Dykes is all about: On Saturday night Gene sprinted through the Foresthill aid station at mile 62 with only about 5 seconds to spare before the 11:45 p.m. cutoff to keep his race alive. The entire aid station erupted in cheers as Gene kept running. Gene never hesitated in his determination to keep going. He sprinted right out of the aid station and right on to our next aid at Cal 1". He continued, "this is what we learned about Gene this past weekend — there are no barriers and no limits to what we are capable of doing, provided we believe in ourselves. At age 75, Gene reminds us all to always believe. Gene is a true gentleman, a courageous competitor, and an inspiration to us all. We were incredibly proud to have Gene as part of Western States this year and we can't thank Stoked Oats enough for helping make it happen"
Stoked Oats was honored to support Gene and will continue to do so throughout his running career and beyond.
Stoked Oats is now available at select locations within California, including Fleet Feet Sacramento locations, as well as Bristol Farms stores in Southern California.
For more information about Stoked Oats, visit www.stokedoats.com. For media related inquiries, please contact Jenna McManus, jenna@stokedoats.com
About Stoked Oats: Stoked Oats was founded in 2011 by two ultramarathoners looking for a healthier breakfast option that would keep them fueled for all life's adventures. Stoked Oats provides
nutrient dense, high protein, and low sugar oat-based superfoods. The oats used are preservative-free, pesticide-free, organic and non-GMO, and are also grown sustainably with rain water as a part of the Grain From Rain™ commitment. Stoked Oats offers oatmeal, oatmeal blends, and granola. Stoked Oats is available for purchase through Stokedoats.com, Amazon, retailers across Canada and select retailers in the US.
About WSER: Western States, first run in 1974, is the world's oldest 100-mile trail race and one of the most prestigious. Each June, 369 runners from across the US and around the world embark from the start line in Olympic Valley, California, to tackle a challenging course to the coveted finish line at Placer High School in Auburn, California.
About Gene Dykes: As the self-proclaimed 'ultra geezer', Gene Dykes started competing in races when he was in his 60s and has since broken multiple records for his age group. His fastest marathon time was 2:54:23 when he was 70 years old. Gene has run 157 marathons and ultra marathons since 2006. Gene has been married for 41 years and has two daughters and two grandchildren.
​
###