State of Utah Honors 2021 Intermountain Health IRONMAN World Championship Presented by Utah Sports Commission with Event of Year Award at Governor's State of Sport Awards
April 14, 2023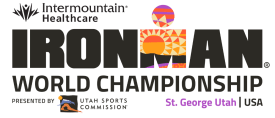 - 11th annual Governor's State of Sport Awards honors Utah's finest athletes, teams, coaches, events, and sport icons
TAMPA, Fla. (April 14, 2023)  /ENDURANCE SPORTSWIRE/ – At a ceremony last night in Utah for the Governor's State of Sport Awards, the 2021 Intermountain Health IRONMAN® World Championship race presented by Utah Sports Commission was named as the Event of the Year. The pinnacle event in triathlon took place in St. George, Utah on May 7, 2022, after a two-year hiatus caused by the global pandemic. With an inability of Kailua-Kona, Hawai`i to host the event in its historic location, the city of St. George, Utah and the surrounding area of Greater Zion stepped up to give triathletes from around the world a first-class experience by becoming the event's first host venue outside of Hawai`i since the event first began in 1978.
The 2021 IRONMAN World Championship triathlon, which was postponed to 2022 and relocated from Hawai`i, drew more than 15,000 athletes, family, friends, volunteers, partners, and staff to Utah, bringing over $40 million in local economic impact, based on a survey conducted by a research team at Dixie State University and other data analysis. The 2,800 athletes competing represented all 50 states in addition to more than 80 countries, regions, and territories around the world.
"We are grateful for all our partners in Utah for opening their doors and allowing us to put on an IRONMAN World Championship event for our global community who had been waiting for years to compete on triathlon's top stage," said Andrew Messick, President and Chief Executive Officer for The IRONMAN Group. "Being honored with this award is a testament to our teams' collective, dedicated work to put on an event that captures the imagination of our athletes and benefits from the strong partnerships that have been built in Utah over 12 years."
The IRONMAN World Championship triathlon has demonstrated not only the unrivaled physical ability and enduring drive of the top endurance athletes in the world, but also some of the most inspirational and impactful stories of perseverance and resilience. The Event of the Year Award is a fitting recognition after what has been a long-standing partnership between Utah and IRONMAN, with Washington County hosting 14 of IRONMAN's races in the last 12 years – including three world championship events in just 13 months. In 2023, Greater Zion will host the Intermountain Health IRONMAN® 70.3® St. George triathlon, which is designated as the North American Championship, providing for more qualifying slots and professional athlete prize money. Registration for that qualifying event, taking place on May 6, 2023, is open and available by visiting www.ironman.com/im703-st-george.
Created in 2012, The Utah Sports Commission, in conjunction with the Governor, created the State of Sport Awards to celebrate Utah's sports industry and honor excellence at the high school, collegiate, professional, Olympic, and Paralympic levels. The state's finest athletes, teams, coaches, events, and sports icons are selected by a nominating committee made up of Utah's sports professionals and media, ultimately determining those that had the most remarkable accomplishments in the previous year.
Other honorees at this year's Governor's State of Sport Awards included the likes of professional golfer Tony Finau, University of Utah Head Football Coach Kyle Whittingham, and Olympic Gold Medalist Speedskater Apolo Ohno, who became an IRONMAN triathlon finisher when he completed the 2014 IRONMAN World Championship.
The 2023 VinFast IRONMAN World Championship will take place in two locations for the first time in the history of the event with the men racing in Nice, France on September 10 and the women racing in Kailua-Kona, Hawai`i on October 14.
For more information about the IRONMAN World Championship, please visit www.ironman.com/im-world-championship. For more information on the IRONMAN brand and global event series, visit www.ironman.com. Media inquiries may be directed to press@ironman.com.
###
About Intermountain Health
Located in Utah, Idaho, and Nevada, Intermountain Health is a nonprofit system of 25 hospitals, 225 clinics, the Intermountain Medical Group with some 2,700 employed physicians and advanced care practitioners, a health plans division called SelectHealth, Homecare, and other health services. Helping people live the healthiest lives possible, Intermountain is committed to improving community health and is widely recognized as a leader in transforming healthcare by using evidence-based best practices to consistently deliver high-quality outcomes and sustainable costs.
The Utah Sports Commission was created to be a catalyst for Utah in its Olympic legacy efforts and to help enhance Utah's economy, image, and quality of life through the attraction, promotion, and development of national and international sports. Since the 2002 Olympics and Paralympics, the Utah Sports Commission has attracted nearly 900 major events to the state. The Sports Commission works closely with communities, sports entities, and organizations to provide event services ranging from the bid process, on-site logistics, volunteer coordination, sponsorships and promotional opportunities, and other related services. It is a not-for-profit 501(c)3 business league and Utah Sports Commission Foundation, a not-for-profit 501c3 charitable organization, is governed by an all-volunteer Board of Trustees consisting of statewide sports, business, community, and government leaders. For more information, visit www.utahsportscommission.com and follow us on Twitter, Instagram and Facebook.
About the IRONMAN World Championship
Since its inception in 1978 on the Island of O`ahu, the IRONMAN® World Championship triathlon has etched its name in history through stellar performances, inspirational participants and emotional memories. In 1981, the race moved from the tranquil shores of Waikīkī to the barren lava fields of Kona on the Island of Hawai`i where it continues to take place to this day. The most iconic one-day sporting event in the world is the culmination of 40 global IRONMAN events with over 94,000 athletes around the world striving for one of the coveted qualifying slots. The 2021 edition of the event took place in St. George, Utah in May 2022, becoming the first location to host the event outside of Hawai`i since its origins in 1978. After a two-year hiatus from Hawai`i due to COVID, the race returned to Kailua-Kona and for the first time took place as a two-day event in October 2022. The 2023 VinFast IRONMAN World Championship triathlon will see the event continue with the two-day format but with two different host locations (Nice, France and Kailua-Kona, Hawai`i) and dates, to allow for a dedicated world championship race for women and dedicated world championship race for men. With two days of racing, the cumulative event will host approximately 5,000 athletes as they embark on a 140.6-mile journey that presents the ultimate test of body, mind, and spirit to earn the title of IRONMAN World Champion. For more information, visit www.ironman.com/im-world-championship.
About The IRONMAN Group
The IRONMAN Group operates a global portfolio of events that includes the IRONMAN® Triathlon Series, the IRONMAN® 70.3® Triathlon Series, 5150™ Triathlon Series, the Rock 'n' Roll® Running Series, IRONKIDS® Series, World Triathlon Championship Series, premier running events including the Standard Chartered Singapore Marathon™ and City2Surf®, UTMB® World Series events including the Canyons Endurance Runs™ by UTMB®, Tarawera Ultra by UTMB® and Ultra-Trail Australia™ by UTMB®, Epic Series™ mountain bike races including the Absa Cape Epic®, road cycling events including Haute Route®, and other multisport races. The IRONMAN Group is the largest operator of mass participation sports in the world and provides more than a million participants annually the benefits of endurance sports through the company's vast offerings. Catering to the full athlete experience, the company portfolio also includes FulGaz® virtual cycling, the most realistic indoor riding experience connected fitness application aimed at preparing athletes for real-world events. Since the inception of the iconic IRONMAN® brand and its first event in 1978, athletes have proven that ANYTHING IS POSSIBLE® by crossing finish lines around the world. Beginning as a single race, The IRONMAN Group has grown to become a global sensation with hundreds of events across 55+ countries. The IRONMAN Group is owned by Advance, a private, family-owned business. For more information, visit www.ironman.com/about-ironman-group.
About Advance 
Advance is a private, family-held business that owns and invests in companies across media, entertainment, technology, communications, education and other promising growth sectors. Our mission is to build the value of our companies over the long-term by fostering growth and innovation. Advance's portfolio includes Condé Nast, Advance Local, Stage Entertainment, The IRONMAN Group, American City Business Journals, Leaders Group, Turnitin, 1010data and Pop. Together these operating companies employ more than 17,000 people in 29 countries. Advance is also among the largest shareholders in Charter Communications, Warner Bros. Discovery and Reddit. For more information visit www.advance.com.