Sprint finish at GFNY Chile
September 27, 2023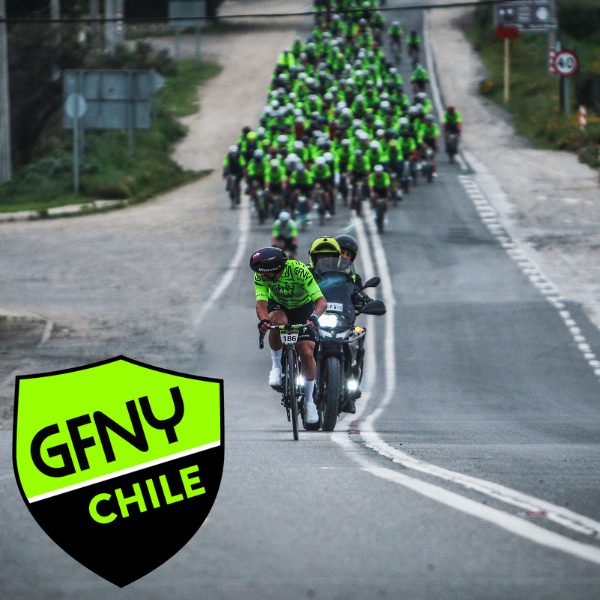 Nicolas Cabrera and Dominique Lavanchy win the fifth edition
New York City, September 27, 2023 /ENDURANCE SPORTSWIRE/ – Viña Veramonte hosted the 5th edition of GFNY Chile this past Sunday. The race course was 127.9km long with 1832m of climbing.
The race started off fast and right from the beginning at km 6, Eyair Astudillo (Chile) took the lead. The chase group including Ricardo Paredes, Nicolás Cabrera, third place finisher from 2022 Benjamin De Vicente and Claudio Alvarez, all Chilean, managed to close the gap at km 60.
During the infamous Muro de Tunquen climb, a grueling 27% steep wall, attacks started. Ultimately, it was Cabrera who executed an unexpected late-race surge during the final sprint to the line. Clinching first place, he clocked in at 03:26:45, a significant improvement over his 10th place finish in the 2022 edition of the race. Paredes and De Vicente followed, securing the 2nd and 3rd spots respectively.
In the female race, Dominique Lavanchy took the win in 4:14:17, ahead of Keyni Urbina and Maria Elena Parra.
The GFNY racing calendar continues to unfold, with the debut of GFNY Maryland Cambridge (USA) and the 2nd edition of GFNY Zapopan (Mexico) scheduled for Sunday, October 1, 2023.
About GFNY Global Endurance Sports Series
GFNY Global Endurance Sports Series is a sports event company with three decades of experience in racing, planning and organizing events. The global endurance sports brand hosts multiple events throughout the year around the world on five continents.
Working with partners around the world to deliver a first-class experience, GFNY Global Endurance Sports Series puts its athletes first.
Cycling
30-plus events held around the world. View the latest calendar here
Riders get to BE A PRO FOR A DAY ® by competing against others, themselves and the clock in a personal endurance challenge.
Top 10% (20% at regional championships) of finishers in each age group qualify for the Elite Qualifier Corral at every GFNY World event.
GFNY World Championship NYC
The 12th annual GFNY World Championship New York will be held on May 19, 2024. The race features the world's most international peloton with riders from over 90 countries. Athletes take on a challenging route to compete against each other, the clock and themselves in a personal endurance challenge.
The official GFNY website is: www.gfny.com.
Further Material for Media Use
Official GFNY Chile video: here
GFNY Press Images: here
GFNY Results: here
GFNY World calendar graphic: here
Previous GFNY press releases: here
Media Contact
Gran Fondo New York Inc.
Uli Fluhme, uli@gfny.com
Caroline Lindsay, caroline@gfny.com