Spring racing at 2nd GFNY Colonia-Uruguay this Sunday
November 3, 2022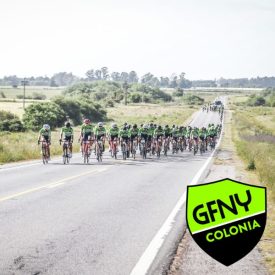 The fast course makes for a perfect season opener down south
/
ENDURANCE

 SPORTSWIRE/ – This Sunday, GFNY Colonia Uruguay offers racers a fast long course of 148.2km with 1122m of climbing where the wind will be the main challenge aside from the high pace.
Colonia del Sacramento is an irresistibly picturesque town enshrined as a Unesco World Heritage site. Its Barrio Histórico, an irregular colonial-era nucleus of narrow cobbled streets, occupies a small peninsula jutting into the river. Colonia's charm and its proximity to Buenos Aires draw thousands of Argentine visitors. It is home to a great deal of European settlements which reflect the present composition of the Uruguayan population.
"With GFNY Punta del Este we brought granfondo racing to Uruguay back in 2016," says GFNY CEO Uli Fluhme. "With GFNY Colonia the team there added a second GFNY last year. It's now not just the season opener for Uruguayans but also riders from Buenos Aires which is just a ferry crossing away."
Race week activities will take place at BIT centre. On Sunday, riders will tackle a spectacular course surrounded by olive groves, vineyards and cattle country. The race winners will win an entry to the GFNY World Championship in May in New York City. And all finishers will get the coveted GFNY finisher medal.
Website: colonia.gfny.com
About GFNY Global Endurance Sports Series
GFNY Global Endurance Sports Series is a sports event company with three decades of experience in racing, planning and organising events. The global endurance sports brand hosts multiple events throughout the year around the world on five continents.
Working with partners around the world to deliver a first-class experience, GFNY Global Endurance Sports Series puts their athletes first.
Cycling
30 plus events around the world. View the latest calendar here
Riders get to BE A PRO FOR A DAY ® by competing against others, themselves and the clock in a personal endurance challenge.
Top 10% (20% at regional championships) of finishers in each age group qualify for the Racer Corral at every GFNY World event.
GFNY World Championship NYC
The 11th annual GFNY World Championship New York will be held on May 21, 2023. The race features the world's most international peloton with riders from over 90 countries. Athletes take on a challenging 100-mile route from NYC to Bear Mountain to Fort Lee to compete against each other, the clock and themselves in a personal endurance challenge.
The official GFNY website is: www.gfny.com.
Further Material for Media Use
Official GFNY Colonia video: here
GFNY Press Images: here
GFNY Results: here
GFNY World calendar graphic: here
Previous GFNY press releases: here
Media Contact
Gran Fondo New York Inc.
Uli Fluhme, uli@gfny.com
Caroline Lindsay, caroline@gfny.com