Solo Stove to be the Official Fire Pit of Spartan US
August 11, 2022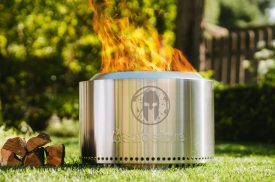 Bringing the Heat to Race Weekend
Grapevine, TX (August 11, 2022) /ENDURANCE SPORTSWIRE/ – Solo Stove is excited to announce a new partnership with Spartan, joining as an official sponsor of the Spartan Race US Series and provider of the Official Fire Pit for their events. Beginning August 13 in New England, the Spartan Race community will experience the power of Solo Stove's Yukon sized fire pit firsthand at all remaining US races in 2022 as they reach for the sky and take on the iconic last obstacle of a race: the fire jump. When colder weather hits, Spartans can feel the heat from Solo Stove's smokeless fire pits in warming zones for a pre and post-race warm-up. Additionally, in Dallas, New Jersey, and other select races, the Solo Stove team will be onsite providing s'mores, demos, exclusive offers, and in-person giveaways.
"Solo Stove is an amazing brand that, like Spartan, is trying to get more people off the couch to enjoy the outdoors, and they have revolutionized the at-home fire pit experience," said Ian Lawson, VP of Global Partnerships at Spartan. "We are extremely proud to be in this Partnership together, especially since it is the first of its kind for both Spartan and Solo. Spartans love adventure and the basecamp lifestyle, and what better way for a brand to connect authentically with new consumers than by giving them a unique experience with Solo's great products.
Solo Stove is driven by the mantra: Create Good. They believe they are part of a shared humanity and design products built for strengthening community and elevating outdoor experiences. Their smokeless, portable, and easy-to-use fire pits, camp stoves, pizza ovens, grills, and accessories are designed to help you get outdoors and reconnect to what matters most.
"Our focus is on creating simple, ingenious outdoor products that empower you to have good moments that become lasting memories," said Clint Mickle, President of Solo Stove. "Since our initial launch, Solo Stove has been able to watch a community come to life around our Fire Pits. We are inspired by the Spartan community and are excited to partner with a brand that shares our values."
Jeff Doyle of Cadence Solution Partners advised the parties on the partnership.
About Solo Stove
Founded in 2011, Solo Stove designs simple, ingenious solutions to make life easier. Solo Stove's fire pits, camp stoves, pizza oven, grill, and accessories are designed to help you get in touch with whatever is "good" for you. Whether it's a primal moment in awe of a smokeless flame, the moment right after you've taken a hot sip of coffee in the mountains, the gratification of sharing a hand-crafted artisan pizza, or your kid's face when they bite into a delicious s'more. For more information about Solo Stove, visit www.SoloStove.com.
About Spartan
Spartan is a global experiential sport and wellness brand with a 10 million+ strong community. We create transformational experiences, products, and content to help people, companies, and teams tear down boundaries and expand what they believe possible. Spartan combines large-scale global events with a dynamic digital content and community platform. With 250 events across more than 40 countries on six continents, Spartan is the world's leading extreme wellness and endurance brand. Visit spartan.com for more information and registration.