Skratch Labs Introduces its Newest Product Line: Clear Hydration Drink Mix
May 6, 2022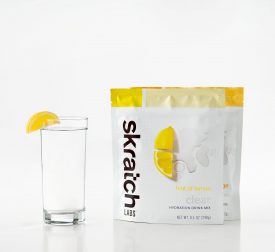 Boulder, CO (May 06, 2022)/ENDURANCE SPORTSWIRE/ – Skratch Labs, an innovator in performance nutrition, announces the release of Clear Hydration Drink Mix, a sports drink that tastes like water. Clear Hydration Drink Mix quenches thirst while providing the electrolytes plain water does not with just the slightest hint of flavor from real fruit. This new hydration line compliments Skratch Labs' category-leading line of hydration mixes for which the brand is best known.
"For years, I've been asked by athletes for a sports drink that tastes like water—clear of anything that isn't absolutely necessary," said Dr. Allen Lim, founder of Skratch Labs. "Making a sports drink that tastes like water was important to these athletes because even though they know that they need a sports drink to replace the carbohydrate, sodium, and water they lose when training and racing, they also want the refreshing and clear taste of water to cleanse their palate and eliminate flavor fatigue. Clear Hydration Drink Mix has the 'taste and feel' advantages of water along with all of the benefits of a sports drink. There is no compromise."
Clear Hydration Drink Mix replaces water and electrolytes lost from sweat while providing the carbohydrates athletes need. This formulation hydrates much faster than water alone and won't upset your stomach like sports drinks with food coloring and preservatives can. Launching this May, Clear Hydration Drink Mix will be available in two flavors, Hint of Lemon and Hint of Orange. It will be offered in a 240g bags, 15g singles, and an 8-pack caddy of singles.
About Skratch Labs
Based in Boulder, Colorado, Skratch Labs is a performance nutrition innovator that helps athletes and active people be better. Skratch Labs was founded by Dr. Allen Lim after he learned what nutrition was needed while coaching professional athletes for races such as the Tour de France. He was determined to create a sports drink that didn't make his athletes sick by using less sugar, more sodium and real food ingredients. Because of his close relationship with these athletes, each product goes through extensive testing and critical feedback from some of the world's best. Skratch Labs products are made to help "the doers" who always strive for reaching or exceeding their performance goals, no matter what stage they're in.
Products can be purchased online at http://www.skratchlabs.com or at a variety of retailers. For more information on Skratch Labs and its products, visit www.skratchlabs.com or visit Facebook, Instagram and Twitter.