Show Me The Vomit: Lionel Sanders Ready to Push to The Limit at Arena Games Triathlon Montreal
February 24, 2023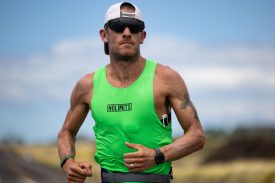 Long course legend set for short course debut as triathlon's esports World Championship Series gets underway for 2023
/ENDURANCE SPORTSWIRE/ – Lionel Sanders says he is ready to push himself to the limit to see if he can compete with some of the fastest athletes in short course racing as he prepares for a dramatic Arena Games Triathlon powered by Zwift debut as the 2023 World Championship Series kicks-off in Montreal.
The Canadian has home advantage for the race at the Parc Olympique on Saturday (17:30 local time) with even his mum ready to cheer on her son from the crowd.
However, he is under no illusions just what a daunting task he faces. Sanders has made his name competing across roughly eight hours in Ironman, and has enjoyed huge success as a multiple race winner and twice runner-up at the World Championships.
But he has never gone toe-to-toe racing the shortest distances of them all, with Arena Games Triathlon events over in a 35 minute blur of high octane action in a unique hybrid of real life and virtual that has made the format so talked about.
Lionel Sanders said: "I am excited to get back home. I think my mum might come and spectate and it will be fun to have home court advantage. Hopefully there will be a sold-out crowd in attendance and they will be cheering for me.
"My tactics are going to be pretty simple. This is like a super VO2 max session. So the tactics is this – gun goes, don't flop the dive, don't screw up the turns as there are only three of them in a 50m pool, pb in the swim which I would estimate to be better than 2.28 so maybe 2.25, don't screw up the transition, get your foot into the shoes quickly, then absolutely bury yourself on the bike. I want to vomit. Show me vomit please.
"How much watts is that? It's not my trainer and I think they may be on the lower end but I hope to hold 450w for this event weighing in at about 70kg. The run will be puke. Everything has to go in the way of getting off and vomit. If you do that then you've done it correct."
Sanders has a weakness in the swim, which is a vital component for Arena Games, where athletes swim for 200m bursts in a pool. But he is known as an animal on the bike, and particularly indoors and on Zwift.
He said: "I would be confident if it was a 30k bike I would with 100 per cent certainty bridge the gap. If it was 750m swim to 20k bike I would be certain. On Zwift watts per kilogram there would be no doubt in my mind. Unfortunately, that is not the distance. It is only a 4km in relation to a 200m swim.
"Up against some of the best swimmers in the sport, even if I swam really well, personal best for the 200m, I would probably still be 20 seconds down. 20 seconds to claw back in 4km is a big ask, but I am excited to see if it's possible."
There is also a host of home talent joining Sanders on the start line with 13 Canadians registered to race, including locals such as Jeremy Briand and Noemie Beaulieu. International stars racing include Henri Schoeman, the 2016 Olympic bronze medallist, and a former Arena Games winner in France's Aurelien Raphael.
In a nod to Super League's development of the best new racing talent, there are eight athletes racing who once competed as youths and juniors in SLT events.
Montreal is the first venue for the 2023 Arena Games Triathlon World Championship Series. Last remaining tickets are on sale via Ticketmaster.
Arena Games Triathlon powered by Zwift is a trailblazing concept pioneered by Super League Triathlon. The real-life and virtual reality blended racing provides an immersive viewing experience for fans both watching at the venue and on broadcast. Athletes swim their 200m legs in Olympic pools, bike 4km on static trainers and run 1km on self-powered treadmills multiple times, with their efforts turned into racing gameplay by Zwift – all over a unique, short and action-packed format.
Athletes battle it out to be crowned the triathlon esports World Champion thanks to Super League's partnership with World Triathlon.
After Montreal, the Series visits Switzerland (March 12) before a Grand Final in London (April 8). For how to watch Arena Games Triathlon powered by Zwift in your area please visit the Super League Triathlon website.