Shortlists Announced For First Global Triathlon Awards
December 6, 2022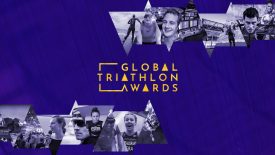 Hosts, Judges and Nominees Revealed Ahead of Triathlon's Glittering Night
/ENDURANCE SPORTSWIRE/ – The shortlist for the first Global Triathlon Awards (GTAs) has today been announced as the leading athletes and brands in the sport are honoured ahead of the star-studded night at the Palais de la Mediterranee in Nice, France, on Friday, 20 January 2023.
Also revealed today are the hosts for the event. Will McCloy, known as the 'voice of Super League Triathlon' will MC the event alongside Paula Radcliffe MBE, three-time winner of both the London and New York marathons and an endurance sport legend.
The GTAs is being supported by major event organisers including World Triathlon, Super League Triathlon & Professional Triathlete's Organisation, alongside fantastic headline partners France's Department 06 & cycling specialist brand Ekoi who will all present awards on stage and join the celebration of the sport and the wider community.
The coveted Male and Female athlete award categories see the best of short and long course come together. In the Male category Hayden Wilde, Alex Yee and Matt Hauser come up against Kristian Blummenfelt and Gustav Iden. In the Female category Flora Duffy and Georgia Taylor-Brown are joined by Chelsea Sodaro, Lucy Charles-Barclay and Ashleigh Gentle.
The GTAs are judged by a panel of key-selected industry experts. For 2023, we are honoured to have Jordan Blanco, Stephane Diagana, Emma-Kate Lidbury, Tim Don and Chelsea Burns on the judging panel.
In addition to the public nominations, which are then scored across two judging rounds via a digital platform followed by an in person judging day, the GTAs will also have the exclusive new 'Lifetime Kudos Awards', which recognise those who have made outstanding contributions to the sport and what will be the ultimate GTA Award to win.
These awards are nominated by judges and decided upon by partners, who discuss and recognise those who have accomplished outstanding contributions towards the triathlon industry and community over a lifetime of achievement.Tables & tickets for the 2023 GTA Ceremony, with the opportunity to mix with key organisers and stars of the sport, are on sale and can be purchased via: https://globaltriawards.com
SHORTLISTS
Best Swim Product Shortlist
FORM Smart Swim Goggles
Aquasphere Pantom Neoprene
Deboer Wetsuits Fjord 2.0
Swimtraxx One
Aquasphere Kayenne Pro Goggles
Best Bike Product Shortlist
Canyon Speedmax CF8 Disc
Zwift HUB
Ekoi Veloce
Canyon Speedmax CFR Disc
Wattbike Atom
Best Run Product Shortlist
On Running Cloud on Monster
Stryd Run Pod
Nopinz Aeroforce X Trisuit
Asics Shoes Metaspeed Edge+
Lever Running Device
Outstanding Nutrition Product Shortlist
Precision Fuel & Hydration PF30 Gel
Maurten Hydrogel
Precision Fuel & Hydration PF90 Gel
SiS Beta Fuel
Maurten Drink Mix 320
Outstanding Tech Product Shortlist
Lever
Strava
Race Ranger
Fuelin
Supersapiens
Best Male Triathlete Shortlist
Hayden Wilde
Gustav Iden
Kristian Blummenfelt
Alex Yee
Matthew Hauser
Best Female Triathlete Shortlist
Flora Duffy
Ashleigh Gentle
Georgia Taylor-Brown
Lucy Charles-Barclay
Chelsea Sodaro
Rookie Of The Year Shortlist
Katie Crowhurst
Sam Laidlow
Connor Bentley
Chelsea Sodaro
Kenji Nener
Outstanding Contributor Shortlist
Sophia Saller, Entrepreneur Tri-Stats
Nicola Dick, British Triathlon Age Group Director Volunteer
Talbot Cox, Video Producer & Triathlon Ambassador
Tanakorn Cheeptumrong, Triathlon Coach
Kelly O'Mara, Former Editor in Chief, Triathlete Magazine USA