Shimano returns to Intelligentsia Cup as a the Official Technical Support Partner
June 7, 2022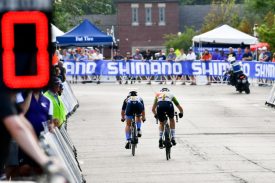 Intelligentsia Cup is celebrating 10 years of racing in and around Chicagoland
June We 8, 2022 Chicago, IL /ENDURANCE SPORTSWIRE/ – The Intelligentsia Cup is pleased to announce Shimano is returning as the Official Technical Support Partner for the 2022 race series.
"The support Shimano gives is necessary and incredibly valuable. We're grateful and honored to have them there to support us again this year, as we celebrate our 10th anniversary" – Marco Colbert, Intelligentsia Cup Race Director
This is Shimano's second year as a Technical Support Partner of the Intelligentsia Cup. 2021 was their first year, during which they provided a myriad of services to keep riders' bikes in good working condition so they could contend for the top step.
"The Intelligentsia Cup is a fantastic series that delivers incredible amateur and professional competition in uniquely American road racing venues. Shimano takes pride in developing high quality products that these racers depend upon and providing them the highest level of race support on offer." – Nick Legan, Road Brand Manager, Shimano
The Intelligentsia Cup is a 10-day bicycle racing series in and around Chicagoland. The venues in 2022 are: West Dundee, Glen Ellyn, Winfield, Mundelein, Lombard, South Chicago, Northbrook, Elgin, Lake Bluff, and West Fulton Market in Chicago. This exciting series attracts elite and amateur cyclists from all over America and around the world, and is the largest road series in the country. Intelligentsia Cup recently joined the American Criterium Cup, a national series of criteriums that share a vision to elevate the stature of criterium racing in the United States, and create engaging events that are spectator-friendly, and great for the communities in which races are staged.
Press Contact:
Bekah Collins
520-481-1184
bekah@goodnewscommunications.com
###