Serrières, Karásková win XTERRA Lake Garda
May 28, 2023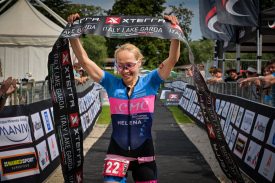 It's the 23rd career XTERRA World Tour victory for Serrières, completing a successful title defense for the reigning XTERRA World Champion, having won this race in 2022. For Karásková, a four-time XTERRA European Tour Champion, the victory was the 35th of her storied career, but first major since 2019.
/ENDURANCE SPORTSWIRE/ – Arthur Serrières (FRA) and Helena Karásková (CZE) were crowned King and Queen as winners of the XTERRA Lake Garda off-road triathlons with winning times of 2:46:34 and 3:25:09, respectively, on a perfect day in Toscolano Maderno located on the shore of the largest lake in Italy, on Saturday, May 27, 2023.
It's the 23rd career XTERRA World Tour victory for Serrières, completing a successful title defense for the reigning XTERRA World Champion, having won this race in 2022. For Karásková, a four-time XTERRA European Tour Champion, the victory was the 35th of her storied career, but first major since 2019.
The event, which marked the seventh stop on the XTERRA EMEA Tour and the first of four races in Italy during 2023, combined a 1.5km swim with a 31km mountain bike, and an 11km trail run that took athletes on a journey from the streets of Toscolano Maderno into the Valle Delle Cartiere, a region associated with paper making in the hills above the crisp waters of Lake Garda.
Elite Men
In the men's elite race, French road triathlete superstar Anthony Pujades (FRA) was first to exit the water in 18:40 followed by Italian local hero Federico Spinazzè 25 seconds back in 19:05, with Thomas Epton (GBR) in third position more than a minute adrift in 19:41.
Pre-race favorite Serrières would have to swim alone, exiting in 20:06 nearly 90 seconds behind the front of the race.
The big surprise of the day was the pair of uber-bikers Sébastien Carabin (BEL) and former Olympic MTB champion Jaroslav Kulhavý (CZE), exiting together less than four minutes from the front of the race. Setting up a very exciting bike leg should these two cooperate on the pace making.
Serrières would quickly make his way to the front of the race during the first climb, with only Pujades able to follow; "I normally only race for 2 hours on easy flat courses around traffic cones, so I knew that I was going to have to pace myself today. But as soon as there was a chance to follow the wheel of Serrières I jumped right on it and had to push so hard. I completely smashed myself trying to follow him today," joked Pujades, having fully enjoyed his short-lived time alongside the World Champion.
Serrières and Pujades would indeed finish the first lap together, but the race was coming from behind. Spinazzè was posting a solid race to roll through in third, 90 seconds behind but only just ahead of Kulhavý and Carabin who were now less than two minutes from the lead.
"I'm not normally used to having to fight to stay on the wheel!" said Carabin, "I've raced Jaraslov many times on the mountain bike in the past so I know how strong he can be, so having him as part of the race helped me to push to another level. Normally riding solo I will never catch Arthur, but today we caught him just before transition."
After the second lap was done and dusted the three men would enter the bike to run transition together, with Kulhavý posting a race best 1:36:02. Later inspection would reveal Serrières had to manage more than just his efforts during the bike leg.
"I was quite tired from winning the (Oak Mountain) World Cup last week and combined with the travel I was very low on energy today. On the second lap, I hit a rock or a step, but something broke my wheel, I was still able to ride but with a slow puncture, I was just wishing for good luck for it to hold until the finish, in the end, the tire came off the wheel in the last 50 meters," said Serrières.
Once the trio hit the run there was only going to be one outcome. The Frenchman showed a clean pair of heels to run a 45:57 fastest split over the steep and treacherous terrain to lift the tape in front of an appreciative crowd.
"This course is amazing to test yourself on, it's so hard, that if you can do a good race here – even on a difficult day you can win and XTERRA anywhere, anytime," he said.
Carabin would have the legs to stay within three minutes of Serrières to post a fine second place.
Kulhavý would pay for his spectacular effort on the bike but still hold on for third position – showing that his debut race at XTERRA Malta was no fluke and that the Olympian is not at XTERRA races to just take part.
"I know I have still a lot of work to do on both swimming and running, but this was just my second-ever triathlon and I already feel that I can compete with some of the best in the world," he said.
"I felt really bad on the bike, I had no legs and just had to fight the pedals all day, it's frustrating not to be able to do the effort I know I can do, and then it just made the run even harder, I walked some of the hills to just keep moving," laughed the Czech athlete. "I can't wait to head to the world cup in two weeks in Namur, the flatter course will suit me much better so I'm going to push so hard there to try and influence the race even more."
Race winner Serrières was full of admiration for the race atmosphere, saying, "This race is the perfect XTERRA, the location, the course the organization, the pizza, pasta, the ice cream, everything about this event makes it a must-do event for anybody taking part in our sport."
Fellow Frenchman Pujades would finish strongly in fourth place after his excitable start, with Italian Spinazzè rounding out the podium for a very popular fifth place.
Elite Women
In the women's elite race, XTERRA debutant Maisie Aubrey (GBR) exited the water with a 20:09 swim, giving her the best possible start to her first-ever XTERRA event. Charlene Clavel (FRA) came in two minutes and 17 seconds later, also making her debut in XTERRA racing.
Veteran elite Carina Wasle from Austria rounded out the top three, three minutes and nine seconds behind the early leader. Struggling with jet lag and fatigue was Marta Menditto, desperate to give her Italian fans a home victory would have a sub-par swim exiting in fourth – some three minutes and 45 seconds back.
Onto the bike and the first climb the field came together, with Clavel cresting the top of the bike course with a slender lead of 10 seconds over a charging Karásková who had ridden through all of the field taking only Wasle with her. Also making her way towards the front of the race was Menditto now up into third place closing the gap to less than a minute to Clavel.
"I was so dead at the beginning of the race, with almost three days of travel home from Oak Mountain, I was so tired and wanted to stop on the first climb of the bike. But with all the spectators cheering me calling out my name 'Forza Marta Forza Marta' how could I stop? I then started to feel better and make some time on the downhills, so I started to feel more positive about everything," said Menditto.
On the same downhill, Karásková would leave Wasle behind and overtake Clavel to take a healthy lead of a minute at the end of the first lap. Clavel would be next through followed by Menditto now chasing the Frenchwoman with renewed intent.
"This is such an amazing location for my first race, but so so hard. I didn't know what to expect so I just tried to use my long-distance experience, to race my own race and to manage my nutrition, I could compete on the climbs, but I had to let Helena pass me on the descents – I really enjoyed myself today and look forward to learning more about mountain biking," exclaimed Clavel.
Karásková posted a race-best 1:58:30 to enter transition with a two minute gap to Menditto who had overhauled Clavel towards the end of the second lap. Switzerland's Carole Perrot entered transition in third position with a solid bike time of 2:02:50 to equal the split of Menditto.
Onto the 11km run course, and Karásková did just enough, posting a third-best run time of 56:28 to hold off a charging Clavel who was flying after exchanging her wheels for trail shoes. The French woman ran from fourth to second position with a race-best 56:28 to close the gap to just 1:28 seconds at the line.
"It was such a hard race, and at times I thought this would be my last race for sure" laughed Karásková. "I didn't feel great on the uphills, but I felt like I was riding really well on the descents, perhaps using my experience to ride quickly but without taking risks. I've raced a lot of cross-country mountain bike events already this year, so this definitely helped me today. It's nice to still be able to compete and win so deep into my career, and to know that I can still be competitive against these young up-and-coming athletes."
Menditto pleased the local crowd by rounding out the podium for the third position, Wasle regrouped for fourth and Perrot finished fifth.