Sena Releases New R2 and R2 Evo at Sea Otter 2021
September 29, 2021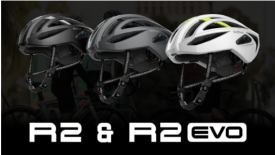 Demo's Presented Daily by Lex Albrecht - Booth R7
IRVINE, Calif. (September 29, 2021) – Sena Technologies, Inc., the global leader in Bluetooth® communication solutions for the powersports and outdoor sports markets is excited to announce the upcoming launch of the new R2 and R2 EVO road cycling helmets.
ALL NEW DESIGN, SAME AWARD-WINNING TECH
The all new R2 and R2 EVO helmets feature an aerodynamic design with additional vents for airflow. While both helmets feature built-in taillights for maximum visibility while riding, the R2 EVO is equipped with Sena's award-winning Mesh Intercom™ platform, while the R2 operates on Sena's Bluetooth intercom communication platform.
R2 EVO
The Mesh Intercom™ equipped R2 EVO (MSRP $199 USD), combines safety and technology into a sleek and aerodynamic package built for road cyclists. Sena's Mesh Intercom™ allows riders to communicate hands-free with other Mesh users (R1 EVO, M1 EVO) within a half-mile (900 meters) with the touch of a button. Multi-channel Open Mesh supports 9 channels, letting you switch between different groups on different frequencies. Sena's Mesh platform offers flexibility by allowing riders to come in and out of range while keeping the rest of the group connected.
The R2 (MSRP $159 USD) is great for smaller groups of riders, allowing for 4-way Bluetooth intercom at a half-mile (900 meters) range. Users can connect with up to 3 other riders, the R2 is compatible with Sena's Bluetooth-enabled helmets such as the R1, M1, or X1S. The R2 also includes 2-way HD Intercom, which allows a pair of riders to experience high-definition sound quality in rider to rider conversations.
ADVENTURE SEEKER LEX ALBRECHT JOINS THE SENA TEAM
The Sena Outdoor team is growing! We are proud to announce that Sena Adventure Seeker Lex Albrecht, 8yr UCI Women's World Tour Pro Cyclist and Canadian National Team member (BS Medical Biology) is now supporting the Sena marketing team reach new heights with their game-changing bicycle products.
MEET WITH LEX & DEMO SENA PRODUCTS @ SEA OTTER — BOOTH R7
Sena is thrilled to be exhibiting at California's Sea Otter Festival again this year, so stop by Booth R7 to Demo the NEW R2/R2 EVO and All NEW 2021 CYCLING SYSTEMS (more info below), and talk with Lex about her first-hand experience with how Sena's innovative cycling (nd motorcycling) communication technology has helped her level up her cycling game.
SENA'S NEW 2021 CYCLING PRODUCT OVERVIEW
M1 & M1 EVO
The Sena M1 (MSRP $139 USD) and M1 EVO (MSRP $159 USD) Mountain Bike Helmets bring intercom communication to the mountain featuring a built-in communication system that allows users to speak with nearby riders.
The M1 connects up to 4 nearby riders via Bluetooth Intercom while the M1 EVO (Winner of the 2021 Red Dot and EuroBike Awards) allows an unlimited number of nearby riders to communicate with each other in a seamlessly connected Mesh network. The innovative helmets also allow for wireless smartphone connectivity so that riders can listen to music, GPS directions, take calls, and more. An integrated tail light offers improved visibility for riders.
pi
Bring Sena communication to almost any outdoor sports helmet with the pi Universal Bluetooth Intercom System (MSRP $99). The compact headset allows for 2-way intercom as well as smartphone connectivity to listen to music, GPS, and even take calls from your helmet. Make any helmet a smart helmet. #RideConnected
AVAILABILITY
Sena's range of smart communications cycling helmets and headsets are available on sena.com, Amazon, and through our network of dealers.
For media samples, and high-res images, please connect with:
MEDIA CONTACT
Lesley Stokes Suppes lesleys@terrapublicrelations.com 307-733-8777