Sea to Summit Triathlon moves to Kennebunkport, Maine
September 1, 2022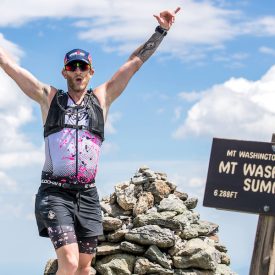 /ENDURANCE SPORTSWIRE/ – Maine's coastal villages of Kennebunkport and Kennebunk will host the swim segment as well as the start of the bike leg for 2023's Sea to Summit Adventure Triathlon. The announcement was made by the race organizer, New England Endurance Events.
For the past decade the point-to-point race has staged its swim leg in South Berwick, Maine, but concerns over recent water quality led to the decision to find a new location, said co-race director Andy Scherding. "With a majestic coastline and a vibrant, welcoming community, the Kennebunks became the obvious choice," he said.
Given the colder water temperatures at the new venue, the swim distance will be shortened from 1.5 to 1.2 miles, Scherding said. The bike course will remain at just under 100 miles, ending at the base of the Northeast U.S.'s highest mountain: Mount Washington. The run/climb brings the competitors to the summit of Mt. Washington at 6288 feet.
The race has always required pre-qualification of participants — all of whom must have recently completed a long distance triathlon within strict time limits, Scherding said. Given the potentially rough-water swim at the new location, the race has added a second, additional qualification requirement: based on swim ability alone.
New England Endurance event manages seven annual triathlons in the region and various other running and specialty endurance events. The Sea to Summit website is located at s2stri.com.
###