Science in Sport (SiS) announce partnership with OGC Nice
February 23, 2023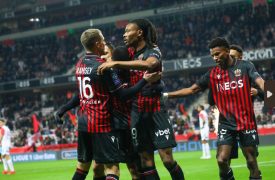 Leading global performance nutrition brand Science in Sport (SiS) have announced that they are to be the Performance Solutions Partner of French Professional football club, Olympique Gymnaste Club - most commonly known as OGC Nice.
23rd February 2023 – London UK /ENDURANCE SPORTSWIRE/ – Côte d'Azur, France-based OGC Nice are widely recognised as one of the original members of first division French football. With regard to the development of the club, particularly on the performance perspective, this new partnership comes at an exciting time and will see the team at Science in Sport taking an integral role in the delivery of the clubs' performance nutrition strategy.
A trusted partner to over 330 professional athletes and teams globally, this extensive two-year partnership will see the team at Science in Sport working closely with the OGC Nice team, advancing their nutritional strategies and product selection, in the pursuit of optimum performance and recovery.
At the very heart of the partnership is Professor James Morton, Chief Scientific Officer, and the Science in Sport team who are offering the support of individualised fueling strategies for all players, combined with the support and education of the wider team on the importance of nutrition in all aspects of the game. The creation of bespoke products for individual members of the team will also be managed through a very close working relationship with the wider Science in Sport Performance Solutions Team.
"We are delighted to be working with the team at OGC Nice", says Professor James Morton.
"Through the years we have demonstrated the significance that nutritional strategy has in unlocking an athlete's performance potential, and have worked with some of the best elite teams and athletes around the world including INEOS Grenadiers. I speak for everyone at SiS when I say how much we are looking forward to our work with the team at OGC Nice, and I am excited to see how an exacting nutritional strategy translates to their results in both training and competition".
Laurent Bessiere, Director of Performance of OGC Nice, said: "In order to compete against the best in the world, our players need to consistently perform at their very best, and it's vital that they are able to recover fully for the next game in their schedule. This can be a great challenge, with back-to-back matches happening in busy periods, combined with long hours of travel."
Bessiere continues, "the support of Science in Sport is set to be an invaluable asset to us, enabling our players to enjoy an individually tailored nutrition approach, with insight into how to best implement this into their routine for the very greatest benefit. We're very much looking forward to joining forces with the team at Science in Sport, and to work closely with their Performance Solutions team throughout this season and beyond."
To learn more about Science in Sport Plc, visit www.sisplc.com, and to shop their extensive range, visit www.scienceinsport.com.
To learn more about OGC Nice, visit www.ogcnice.com.
———————————————————- ENDS ———————————————————–
Images: https://drive.google.com/drive/folders/1NlTKIrFtKFVgjN8I7b9p8j0DSeawfa7O?usp=sharing
CONTACT
Name: Kate Allan – Compete PR
Email: kate@competepr.com
Phone: +447754 072648
About Science in Sport
Science in Sport plc, headquartered in London, is a leading sports nutrition business that develops, manufactures and markets innovative nutrition products for professional athletes, sports and fitness enthusiasts and the gym lifestyle community.
The company has two highly regarded brands: PhD Nutrition, a premium protein brand targeting gym lifestyle and sports enthusiasts, and SiS, a leading brand among elite athletes and professional teams competing at the highest level within endurance sport.
SiS, founded in 1992, has a core range comprising gels, powders and bars focused on nutrition and recovery and launched the world's first isotonic energy gel.
SiS is the official sports nutrition supplier to over 330 elite teams and athletes globally, including INEOS Grenadiers, Tottenham Hotspur, Milwaukee Bucks, British Rowing and USA Triathlon.
SiS supplies more than 100 professional football clubs in the UK, Europe and USA, including MLS Champions NYCFC.
SiS is an official partner to New York Road Runners, and the official gel partner of the TCS New York City Marathon.
About OGC Nice
OGC Nice is a landmark club in French football. Based on the Côte d'Azur, Le Gym has won 4 French league titles in its history and 3 French cups. Most of this success was achieved in the 1950s.
After a difficult second half of the 20th century, OGC Nice returned to the forefront of French football at the beginning of the 21st century.
Since 2019, OGC Nice is part of the INEOS galaxy, whose activities in sports are synonymous with performance and ambition.
Currently, OGC Nice takes part in the French Ligue 1 Championship and the UEFA Europa Conference League.