Scarab Cycles Launches Darien Mountain Bike
August 24, 2023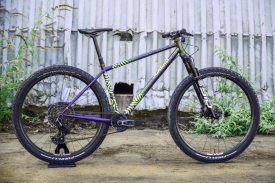 First MTB to be produced by the Colombian bicycle manufacturer
EL RETIRO, Colombia /ENDURANCE SPORTSWIRE/ – Scarab Cycles, is thrilled to announce the launch of the Scarab Darien, an adventure-ready, yet racy, hardtail mountain bike. Inspired by the legendary Darien Gap, a remote and challenging stretch of untamed jungle that is so deep that has kept South America disconnected by road from North America. The Scarab Darien is designed to empower riders to break boundaries and embrace the thrill of adventure.
Drawing inspiration from the spirit of exploration that defines the Darien Gap, the Scarab Darien is a manifestation of rugged determination, passion for adventure, and reliability. This hardtail mountain bike is meticulously crafted with Columbus MTB-specific tubing to provide riders with an unparalleled experience as they navigate through uncharted territories.
"Darien is the mountain bike we want to ride in El Retiro. Efficient for long climbs, agile for technical descents and comfortable for long riding," offers Scarab's product director Santiago Toro. "Our backyard of El Retiro is a never-ending network of dirt roads and endless climbs that connect through rough stretches. When designing this bike, we wanted a bike to do it all with a fast spirit."
About Scarab Cycles: Scarab Cycles is a Colombian based custom bicycle manufacturer, celebrated for its intriguing paint schemes and high-quality bicycles. With a passion for adventure and exploration, Scarab Cycles is dedicated to crafting bikes that empower riders to go beyond.
Handmade in Colombia, the Scarab Darien embodies our commitment to delivering exceptional performance and motivating riders to embrace their adventurous spirit. Just like the Darien Gap, this bike is about going beyond the ordinary and conquering new frontiers.
The Scarab Darien is available for order now. MSRP in the US including RockShox SID Ultimate 3P fork is $3,600 – with one of Scarab's standard paint designs.
More info: http://www.scarabcycles.com/darien/
Bespoke Craftsmanship
Built to withstand the harshest conditions, the Scarab Darien is built by hand in our shop in Colombia ensuring the highest quality construction possible. With a robust design and using top of the line steels. The frame offers exceptional strength-to-weight ratio, impact resistance, and longevity, making them ideal for any adventure. Our precise tubing selections, tailored to each rider are intended to offer comfort on long days in the saddle.
Design
The Darien's geometry is fine-tuned to lead the pack on cross-country rides with its agile handling. Every Darien is custom-built for its rider with geometries optimized around 100-130mm fork travel. With clearance for 29" x 2.6 -wide tires, it is an ideal companion for tackling technical terrain and navigating through diverse landscapes.
Compatibility
Darien has been optimized for the latest technologies. It comes equipped with a UDH dropout system that allows installation of the latest T-Type transmissions. The frame has been equipped with a T47 bottom bracket that allows the use of multiple crankset options. Every frameset is setup to be built with a dropper-post.
YES, This Bike is Painted In-House and it's BEAUTIFUL.
This specific Scarab Darien displays a unique design that pays homage to Colombia's wild and untouched beauty. Deep inside the wild and exuberant tropical jungles of Colombia – the heart of some of the most biodiverse ecosystems that still exist in the world – the small harlequin frog has evolved to thrive in this environment with a strong colorful presence. This tiny frog's color patterns is the inspiration for this paint and reminds us of its important presence that is at risk of extinction.