Saucony® Unveils All-New Tempus
July 6, 2022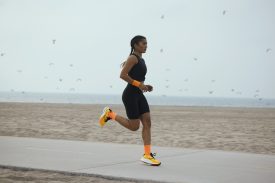 For the first time ever, runners who need support can now enjoy an ultralight superfoam experience with plenty of underfoot control
WALTHAM, MA (July 6, 2022)/ENDURANCE SPORTSWIRE/ – Global performance running lifestyle brand Saucony announces the debut of the all-new Tempus performance running shoe, offering one of the first superfoam-fueled guidance systems for runners who desire an ultralight cushioning experience with plenty of underfoot support. The Tempus's full-length core of PWWRUN PB™ cushioning works in tandem with a PWRRUN™ Frame that supports and propels the runner to a snappy transition upon takeoff. With more underfoot midsole contouring, the runner's foot sits deeper into the footbed, allowing the shoe to hug the foot for an incredibly plush and supportive feel, top to bottom. Runners of all types can now enjoy a lightweight, supportive and bouncy feel with seamless underfoot support. The Tempus will be available at saucony.com and select retailers globally beginning June 28.
"'Tempus' is a Latin word meaning 'time,' and for the first time ever, runners who need support can also appreciate the high-performance energy return of a PEBA-based cushioning compound," said Ted Fitzpatrick, vice president of product management. "Thanks to the shoe's first-of-its-kind superfoam-fueled guidance system, the full-length PWRRUN PB cushioning delights with its lightweight and bouncy feel while the PWRRUN Frame and signature midsole geometry deliver support upon landing for underfoot control. With its personalized and perfectly secure fit, the Tempus offers just the kind of experience so many runners have been missing: a super smooth ride from heel to toe."
About the Tempus
Full-length core of ultralight PWRRUN PB cushioning delivers incredible spring and energy return
Contoured PWRRUN Frame starts above the midsole to support the foot upon landing; its curved shape and forefoot ground contact offer a snappy transition during take off
More underfoot midsole contouring lets the foot sit deeper into the footbed, allowing the shoe to hug the foot for an incredibly plush and supportive feel, top to bottom
Lock in the perfect fit with adaptive lacing and a lightweight midfoot saddle
Signature midsole geometry offers a supportive base and a super smooth ride from heel to toe
Lightweight breathable mesh upper
Heel-to-toe Offset: 8mm (36.5/28.5mm)
Weight: Men's 8.9oz (252g); Women's 7.9oz (224g)
Lighter footprint: The Tempus is vegan and contains recycled upper materials
Tempus Availability
The Tempus will be available beginning June 28 in men's sizes 7-13 and 14, and women's sizes 5-12. The suggested retail price of the Tempus is $160.00. To find a Saucony retailer near you, call 800-365-4933 or visit here.
About Saucony: Saucony, the 'Original Running Brand' and a division of Wolverine World Wide, Inc. (NYSE: WWW), is a leading global performance running brand that fuses innovation, style and culture. Widely recognized for award-winning technologies including PWRRUN™ PB, PWRRUN+™, and SPEEDROLL™, Saucony creates innovative technical and lifestyle footwear and apparel across Road, Trail and Originals. Founded in 1898, Saucony exists to inspire and serve all humans to live their best life by providing access to running, self-expression and creating a better world. For more information, go to www.saucony.com.
###