Sandusky, Ohio Becomes New Host Venue for IRONMAN 70.3 Ohio Triathlon
October 27, 2021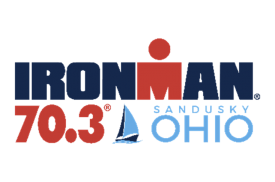 - IRONMAN 70.3 Ohio scheduled to take place on July 24, 2022 with general registration opening November 10, 2021 at www.ironman.com/im703-ohio
SANDUSKY, Ohio / TAMPA, Fla. (October 27, 2021) /ENDURANCE SPORTSWIRE/ – IRONMAN announced today that Sandusky, Ohio has become the new host venue for the IRONMAN® 70.3® Ohio triathlon in 2022. The 2022 edition of the event is scheduled to take place on July 24, 2022 with general registration opening November 10, 2021 at www.ironman.com/im703-ohio.
"We are excited to bring IRONMAN 70.3 racing to Sandusky and provide athletes with the exceptional experience of racing on Ohio's stunning shoreline," said Keats McGonigal, Vice President, North America Operations for The IRONMAN Group. "Sandusky offers not only a unique shoreline race destination that is sure to excite athletes, but a convenient and easy access vacation experience for athletes and families alike. We look forward to working with our new partners in Sandusky for years to come."
Located in northern Ohio along Lake Erie's scenic shoreline, Sandusky was named the Best Coastal Small Town in America by the USA Today in 2019. One of Ohio's growing destination spots, the city is located roughly midway between Toledo 45 miles to the west and Cleveland 50 miles to the East,. Sandusky is known as Ohio's Water Park Capital due to the popularity of year-round indoor water park resorts, including the world class amusement park, Cedar Point. In season, ferries and island-hopping cruises depart from downtown daily, including an international ferry terminal offering daily trips to Canada's Pelee island. Sandusky surprises with its beautiful parks, downtown architecture, and wealth of history, including its role in the Underground Railroad. Downtown Sandusky offers delicious dining options, quaint shops, art galleries, numerous attractions, and the historic Sandusky State Theatre.
"Ohio's Lake Erie Shores & Islands welcomes IRONMAN to Sandusky! Our organization is honored to support this event alongside the City of Sandusky and all the athletes who train for this incredible race," said Christopher Lewis, Sports Tourism Manager, Lake Erie Shores & Islands. "Having an IRONMAN 70.3 event in America's Sports & Family Fun Capital for the next three years, we are confident that the Shores & Islands region will deliver an unparalleled race experience while also serving as the perfect destination for both the athletes and their families."
"Sandusky Bay and the City of Sandusky's new Jackson Street Pier and Shoreline Drive will be the perfect waterfront venue for IRONMAN 70.3 Ohio in 2022 and beyond," said Jason Werling, Recreation Superintendent, City of Sandusky. "Our city is ready to roll out the red carpet and welcome the participants and their friends and families. IRONMAN is the quintessential triathlon racing series, and we are thrilled to be working in tandem with Ohio's Lake Erie Shores & Islands to bring the event to Sandusky and the region."
Athletes will enjoy a 1.2-mile swim in Sandusky Bay, a rolling 56-mile bike through scenic Erie county and a 13.1-mile run along the shoreline of Lake Erie capping off with a thrilling finish in downtown Sandusky.
For more information on IRONMAN 70.3 Ohio, please visit www.ironman.com/im703-ohio. For more information on the IRONMAN® brand and global event series, visit www.ironman.com. Media related inquiries may be directed to press@ironman.com.
###
About The IRONMAN Group
The IRONMAN Group operates a global portfolio of events that includes the IRONMAN® Triathlon Series, the IRONMAN® 70.3® Triathlon Series, the IRONMAN® Virtual Racing™ (VR™) Series, 5150™ Triathlon Series, the Rock 'n' Roll® Running Series, the Rock 'n' Roll Virtual Running™ Series, IRONKIDS®, World Triathlon Championship Series, premier running events including the Standard Chartered Singapore Marathon™ and The Sun-Herald City2Surf®, Ultra-Trail® World Tour events including Tarawera Ultra and Ultra-Trail Australia™, mountain bike races including the Absa Cape Epic®, road cycling events including Haute Route®, and gravel racing like Gravel Epic®, and other multisport races. The IRONMAN Group is the largest operator of mass participation sports in the world and provides more than a million participants annually the benefits of endurance sports through the company's vast offerings. Since the inception of the iconic IRONMAN® brand and its first event in 1978, athletes have proven that ANYTHING IS POSSIBLE® by crossing finish lines around the world. Beginning as a single race, The IRONMAN Group has grown to become a global sensation with hundreds of events across 55+ countries. The IRONMAN Group is owned by Advance, a private, family-owned business. For more information, visit www.ironman.com/about-ironman-group.
About Advance 
Advance is a private, family-held business that owns and invests in companies across media, entertainment, technology, communications, education and other promising growth sectors. Our mission is to build the value of our companies over the long-term by fostering growth and innovation. Advance's portfolio includes Condé Nast, Advance Local, Stage Entertainment, The IRONMAN Group, American City Business Journals, Leaders Group, Turnitin, 1010data and Pop. Together these operating companies employ more than 17,000 people in 29 countries. Advance is also among the largest shareholders in Charter Communications, Discovery and Reddit. For more information visit www.advance.com.