San Diego's Steven Martinez wins 2023 SDCCU Marathon with new course record
May 8, 2023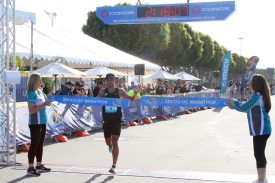 San Francisco's Jenny Grimshaw win's women race
ORANGE COUNTY, California – May, 2023/ENDURANCE SPORTSWIRE/ – Steven Martinez's goals for Sunday's SDCCU OC Marathon were modest and unselfish. He planned to run about 18 miles, pacing a friend to what they hoped would be an Olympic Trials qualifying time.
But after 10 miles it was apparent Martinez's former Chico State teammate wouldn't meet the sub 2 hours, 18 minutes standard.
"We had a Plan A, B and C," said Martinez, who lives in San Diego and is one of the United States' top 50 marathoners. "C was the worst case scenario, me finishing."
Martinez finished in style, winning the event in a race record 2:18:06, good for a $2,500 bonus. The old record was 2:22:45 set in 2011 by Peter Omae Ayieni. Emilio De La Torrey finished second in 2:20:45.
"They offered prize money for a course record," said Martinez, "so I had to get it for some extra rent (money)."
On a picture-perfect day for running, nearly 15,000 participated in the SDCCU OC Marathon and OC Half Marathon. The marathon began in front of the VEA Newport Beach Marriott Hotel & Spa, then made its way with some spectacular ocean and bike-trail views from Newport Beach to Costa Mesa and Santa Ana before finishing at the OC Fair and Events Center.
Martinez's marathon PR is 2:15:22, set at last year's Chicago Marathon. He used Sunday's race as a training run for the June 17 Grandma's Marathon in Duluth, Minn.
"They shut down the whole town for this race," said Martinez. "It's a pretty big deal around here. People come out of their homes to cheer you on."
The women's marathon was a close one with Jenny Grimshaw of Northern California winning in 2:53:06, just 47 seconds ahead of Victoria Cronin. Grimshaw said she has run at least 15 marathons, but Sunday's was her first win.
Grimshaw is the mother of an 18-month-old. She left the toddler at home with her husband, who celebrated his birthday on Saturday.
"I left him alone, so I had to make it worth it," joked Grimshaw, who said she recently had struggled to regain her love of running. Added the Yale graduate, "I really wanted a day to remember. That's why I loved it."
Another Bay Area runner, Tasia Potasinski, won the women's half marathon in 1:19:52, exactly one minute ahead of Franziska Vansickle.
After battling a string of injuries, the race was Potasinski's first in three years.
"The goal was to go out there conservative and try to reel them in," she said. "But that's hard to do as a competitive person. I probably went out a little faster than I would have liked, slowed up in the middle then closed hard, as hard as I could."
Potasinski ran at the University of Virginia. Like other runners, she soaked up the spectacular views along the course.
"I was low key," she said, "dreaming of how much fun it would be to live in the houses along the water. The crowd was amazing."
Her favorite sign was one that read, "You can still make the whole place shimmer."
"That's a Taylor Swift reference, so that got me going," she said.
Jordan Bramblett of Arizona won the men's half marathon in 1:07:20. Thomas Dialynas took second in 1:08:09. In an impressive masters finish, 43-year-old Roosevelt Cook placed third in 1:08:39.
Another highlight to the weekend of racing was Saturday's OC 5K, which starts at 5:30 p.m., giving runners the rare opportunity to race as the sun begins to set into the early evening.
Los Angeles' Peter Thorpe won the men's 5K in 16:31 while Corona's Paloma Buehler crossed the line first in the women's 5K in 20:11. A triathlete, Thorpe warmed up for the 5K by biking 90 minutes earlier in the day.
"It was definitely different (racing in the late afternoon)," said Thorpe. "Cool."
"This is amazing," said Buehler. "There's so many fit people, a positive energy. The crowd is amazing. They cheer you on and get you pumping. I would definitely recommend it."
For complete results, photos and more, visit www.OCmarathon.com.
About the SDCCU OC Marathon Running Festival
The 19th annual SDCCU (San Diego County Credit Union) OC Marathon Running Festival returns to the seaside streets of Orange County, California the weekend of May 5, 2022 – May 7 ,2023. The SDCCU OC Running Festival showcases three days of events, including the Kids Run the OC mile, the OC 5K at sunset on Saturday and Sunday's marathon and Half Marathon. The race is a perfect destination event for runners, with the beaches, theme parks and near perfect weather. A free two-day OC Lifestyle & Fitness Expo at the OC Fair and Event Center kicks off race weekend, featuring fitness retailers, exhibits and interactive clinics. Over the history of the race, runners have raised more than $7.5 million for a variety of charities and non-profit organizations. For more information or to register for the race, visit www.OCmarathon.com.
# # #