Salty Sports Society Announces Divios as their Official Sunscreen Partner
July 13, 2022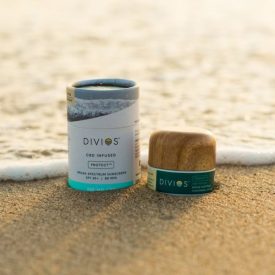 Open water swimming race company, Salty Sports Society, plans to enhance swimmer experiences by helping them stay protected through their latest partnership with CBD infused sunscreen and moisturizer brand Divios.
Saint Augustine Beach, Florida /ENDURANCE SPORTSWIRE/ – From its inception, Salty Sports Society has worked to educate coastal lifestyle athletes on conservation and best practices. From beach clean ups and oyster shell recycling to reef safe sunscreens, Salty Sports Society has worked to inspire swimmers and triathletes to give back to the natural resources they train at and race on. Quickly after connecting with Divios, it became clear that a desire to form a partnership would lead to new opportunities.
DIVIOS centers on using only natural ingredients within their products with no fillers, no synthetics, no parabens, and zero nanoparticles. Divios is mineral-based, SPF 30+ Broad Spectrum, 100% chemical-free and incorporates strategic ingredients like sesame seed and red raspberry seed oil, along with shea butter and jojoba oil, ensuring every ingredient they select adds health benefits to your skin and protection from the sun.
The new partnership will see Salty Sports Society offer athletes reef-safe options when protecting their skin while training and racing. Those on the Salty Sports Society database and followers of their social media accounts will be able to take advantage of discounts, contests, and give-a-ways.
Matt Dunn, Salty Sports Society Co-Founder, said, "We were so pleased to bring a brand like Divios into our family of partners. We pride ourselves on providing exceptional products at our events to triathletes and swimmers. This is mirrored in Divios, a leader in environmentally responsible sunscreen crafted specifically with the athlete in mind. This is a picture-perfect partnership for both us and the wider endurance sports community."
Davis Mersereau, Co-Founder and Brand Director at Divios said, "We're so excited to partner with Salty Sports Society. We specifically created our line of products for people who love their time outdoors, in the ocean, and under the sun. We also feel a responsibility to educate people about the value of reef-safe, non-toxic sun care products, and how best to use them. So, we'll be working closely with Salty Sports Society to provide this support to their athletes."
The Speedo SALT Series is designed with a "racecation" feel offering a la carte weekend activities from Friday to Sunday. A portion of Series proceeds give back to the Florida Beach Patrol Chiefs Association and the United States Lifesaving Association Southeast Region. The Series culminates each year with the Annual Buoy Ball to celebrate each Series end and to distribute the High Point Champion awards, including "The Rzy," an annual award named after Fred Rzymek, who has hosted events and provided leadership in Florida's endurance sports space for over 35 years.
About Salty Sports Society
Aquatic sports are the ultimate way to enjoy the water at its simplest. Water has the unique ability to calm, humble, and empower us. Salty Sports Society was founded with a simple mission; to craft unique open water swimming event experiences in memorable destinations.
We began by putting together a team with more than 150+ combined years of experience managing endurance sports events. We created attentive, thorough, unsurpassed water safety plans, and formed partnerships with destinations committed to showcasing and growing quality coastal lifestyles.
Our mission is simple, but our work is ever evolving. Whatever it takes to create the best events, that bring great people together, and allow them to travel, swim, and enjoy a healthy lifestyle.
About Divios Naturals
Divios brings a new dawn of innovative sun and skincare products that protect, nourish, and restore. Infused with pure CBD, our all-natural formulas are expertly crafted for any vibe under the sun.
Remaining 2022 Speedo SALT Series Dates
Swim for Alligator Lighthouse, Islamorada, FL, September 10, 2022
Swim With Nick, Dania Beach, FL, October 1, 2022
Southern Cross, Fort Myers Beach, FL, December 3, 2022
For further information, please contact Matt Dunn at matt@saltysportssociety.com, log onto www.saltysportssociety.com or on social media at @saltysportssociety.
###
Contact: Matt Dunn
July 7, 2022 904-303-0552
matt@saltysportssociety.com