'Sadistic' Racing Set To Return With Arena Games Triathlon powered by Zwift
April 8, 2022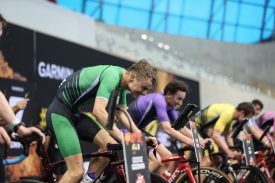 /ENDURANCE SPORTSWIRE/ – Marten Van Riel starts the defense of his Arena Games Triathlon powered by Zwift crown in Munich on Saturday and is prepared for "the most painful race" of his life.
The Belgian star, who won back-to-back Arena Games events in 2021 and has just smashed the Ironman 70.3 World Record, goes head-to-head with Olympic gold and silver medallist Alex Yee as the esports World Championship Series kicks-off at the Olympiapark.
Arena Games Triathlon (AGT) powered by Zwift is a trailblazing concept pioneered by Super League Triathlon. The real-life and virtual reality blended racing provides an immersive viewing experience that allows fans to get up close and personal with the best triathletes in the world without leaving the comfort of their seat. The event also gives esport fans, and lovers of sports statistics, the chance to enjoy live data from the athletes in real time.
The all-new Arena Games Triathlon World Championship Series, which also visits London (April 23) and Singapore (May 7), will contribute points to the World Triathlon rankings, and the athletes who collect the most points will be awarded the first-ever triathlon esport World Championship titles.
Marten Van Riel said: "I have to say the Arena Games is maybe a little bit sadistic. I think it is the hardest thing I have ever done. Running on the self-powered treadmill is incredibly hard, especially after you have swum and biked already. It is maybe the most painful race I have ever done, but it's a super cool concept. I am into e-racing and I am looking forward to where it will place itself in future years as it is the future.
"I think I can't play the underdog for the Arena Games. For sure the others will be looking at me but I am confident I can go down in distance for super short action. It will really get my short course season going in the shortest and fastest format there is. I am super excited to race but I know everyone will be looking at me this year."
Alex Yee added: "There's definitely a lot of strong guys racing but I always go into every race wanting to race to the best of my ability. Hopefully that will mean a win but we'll have to see what happens. Marten was incredible last year and will be a tough guy to beat but I'm really looking forward to giving it a good crack."
In the women's field, the strong favourite for the World Championship Series opener is British star Beth Potter, who took the title in London last year.
Beth Potter said: "I was expecting the worst last year in London and when I saw the start list I aimed for fifth. Then all those fears disappeared when the gun went and I was on one. I really enjoy the format of racing and it's good fun and early season and gives me the chance to do faster training. I hope it is here to stay."
Arena Games Triathlon powered by Zwift has a global broadcast footprint. Full details of how to watch can be found via the Super League Triathlon website.
Startlists:
Women's Heat 1: Beth Potter, Lena Meißner, Luisa Iogna-Prat, Gina Sereno, Ilaria Zane, Barbara De Koning, Iria Rodriguez.
Women's Heat 2: Zsanett Bragmayer, Anabel Knoll, Alissa Konig, Petra Kurikova, Romana Gajdošová, Anna Godoy.
Men's Heat 1: Marten Van Riel, Alois Knabl, Chase McQueen, Gianluca Pozzatti, Simon Henseleit, Max Stapley, Russell White, Aurelien Raphael.
Men's Heat 2: Alex Yee, Gordon Benson, Joao Silva, Darr Smith, Tjebbe Kaindl, Justus Nieschlag, Jannik Schaufler, Donald Hillebregt.