RUSH awarded the 'Great Canadian' honour from a Race
April 26, 2022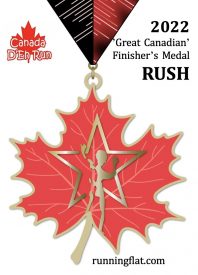 Rock God's RUSH are on this year's Finisher's Medal
Amherstburg, ON; 04/25/22-/ENDURANCE SPORTSWIRE/ – The Canada D'Eh Run is the largest and most bombastic patriotic Canada Day Run in Canada.  Now it can be shared around the world, not just in Amherstburg ON.
July 1st, 2022 2,500 participants are expected to Run or Walk 5K in an all red and white celebration.  Known as one of the great medals in Running in Canada; it changes every year to honour a Canadian for their accomplishments.
Every year the participants get to choose a 'Great Canadian' and have their likeness put on the medal.  This year the Canada D'Eh runners and walkers must choose from Dr David Suzuki, Viola Desmond and the Band RUSH as they were the top vote-getters from last year's event voting.  Not only do they vote on one of the three but they make a suggestion of who they want to see on next year's medal.  Those votes are tabulated, and the top three are chosen, and they are voted on to next years 'Great Canadian'.
The 2022 'Great Canadian' award will honour the band RUSH.  Toronto based Prog-Rock trio Geddy Lee, Alex Lifeson and the Late Neil Peart are RUSH  They will be immortalized on the 2022 Canada D'Eh Run 5K finisher's medal.
After 40 years of playing and touring the world RUSH always promoted their Canadian roots.  Known for their brand of Progressive Rock with 19 Albums estimated sales of 40 Million albums world-wide and the induction into the Rock and Roll Hall of Fame in 2013.
Prior 'Great Canadians' are Sir John A MacDonald, Terry Fox, Cmdr. Chris Hadfield, Wayne Gretzky, The Canada 150 Mirror, Gordon Downie, Don Cherry, and Nurses during COVID.  "This is the only open source medal in the running world giving the runners all the choice on who to honour" explains Chris Uszynski –Race Director from RunningFlat.
Canadians anywhere in the world can join in and get the 'Great Canadian" Medal by registering virtually.
"We added a virtual run 8 years ago so you can be anywhere in the world and if you register by June 1st we can send you your medal, Canada D'Eh Run shirt, and bib so you can run on July 1st" Chris Uszynski – Race Director. "what is amazing is we have groups of people from Germany, the US and around Canada who register every year"
This patriotic 5k run and 500 kid- Kid's Dash starts at 9 am just outside of Fort Malden National Historic Site of Canada – the headquarters for the British forces in southwestern Upper Canada during the War of 1812 – and continues up Laird, around Toddy Jones Park, down Dalhousie and back. The course showcases the spectacular waterfront and is flat, fast and historical.
Runners are flocking to this event to celebrate in Amherstburg Ontario with registrants from Texas, Pennsylvania, Ohio and Michigan as well as British Columbia and Singapore.
Runners will also receive Canadian maple leaf shirt they can wear proudly everywhere they go. After the run, runners can enjoy the rest if their Canada Day in The Historic Town of Amherstburg.  Runners and Participants raise money for the Canadian Cancer Society of Windsor/Essex County.
Get your Canadian on, Eh!
Media Contact Name: Chris Uszynski
Media Phone: 519-980-5440
Media Web Address: www.runningflat.com
Company Contact Name: RunningFlat Ltd.
Company Phone: 519-980-5440
Race Registration:  https://raceroster.com/events/2022/56915/official-canada-deh-run-5k-2022
-31-