RunSignup's RaceDay Mobile Timing App Now Offers Timer Backup Mode
July 13, 2023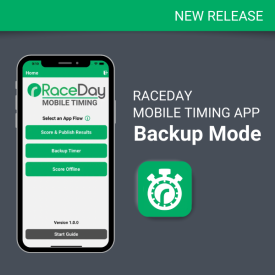 July 13, 2023 – Moorestown, NJ/ENDURANCE SPORTSWIRE/ – RunSignup, the leading registration and technology solution provider for endurance events in the United States, announces its RaceDay Mobile Timing App new release offering "backup mode" for timers. RunSignup's free Mobile Timing App is a timing product for smaller or remote events and a backup solution for chip-timed events. Through the convenient use of Android and Apple phones and tablets, event timers are able to use the free RaceDay Mobile Timing app to log finish times and the order of finishers. The RaceDay Mobile App is a valuable backup solution for larger events and for top finisher verification. Timers can now use the app to conveniently record times at different locations and / or provide verification performance data for integration with scoring software by using DropBox or email the data to access as needed.
"This latest release makes it easier for timers to integrate back up data into their scoring data so that they can more effectively use the app for backup, verification data or even low cost additional manual recording of passings at remote locations. Using the app provides a convenient way for timers to record performance data and easily apply it within their scoring system," said James Harris, RunSignup's RaceDay Chief Technology Officer.
About RaceDay Mobile Timing App
Through the app's Chute and Finish Line recording options, timers are able to record the order of finishers based on bib number and log time stamps of finishers. Timers can integrate with RunSigup's results to have scored results displayed real-time on an event web page. By making use of RunSignup Results Timers can set up result divisions so that the app can produce complete results with features like age group place for all participants quickly and easily. The RaceDay Mobile Timing App supports off-line situations where finish times can be recorded locally on the app and then uploaded and merged with the live race once Internet connections are re-established. This is especially helpful for remote events like ultra and trail courses.
In addition, timers are able to use the Backup Timer mode for situations where the app is being used as a backup timing tool – similar to Time Machine's approach – in conjunction with official timing equipment and scoring software such as RaceDay Scoring. Using this mode records the data within the app on the backend for the timer without publicly publishing the data. In addition to the phone or tablet's keyboard, the app can be used in conjunction with bluetooth tactile keyboards, such as Sunreed Bluetooth Numpad with LCD display, for more efficient bib entry.
The App also supports easy export of the Result data (names and clock/net times) and timing data (raw time of day and bib numbers). The exports can then be used in conjunction with scoring software like RaceDay Scoring as a backup timing solution. With RaceDay Scoring, there is a predefined File Stream Type that is compatible with Mobile Timing App (PC Timer-Mobile Timing File) that you can use to import the times from the Timing Data export file.
The RaceDay Mobile App is now available for immediate use by timers in the endurance industry. RunSignup is hosting a live webinar to introduce the new "backup mode" advancement.
About RunSignup
RunSignup is the leading event solution delivering the art of technology to endurance events and nonprofits. More than 28,000 events use our free and open platform to register 8 million annual participants, raise more than $2 Billion and grow their events. Our expertly crafted, open and all-in-one solution powers event revenue generation and supporter engagement through flexible registration, free event websites, free email marketing, integrated fundraising, and a suite of RaceDay tools. No subscriptions, no plans, no monthly fees.
To find out why customers like the Richmond Marathon, American Cancer Society, Vacation Races, and RaceDay Events use RunSignup, visit www.runsignup.com.
###