RunSignup Announces RaceDay Photo Platform Optimization
November 17, 2023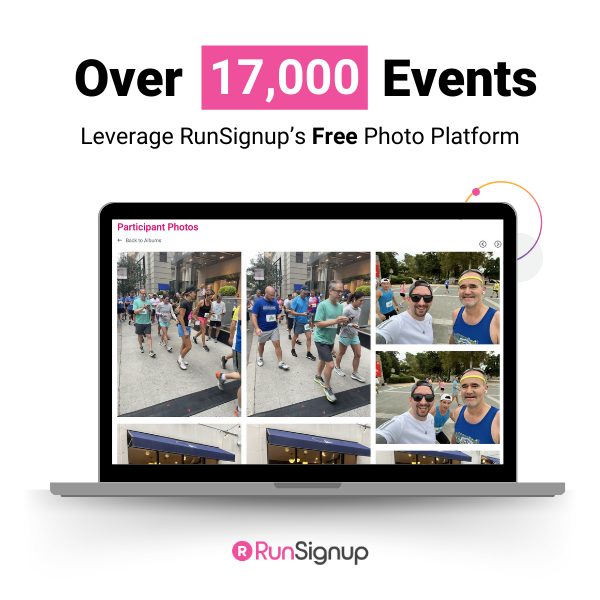 Hosting 15 Million Photos Across 17,000 Races Fully Integrated With Free Website and Results Platform
Moorestown, NJ— November 17, 2023 /ENDURANCE SPORTSWIRE/ – RunSignup, the leading registration and technology provider for endurance events in the United States, announces optimization advancements in its RaceDay Photo platform. The company's free photo platform is designed to simplify the process for photographers and race directors while delivering instant photo access for race participants. More than 17,000 events have embraced RunSignup's RaceDay Photo technology and well over 15 million photos have been uploaded to the platform. RunSignup's recent upgrades focus on infrastructure improvements to ensure its ability to respond to the industry's high demand for a modern approach for today's race photos.
"We've been amazed at the response and adoption by races and participants for our photo platform. It is one of those areas of the race event experience that needed to modernize, and the backend integration with the participant's registration data and results help to simplify access to photos. The recent infrastructure improvements we've applied will provide for an even faster experience and help us to keep our internal cost low so we can continue to offer it as a free solution for our events," said Bob Bickel, Founder and CEO of RunSignup.
RunSignup's free RaceDay Photo Platform is designed to meet the contemporary expectation of abundant, complimentary event photos, departing from the traditional model of printed photo sales. RunSignup's RaceDay Photo solution seamlessly integrates auto tagged participant photos with event websites and participant race results.
The latest changes for RaceDay Photos focuses on optimizing its infrastructure to ensure a faster, more reliable, and cost-effective service. This includes:
– Accelerated Uploads: To streamline long-distance data transfer, RunSignup has deployed edge cache locations for accelerated uploads across the entire United States.
– Photo Uploader Optimization: The photo uploader has undergone optimizations for quicker photo selection, improving the overall user experience.
– Tagging Engine Upgrade: The tagging engine has been upgraded to better accommodate running and biking photos within the same race, enhancing the platform's versatility.
-Performance and Cost Optimization: RunSignup has implemented optimizations in storing and serving photos, improving overall performance while keeping costs low to sustain the ability to offer it as a free service.
Event organizers are able to upload an unlimited amount of photos for their events and can create photo albums for categories like teams, age divisions, and course options to enable quick access. Participants can easily access their photos alongside their results and share with others. The watermarking tool can be used to overlay the event's race logo or showcase a sponsor. In addition, RunSignup's application of AI provides automatic reviewing for inappropriate photos and organizers are able to preview and approve photos ahead of posting.
With an impressive 67 terabytes of storage on AWS, RunSignup ensures that the memories captured during events are securely stored and easily accessible. In just October this year, the platform experienced a remarkable 42 million object requests on AWS, underscoring its robustness and scalability.
About RunSignup
RunSignup, an employee owned company, is the leading event solution delivering the art of technology to endurance events and nonprofits. More than 28,000 events use our free and open platform to register 8 million annual participants, raise more than $2 Billion and grow their events. Our expertly crafted, open and all-in-one solution powers event revenue generation and supporter engagement through flexible registration, free event websites, free email marketing, integrated fundraising, and a suite of RaceDay tools. No subscriptions, no plans, no monthly fees.
To find out why customers like the Richmond Marathon, American Cancer Society, Vacation Races, and RaceDay Events use RunSignup, visit www.runsignup.com.
###